Posted in: Disney+, Review, Star Wars, streaming, TV | Tagged: bryce dallas howard, disney, jon favreau, katee sackhoff, Pedro Pascal, Review, star wars, The Mandalorian
---
The Mandalorian Season 3 E06 Treads Into Scooby-Doo Territory: Review
The Mandalorian Season 3 "Chapter 22: Guns for Hire" blends mystery and existentialism in a predictable way and to lackluster results.
---
The recurring theme for season three of The Mandalorian is taking back one's destiny. It didn't take much for Din Djarin (Pedro Pascal) to reclaim his way, but they're still a matter of his current partner in crime in Bo-Katan Kryze (Katee Sackhoff), who finds herself more along for the ride trying to find renewed purpose in her own journey. The cold opening follows up with Bo's one-time compatriot in Axe Woves (Simon Kassianides) taking charge of her group, and joining him is another familiar face in Koska Reeves (Mercedes Varnado aka Mercedes Mone & FKA Sasha Banks) in Plazir-15. The focus isn't really on them as Din and Bo's journey takes them to the planet's rulers Captain Bombardier (Jack Black) and the Duchess (Lizzo), in the episode "Chapter 22: Guns for Hire." The following contains minor spoilers.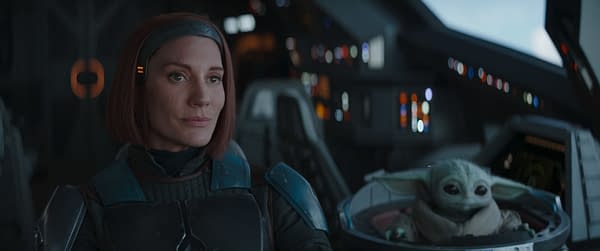 This Mandalorian Episode Has 'I, Robot' & 'Scooby Doo' Vibes
When Din and Bo land, they're tasked to find out why the repurposed Old Republic droids are malfunctioning. We discover how much Plazir-15's society comes to rely on them and can't afford any disruption. As the duo's investigation commences, Din and Bo have dramatic differences in how they approach subjects of interest. Pascal and Sackhoff's dynamic is starting to pay off as they build chemistry throughout the season, with some scenes with hilarious results. I could see them lead some procedural or some buddy cop vehicle as they're easily two of the most charismatic figures on TV. Sackhoff's Bo is mostly playing the straight role, while Pascal's Din appears to be some wildcard, but it works given his experience.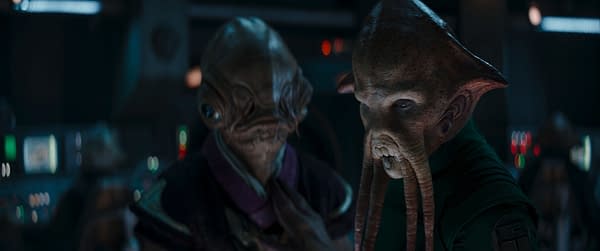 As far as the Scooby Doo comparisons go, it's not only the sleuthing involved but the excessiveness of guest stars. It works for what it is, but there were a couple of moments, at least, when I expected Batman & Robin or the Harlem Globetrotters to show up to help Bo and Din out. Another face that emerges is Christopher Lloyd's Commissioner Helgait, who's the head of the Planetary Security Office. Given the investigation and the franchise's love-hate relationship with droids, you don't need Sherlock Holmes-level of deduction to predict how the episode ends.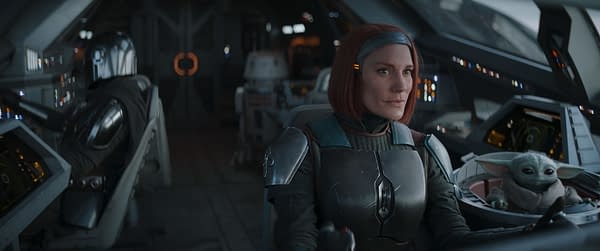 While there are some thought-provoking moments, season three has largely diminished any real sense of urgency and cohesion the previous seasons offered. It's a shame considering we're probably witnessing The Mandalorian unintentionally confirming that it's past its creative peak now, and it's getting harder to justify another season. While there is a satisfying ending to "Guns for Hire," it's not the show it once was, and given the star-packed episode, it felt a little excessive. Black and Lizzo fulfilled what was asked, but creator Jon Favreau, who wrote the episode, didn't tap into their full potential. It felt like just having Black and Lizzon on our screens was supposed to be enough as if Lucasfilm is turning The Mandalorian into the "Star Wars" universe's version of The Love Boat or Fantasy Island.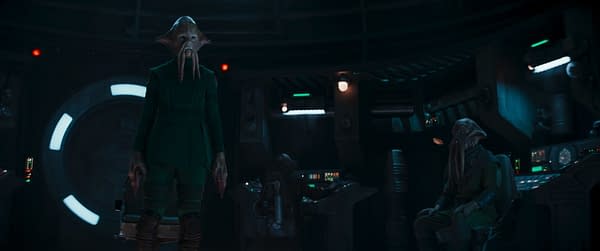 Perhaps the casting choices fulfilled the actors' dream of being in Star Wars. At the very least, Varnado felt a bit wasted as a glorified background character. Fans of Bo will probably find satisfaction with her latest arc, but there's nothing much left to the imagination that's meaningful to Bo and Din at this point. There is zero build and nothing to give fans about the whereabouts of season two's villain Moff Gideon, played by Giancarlo Esposito. With two episodes left this season, it feels like it's too little, too late. The Mandalorian streams Wednesdays on Disney+.
The Mandalorian Season 3 Episode 6 "Chapter 22: Guns for Hire"
---
---
The Mandalorian Season 3 "Ch 22: Guns for Hire" blends mystery and existentialism in a painfully predictable affair in what's been a rather lackluster season. The Disney+ & Lucasfilm series needs to return to its first-season storytelling roots and move away from being a show that's being held together by stunt-casting and fan-servicing.
Credits
---
Director
Bryce Dallas Howard
---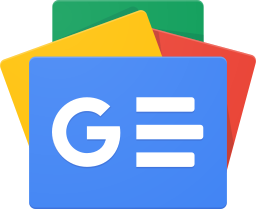 Stay up-to-date and support the site by following Bleeding Cool on Google News today!