"The Masked Singer" Season 3: Group B Debuts with Memorable Un-Masking [SPOILER REVIEW]
FOX's The Masked Singer wrapped up Group A with an insulting un-masking. Some of us still "Kahn" not handle it. Group B refreshingly introduces a new slew of singers, who have us head- scratching over some truly confusing clues. All of the performances are pretty praiseworthy. This masquerade came to party… hard.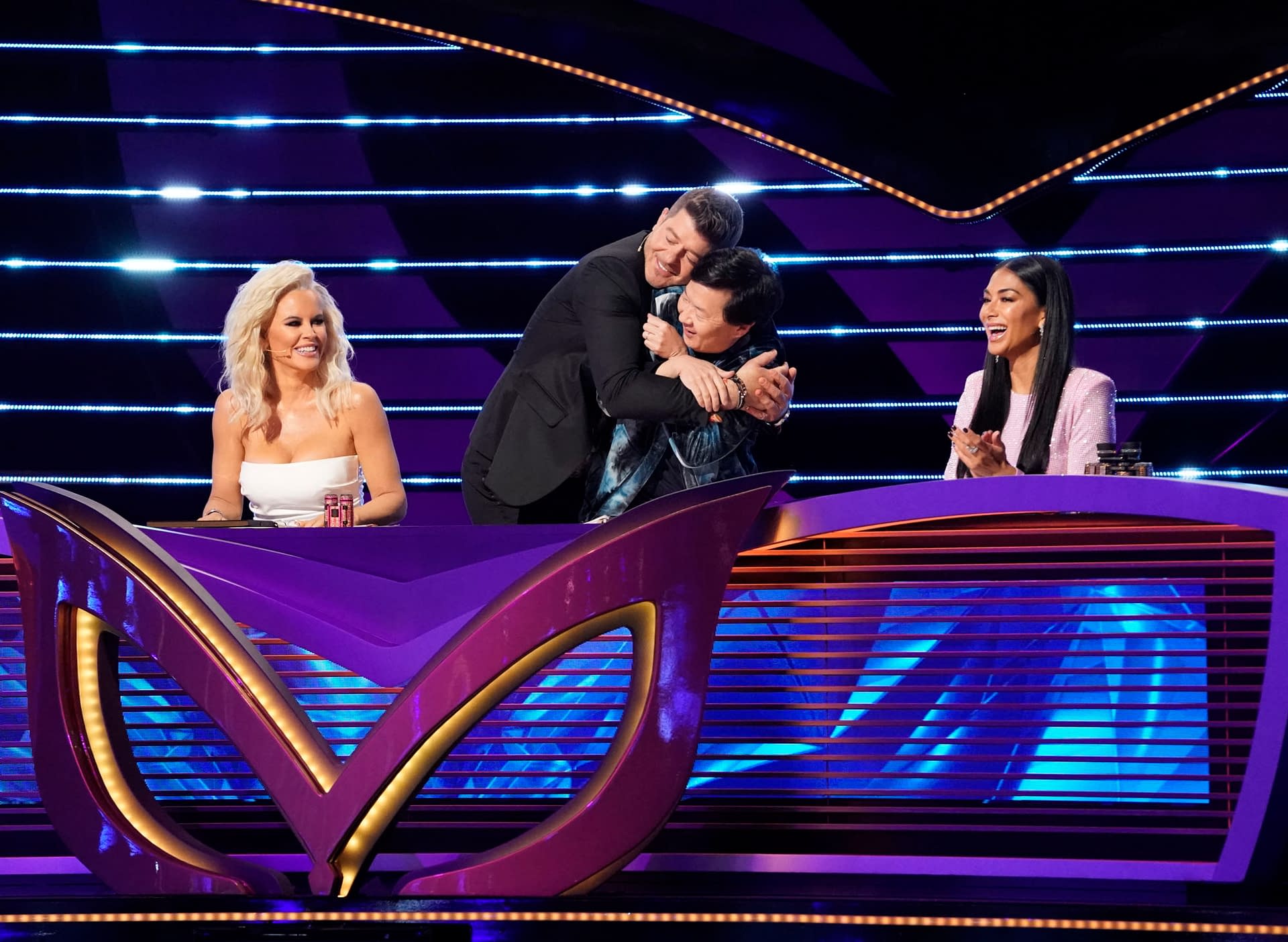 Let's meet Group B and start digging into some sneaky clues!
FROG
ELEPHANT
KITTY
TACO
MOUSE
BANANA
And now… THE REVEAL!
"The Masked Singer": Tiff's Take
Frog's clues have me torn between an athlete or an artist. Clues like "lightening bolt" and "1996 Games" (held in ATL) point to stars of the Olympics. Carl Lewis was the original bolt and Michael Johnson became the breakout bolt. Of the two, Lewis was a singer, so my money is on him. Than again, "Jump, Jump" was a song by Kriss Kross, a young hip-hop duo from Atlanta who was discovered by Jermaine Dupri. So Frog could be Chris "Daddy Mac" Smith or even Dupri. I'm still not sure what the money represents – $106 or $100 $5 $1…
But I do know The Masked Singer is onto to us. Check out this freeze frame!
Kitty has me stumped and I haven't been able to make sense of these clues. They sound like Disney princesses! White as Snow, classic Hollywood pirates, a shattered red rose, at home around the "weird and wonderful" and looking for reinvention. Could the different color eyes be a clue too? I really need help on this one! I can't even figure out her voice.
Taco has a lot of Tim Allen clues that must be a misdirect – Last Man Standing, light-years aka Buzz Lightyear from Toy Story, a "mild routine" aka comedy, and he's been around for decades. I'm not sure about the Cable Car that's possibly from SF, an anchor, and a VHS tape. I actually think Taco is William Shatner. It feels like his energy and looks like his mannerisms.
Mouse is clearly another icon in our midst. A leader in her field, she wrote the playbook, and her bang bang formation points east. She could be from the East Coast. Other clues include 1979, Warrior, Gold, Chatterbox. Mouse sounds like Dionne Warwick. Hopefully new clues will lock-in our hunch.
Banana is hilarious! All clues point towards the Blue Collar Comedy crew – cowboy hat, party all night, see you smile. Jeff Foxworthy has released five comedy albums and hosted Are you smarter than a 5th grader (school bus clue), but Bill Engvall has actually released songs and music videos. Right now, it's a toss-up. But my gut says Foxworthy because of his mannerisms.
Elephant is truly the man of the hour. Tony Hawk crushed it! The clues were clever and his performance was a pretty spot-on cover. I almost believed he was British. The fact that he sang "Friday I'm In Love" for his wife – it's just too cute! He was also really honest about how long he'd be able to play the game. He had about two songs in him, so he was relieved to go home after one. Awww.
I really enjoyed Group B's kick-off! There are some solid performers and the clues are challenging enough to keep us guessing for a little while.
[rwp_box id="0"]
Catch new episodes of FOX's The Masked Singer Wednesdays at 8 p.m. and live tweet with me (@TalkTVwTiffany) during the West Coast broadcast.