The Office Superstar Michael Scott Out-Last-Danced Michael Jordan
ESPN's 30 for 30 docuseries shines the spotlight on some of the most unbelievable, over-the-top, and one-of-a-kind personalities and events in sports history. Over the weekend, the sports network aimed its cameras at one of pop culture's forgotten athletes: The Office head Michael Scott (portrayed by Steve Carell on NBC's long-running and beloved sitcom), showing the former executive of Dunder-Mifflin Paper Company as the true "inspiration" he was always meant to be. On 30 for 30's Facebook page, the series dared to ask, "What if I told you, the greatest Michael wasn't Jordan?" What followed was an almost believable look back at that classic moment.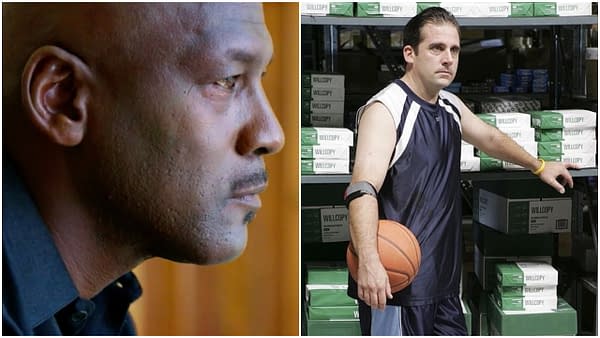 Michael Jordan and Michael Scott (Steve Carell) from "The Office": The Battle of the Best Michael, images courtesy of ESPN and NBC Universal.
Here's the Championship Tale of Michael Scott
For those familiar with ESPN's long-running and award-winning docu-series, you'll notice the little touches in the following clip that makes the parody work that much better. Narrator: "What if I told you, he wasn't the greatest? A country would fail to protect its greatest natural resource." Scott: "What is wrong with my game?" Narrator: "Sometimes, it is a matter of life and death." Scott: "If you beat us, you're fired." Narrator: "That no one can outrun the truth." Scott: "You got to be kidding me!" Narrator: "That you can heal all wounds with a fight song. That the man no one can stop…tragically was." Scott: "That was a flagrant, personal, intentional foul." Narrator: "What if I told you, running a marathon was easy? ESPN's critically acclaimed 30 for 30."
The Office and ESPN's 30 for 30 Make For An Interesting Mashup
ESPN took a unique approach to advertise the 10-part Jordan documentary The Last Dance incorporating the popular NBC sitcom created by Greg Daniels, Ricky Gervais, and Stephen Merchant. The film chronicles the 1997-98 Chicago Bulls focusing on the six-time NBA champion's final season in the league. The Office lasted nine seasons. The footage used from the series was from the first season episode "Basketball". Scott's sales department at Dunder-Mifflin challenges the warehouse to a game of hoops where the loser worked the following weekend. Despite an epic back-and-forth emotional contest, the warehouse led by Darryl Philbin (Craig Robinson) won the battle. The Last Dance airs Sundays on ESPN. The Office is available to stream on Netflix and moves to the NBC Universal streaming service Peacock in 2021. Who do you think is the best Michael? Jordan or Scott? It's the "battle" for the ages.