'The Sins of Captain John': James Marsters, John Barrowman Reunite for Big Finish/BBC Studios Audio Drama
They say you can't keep a good man down… then again, no one ever accused James Marsters' (Buffy, Angel, Smallville, Runaways) Captain John Hart or co-star John Barrowman's (Arrow, Torchwood, Doctor Who) Captain Jack Harkness of being "good" men anyway. We're not even sure either of them would mind being kept down – depending on who was doing the "downing," that is…
What we do know is that the Torchwood "co-captains" are set to reunite in January 2020 in the audio drama box set The Sins of Captain John, courtesy of the fine folks at Big Finish Productions in association with BBC Studios. It's Captain John vs Captain Jack… Time Agent vs. Time Agent… in a new four-story box set that finds the deadly duo colliding once again in a reunion that might just have universal implications. With all due respect to the Peaches & Herb classic, this is one reunion that may not leave everyone feeling so good…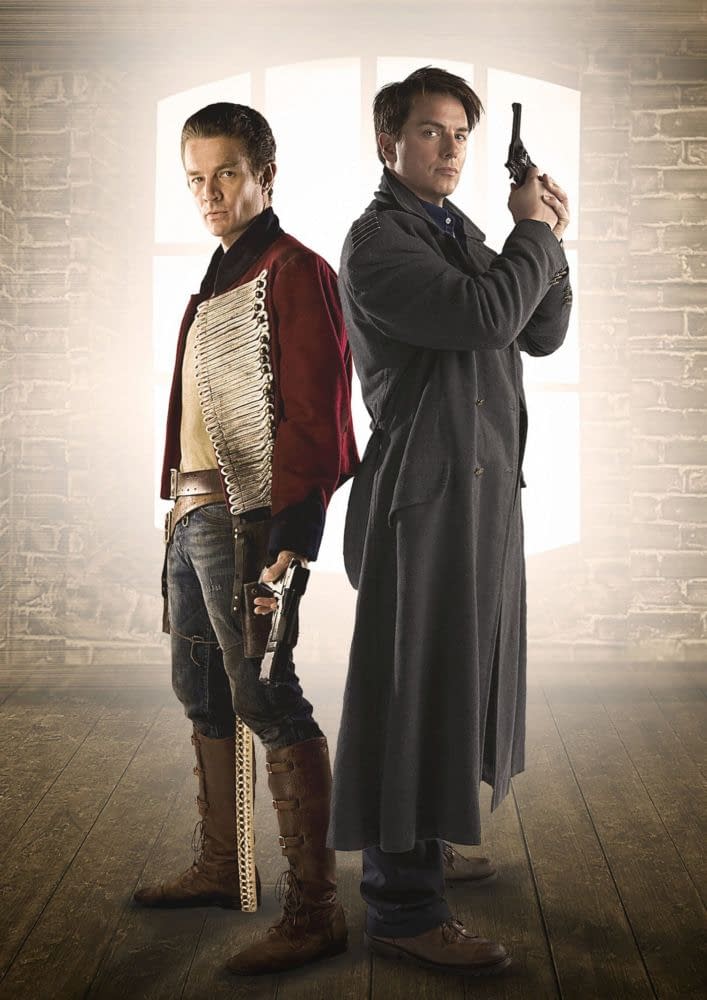 "Recording The Death of Captain Jack audio for Big Finish was incredible! I had missed being a part of Torchwood so much. Beyond being proud of my involvement in the programme, Captain John was such a blast to play and I was very keen to revisit the character once again."

– James Marsters
Marsters' Captain John made his Torchwood debut in 2008 in episodes "Kiss Kiss Bang Bang" and "Exit Wounds," both written by current Doctor Who showrunner Chris Chibnall. Fans of the Doctor Who spinoff series will also have a number of their series questions addressed, with The Resurrection Gauntlet (or "risen mitten") making an appearance – but let's just say it doesn't stay on Captain Jack's hand…
Captain John Hart. Adventurer, thief, lover, rogue Time Agent and all-round bad egg.

Everyone's favourite blackguard is back and he's in a lot of trouble. He's trapped in the ruins of an exploding space station. He's unleashed a force from beyond that will consume the universe. And he's running low on snacks.

Luckily, he has four hours to tell you how he got in this mess. There are zombies, mad scientists, hot tubs, and the talkative head of Oliver Cromwell just won't shut up. Plus Captain Jack Harkness is on his trail.

Captain John Hart returns in four new adventures coming out in January 2020: "The Restored," "Escape from Nebazz," Peach Blossom Heights," and "Darker Purposes."

The villainous anti-hero will be thriving in Restoration London, exploring gas planets, playing 'Stepford wife' with Captain Jack and kissing (then killing) countless victims… just a day in the life of a rogue Time Agent!
The Sins of Captain John is executive produced by Jason Haigh-Ellery, and Nicholas Briggs; with James Goss producing. The four-story miniseries is directed by Scott Handcock and written by David Llewellyn; with Goss serving as script editor.
"Captain John is this chaotic, disruptive, insubordinate force of nature – completely amoral and unpredictable, so that gave me a lot of freedom! Writing is often a case of knowing when to hold back, when to tread a more subtle line, but with Captain John it's the complete opposite. The stories are also set before the time when Captain Jack meets the Doctor and joins Torchwood so these characters really could go anywhere and do anything."

– David Llewellyn
Set for release in January 2020, The Sins of Captain John is available for pre-order through Big Finish's website (here): if you pre-order, £28 ($37.01) on CD or £25 ($33.04) on download; after release, £35 ($46.26) on CD and £30 ($39.65) on download at general release (U.S. rates as of 3/24/2019).