WWE Superstar Titus O'Neil and WWE Hall-of-Famer Dave Bautista took to Instagram Saturday to post an hour-long conversation the pair had with Tampa police Chief Brian Dugan and county Sheriff Chad Chronister. The conversation was organized by O'Neil to address issues of institutional racism and the killings of Black men at the hands of law enforcement, which have led to the current state of civil unrest across America following the killing of George Floyd.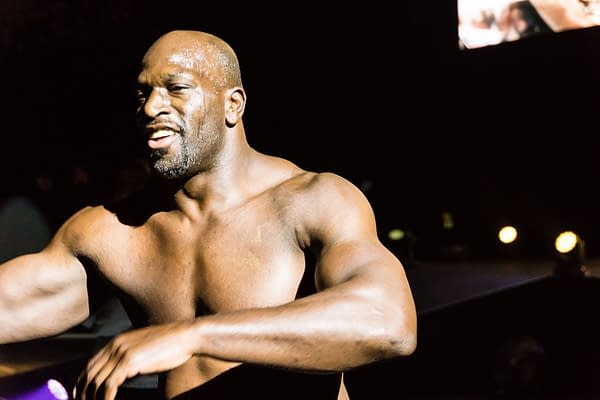 "This is a live discussion. This is not a panel discussion. It is not a symposium. It's not a roundtable. It's not a rehearsed discussion," O'Neil said to kick off the video. It's really truly about getting some questions and answers that me as a Black man in America and many people like me have questions about in regard to law enforcement in light of not just George Floyd by also many others that have lost their lives at the hands of law enforcement. Racism, sexism, bigotry, all of these should be addressed. Hopefully, this conversation opens up other people around the country to sit down with law enforcement leaders as well as city leaders to not just have a discussion but actually more move towards solving systemic issues that have plagued our country since the beginning of time. The goal of this, because these are the two top law enforcement officials in the region, and I thought it was important not just because they're law enforcement leaders but also because I consider both of these men friends and brothers."
"I was watching a speech with Killer Mike, and the first thing he said was, 'I don't want to be here.' That's the same with me," said Bautista. "I don't want to be here. I'm uncomfortable being here. This is very emotional for me, and I don't like spilling my guts on the table in front of the world. But I felt like this is a time where it's my responsibility to stand up and say something. Everybody needs to stand up and say something because whether it affects you directly or not, this is never going to change unless everybody stands up and says they're not okay with this. Everybody can.
"Addressing racism for me is weird because it's just so damn foreign to me. I just don't get it. I didn't grow up with it. I wasn't raised around it. It was never in front of my face," Bautista continued. "So hearing about racism, it's just weird to me. I can't relate, and I don't understand, so addressing it is uncomfortable. I don't understand what it is. I don't understand racism, where it comes from. But everybody needs to stand up and face this even if it is uncomfortable or not because until we start putting it all out on the table and discussing it, it's never gonna change. We cannot afford to let things like this keep happening. Black person, white person, we're all human. And anyone who watched George Floyd get murdered on the ground, this has got to affect you. This is a human being issue. I feel like it's my responsibility to say something and also encourage other people to stand up and say something."
You can watch the full hour-long video on Titus O'Neil's Instagram here.
Enjoyed this article? Share it!