Tom Segura Doubles Down on Wrestling Fans, Attacks AJ Styles
Comedian Tom Segura continued his attacks on wrestling fans after stirring up controversy yesterday by calling fans "r****ds." Segura released a video seemingly apologizing to wrestling fans, but later claimed he just "parroted" the words.
"Of course I understand why people like wrestling," Segura said in a video released on his Twitter. "It's awesome. Those guys are real athletes. Maybe it's like stunts, by try that, you get f**king hurt. Those guys are the real deal. And the drama involved? You can follow it like you can follow anything. It's like a show. It's like a f**king soap opera for men and I think it's great. I f**king love wrestling."
However, a video posted from Segura's podcast from directly after the video ended reveals a different perspective. "Cut that, put that out," Segura said. "I've heard some f**king morons say that so I just parroted it."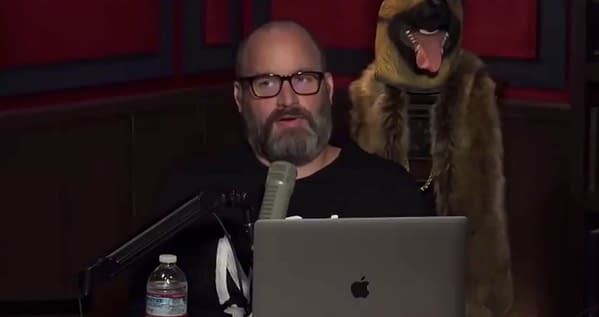 Segura continues to get under the skin of former TMZ reporter and current WWE Backstage shill Ryan Satin, who is coming across more like a jabronie mark who has worked himself harder into his own shoot than usual. Satin posted another clip of Segura's podcast in which Segura admits that wrestling fans are not the dumbest people in the world and that he would only eliminate them from the planet third, with flat earthers and anti-vaxxers going first.
"Alright, wrestling's pretty cool I guess," Segura said after his co-host Christina P brought up flat earthers and evolution deniers. "I'd like to apologize to all the wrestling fans out there who were insulted about what I said. You're not r-worded. The people who believe the Earth is flat are dumber than you."
"If we were just wiping out huge chunks of the population, which I believe in," Segura continued, "I would say flat Earthers, let 'em go first." Unfortunately, Segura was unknowingly attacking a beloved wrestling icon, AJ Styles, with these comments. On a 2017 episode of Talking Smack, Styles discussed the theory with hosts Daniel Bryan and Renee Young.
"I do not think the world is flat," said Styles after Bryan, who co-hosts the show, accused him of subscribing to the popular conspiracy theory that the Earth is actually flat. "I'm just saying there's some stuff about it, that's all."
"The Earth is a sphere," Bryan later explained to Styles, who responded, "Okay."
"It moves on an axis," added Young.
"Okay," Styles responded again. "I'm not a flat-Earther. I'm just saying, there's some things about it that make sense."
The discussion came up because Styles had promoted flat Earterism on an episode of Sam Roberts' podcast, saying, "I'm not a flat-Earther, but they bring up some interesting points. It's interesting and I think you should be able to question anything you want. And you don't have to agree with everybody," continuing, "I watch all the stuff about aliens. I'm a sci-fi guy. I just enjoy that stuff and conspiracy theories. That intrigues me, so there are just a number of things. I find a lot things interesting when it comes to science fiction or fact," said Styles, wondering who can really tell the difference between the popular genre of fiction and scientific facts. "I don't know. Who can say?"
"The only person that ever told me or told the world that other planets exist is NASA," said Styles. "They're making a lot of money. They have a lot of money coming in."
So while Tom Segura would only wipe out wrestling fans third after first wiping out flat Earthers and anti-vaxxers, it seems like AJ Styles would go in the first round, leaving the wrestling landscape a lot less entertaining without "The Phenomenal One" in the time wrestling fans are allowed to live before they themselves are purged.