Comedian Tom Segura Says Wrestling's for "R****ds", Wrestlers Respond
On a recent episode of his podcast, comedian Tom Segura made disparaging comments about people who like wrestling. Though wrestling fans have been aware for at least the last 100 years that wrestling matches feature wrestlers working with each other and predetermined outcomes, Segura seemed convinced that fans believe the fights are real.
"So many guys love wrestling," Segura laughed, discussing the subject with his co-host, Christina P. "I think wrestling is for f**king r****ds. But so many people like it. It is the stupidest s**t." Segura didn't just use the R-word. He also used the F-word. "And I think you're a f**king tool if you're like, 'Hey man, it's not fake.' It's f**king fake, and you're an idiot. They're not real. These are just stunt people."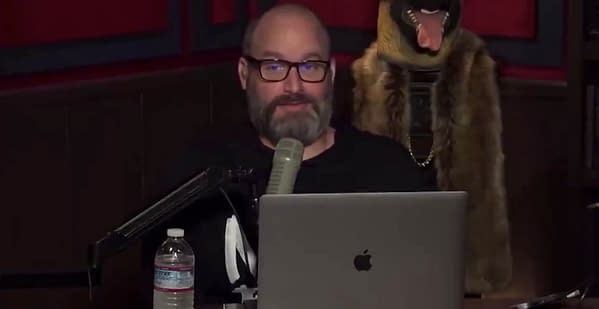 Segura's comments didn't go unnoticed by the wrestling world, especially when former TMZ journalist and current WWE shill Ryan Satin posted a clip of Segura's conversation on Twitter. "What a pile of [poop emoji]," tweeted Baron Corbin in response to the clip, prompting Segura to respond, "Oh no! Not 'the king' [crying while laughing emoji]." Hey @tomsegura, anytime you'd like to feel and experience just how real wrestling is, please let me know. I'd thoroughly enjoy showing you. #whosTomSegura?" tweeted Abyss, clearly learning nothing from the David Schultz episode of Dark Side of the Ring. Segura responded, "I'd love to experience 'The Abyss.'" Ricochet tweeted, "Aww man, I'm like legit a huge fan of his. And although everyone does has their own opinions, this makes me sad. Dang. [confused emoji]"
Dolph Ziggler, who works as both a wrestler and a comedian, attempted to extend an olive branch. "Hi Tom, big fan of both you and Christina P, for years," Ziggler wrote before totally exposing the business. "I am a former collegiate wrestler turned professional wrestler and a lifelong wrestling fan. I have been with WWE for 15 years now and we are the epitome of sports entertainment. There are villains, heroes, undertakers, superhero's, and everything in between for children and adults of all walks of life. We are just like any tv show, movie & even podcast except, our risks are much more real (sans Tom Cruise hanging on to the outside of Elon Musks spaceship). I am extremely proud of the incredible work wrestlers continue to put in every day and I am pleased with our product (usually). I will assume this is a comedic take from someone having fun. If not, I am always willing to discuss the professional wrestling business at length, any time, and any place." Segura responded, "Come on over!"
As for Satin, who seemingly started this whole thing by sharing Segura's clip solely to create news he could then report on his website, he explained stirring up all the s**t by tweeting, "Sorry to be the bearer of bad news. Felt like wrestling fans who like this guy should see this though." Former WWE star Enzo responded to Satin's clip of the comments by saying, "Mark," but it's unclear whether he was talking about Segura or Satin.