'The Walking Dead': James Woods' Man Tears Feed Abraham/Negan Team-Up
"Slott": A person or persons who excels at their given field (writing, acting, sports, etc.) to the point where they achieve a fanbase or following. Said fanbase/following convinces said person/persons that because they excel at their given field, that means everything they have to say on every topic – no matter how far out of their wheelhouse or above their mental paygrade it might be – is holy scripture and above reproach.
EX: "Yeah, I know he draws a great Green Lantern but he's one damn creepy slott when it comes to social issues."
CableACE Award nominee, Straight Talk co-star, and proud citizen of Quahog James Woods had a lot of time on his hands lately, laying low for some odd reason but taking a page from the POtuS' playbook by espousing his manly doctrine for all the unsuspecting world to see on Twitter.
But what was it about this instance that was so different from the others?
Simple. Our little "slott" went wandering into the metaphorical woods of geek culture, thinking he had a flashlight and a clue.
He didn't.
The subject of his deteriorating-levels-of-testosterone-fueled fest? AMC's The Walking Dead, currently undergoing some much-needed rebirth under the leadership of showrunner Angela Kang. With the loss of Andrew Lincoln's Rick Grimes to a trilogy of Walking Dead-related films, the long-running horror-drama has elevated long-time characters like Daryl (Norman Reedus), Carol (Melissa McBride), and Michonne (Danai Gurira) to lead status. As they've stepped up their roles, the supporting cast has grown and diversifed in ways not seen in previous seasons.
But all of those good things I just named? Yeah, none of that works for Woods.
Because the 2000 Young Hollywood Awards "Role Model" award-winner thinks the The Walking Dead has gone "soft," with the Rick-less wonder taking to Twitter to offer his righteously unsolicited advice: less vagina.
One not-at-all-small problem: people from The Walking Dead are also on Twitter – and sometimes when a privileged troll throws a punch, someone's there to punch back. Someone like Michael Cudlitz, current star of ABC's The Kids Are Alright but famous for his turn as Abraham Ford in the AMC series. Cudlitz extended his professional brand to include directing, taking the reins for this season's seventh episode, "Stradivarius" – and still harboring strong family feelings for his apocalyptic alma mater: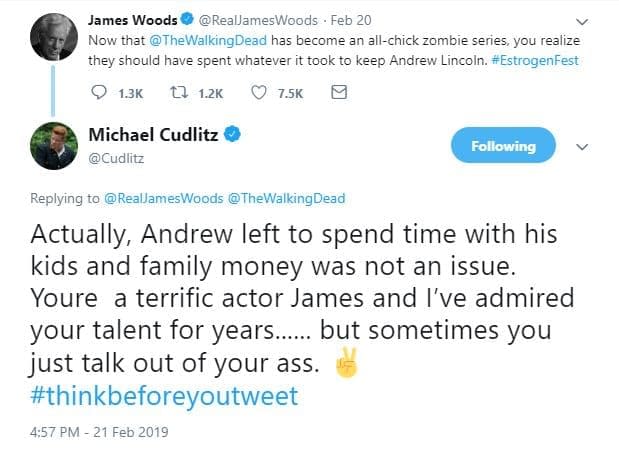 Now lest anyone think that Cudlitz is responding based on political differences (or think I didn't have a reason to use "lest"), the actor/director shut that s**t down in no time:

One silver lining we can take out of this? That sometimes, it takes a man of Woods' George Soros-loving caliber to unite on-screen enemies against a common cause: to push back on the bulls**t being shoveled out – so leave it to Jeffrey Dean Morgan to throw the horns at Cudlitz in full support:

[Ed. Note: What real men do, Mr. Woods…]