Who Won the Prank War on WWE Smackdown Last Night?
On last night's WWE Smackdown, Miz and Morrison fell victim to one of the classic blunders, the most famous of which is "never get involved in a land war in Asia," but only slightly less well-known is this: never play pranks on a monster among men. Did Braun Strowman end up on top by the end of the night? Things started off innocently enough with a harmless water bottle prank.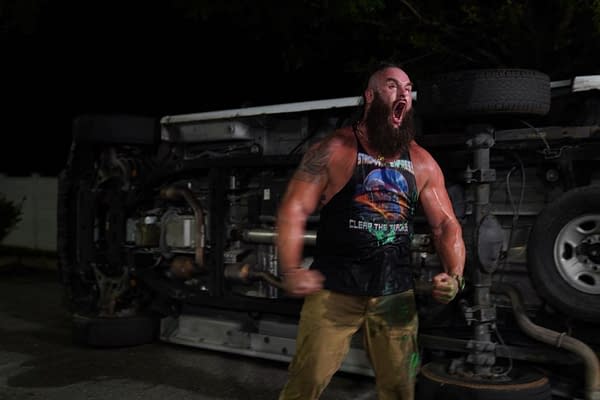 Strowman's reaction to that prank seemed a little overblown. Maybe lay off the "supplements," Braun? But the next prank claimed an innocent victim: Smackdown interviewer Kayla Braxton. While Miz and Morrison technically missed the mark, they still counted it as a victory.
With the Smackdown prank war well underway, and battles so far one-sided, Miz and Morrison decided to take things up a level. So they took a golf club and a baseball bat to the windshield of Strowman's muscle car. Now hang on guys, you might want to think about this. Did you see how mad he got over a fizzy water bottle?!
When Strowman saw the damage, he reacted just about as you'd expect. Unfortunately for Miz and Morrison, a nearby WWE security guard ratted out their position, inside a nearby van where they'd been watching the carnage all Smackdown long. So of course, that means it's time for a feat of strength, as Strowman tipped the entire van over with Miz and Morrison inside it.
So who won the prank war? Sure, Strowman technically got the last laugh, but he also spent the entire night mad as hell, and it would be a shock if WWE's HR department doesn't send him to anger management classes (just kidding, WWE doesn't have an HR department). Winner: Miz and Morrison.