WWE Smackdown: Out With the Old, In With… Mostly More of the Old
It's been almost a week since WrestleMania and it's still depressing for WWE to be back in the Thunderdome. But on the bright side, Corey Graves is gone and Pat McAfee is the new color commentator. If only Michael Cole would be put out to pasture, this show might just be tolerable! Read on for a minimalist recap of WWE Smackdown.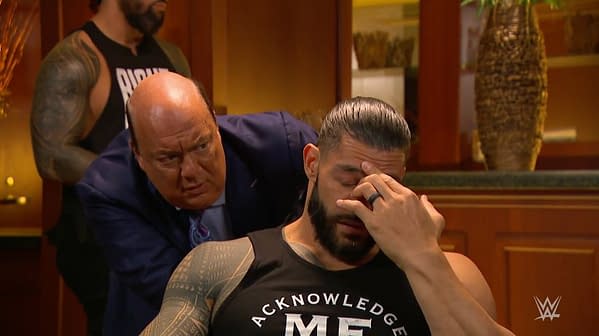 WWE Smackdown Results – Friday, April 16th, 2020
Roman Reigns kicked off Smackdown with a promo. In an embarrassing new low for WWE, they pumped in "you suck" chants for Roman and he did a thing where he kept trying to talk but they were booing later. The gist of it was that after Roman beat Edge no one wants a piece of him. Which was the cue for Cesaro to interrupt, but Reigns and his crew weren't interested so they just left.
Wait, you can do that?
---
After a commercial break, Cesaro complained to management and asked for a match. Adam Pearce can't help but say yes to anything, but Sonya Deville was hesitant.
---
Rey Mysterio fought Otis in a match and who cares won. Ok, fine, it was Mysterio.
---
Paul Heyman said Cesaro would have to fight Jey Uso to earn a shot at Roman Reigns.
---
Sami Zayn came out and complained the the only reason he lost at WrestleMania was because he was too focused on the dissolution of his friendship with Logan Paul, but the real heel move was making us sit through a WrestleMania rematch against Kevin Owens that lasted through like six commercial breaks. Zayn lost by countout then got stunned by Owens when he tried to attack him after the match.
---
Apollo Crews introduced his Commander Azeez, former member of the Nigerian elite guard, and his finisher, the Nigerian Nail. The guy on Raw Underground named Dabba-Kato must have been his twin brother.
---
The Street Profits brought out Bianca Belair to celebrate her Smackdown Women's Championship win at WrestleMania. Belair put Montez Ford on notice to win a title now if he doesn't want to sleep on the couch.
---
Kayla Braxton interviewed Sasha Banks, who was not happy with Bianca Belair and stormed off.
---
Braxton interviewed Bayley, who made fun of Bianca Belair for crying at WrestleMania.
---
The Street Profits challenged The Dirty Dawgs for the Smackdown Tag Team Championships, and properly motivated… still lost.
---
Shayna Baszler beat Natalya in a match. Or Natalya beat Baszler. Does it really matter?
---
Cesaro fought Jey Uso in the main event and the match was cut short when Seth Rollins attacked Cesaro while Cesaro was swinging Uso and that was the end of this week's WWE Smackdown.
---
Does it feel like WWE didn't have any plans past WrestleMania to anyone else?