WWE SmackDown Preview: Sami Zayn & Jey Uso Confrontation Is Coming
Here's our preview for tonight's WWE SmackDown on FOX, where former friends and stablemates Sami Zayn and Jey Uso will confront each other.
---
The story between Sami Zayn and The Bloodline has captured the collective imaginations of WWE fans all year, but perhaps the most interesting dynamic in the saga was that between Zayn and Jey Uso. Uso first showed total distrust of Zayn and his motivations for cozying up to the family, but over time, Zayn earned his trust. Then came the Royal Rumble, when Zayn turned on Roman Reigns, and up until last week, it appeared Jey was conflicted on where his loyalties fell. After appearing to side with Zayn on last week's Raw, Jey turned on him and joined his brothers in beating the Canadian star. Zayn is now deadset on revenge against his former friends and will be confronting Jey Uso tonight on WWE SmackDown.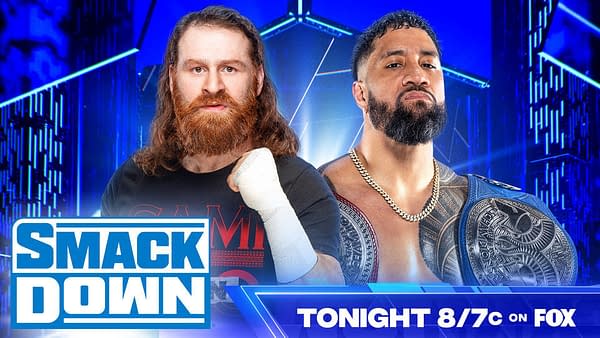 With all of the history and feelings here, there's the potential for fireworks between these two tonight on SmackDown. Let's see what WWE.com officially thinks about it all:
"This Friday on SmackDown, Sami Zayn will confront the very man that backstabbed him last week: Jey Uso.
The relationship between Zayn and "Main Event" Jey Uso has been well documented as they went from untrusted stablemates to full-blown allies during Zayn's time in The Bloodline.
When Roman Reigns shunted The Master Strategist out of The Bloodline, Jey Uso walked away in disgust. Jey had a tumultuous start in the early days of The Bloodline, practically being forced to join after losing to The Head of The Table in a "I Quit" Hell in a Cell match two years ago.
Zayn looked to tap into that rage as he requested Jey's assistance in taking down The Bloodline. One week ago, Jey appeared to side with Zayn before crushing Zayn and the WWE Universe with a shocking Superkick, joining his brother Jimmy to show where his loyalties lie.
Now, the two former friends will confront each other in what is sure to be a dynamic face-to-face. You do not want to miss what will surely be an emotional confrontation on SmackDown tonight at 8/7 C on FOX!"
Along with that, tonight we will see Sheamus and Drew McIntyre battle to determine who will face Gunther for the Intercontinental Championship at WrestleMania, Legado del Fantasma will take on Judgement Day in mixed tag action, and Royal Rumble winner Cody Rhodes will be there live to deal with his escalating rivalry with Roman Reigns.
To catch all of the action, tune in to WWE SmackDown tonight at 8 pm on FOX.