Black Lightning Season 2: Guess Who's Back? CW Offers a Reminder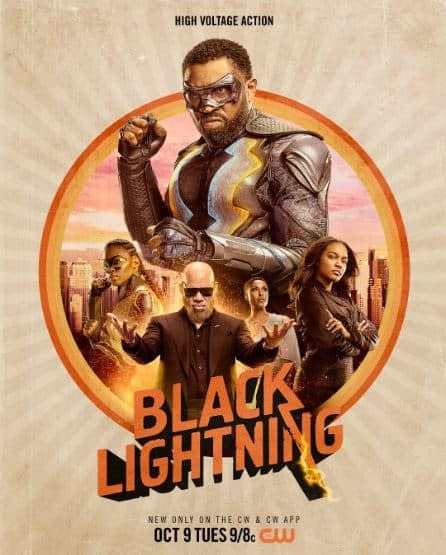 With Black Lightning set to return to the CW tonight after a well-received first season, the stakes are much higher (and deadlier) heading into season 2 – especially for the Pierce family. Jefferson Pierce aka Black Lightning (Cress Williams), Anissa Pierce aka Thunder (Nafessa Williams) and the rest of "Team Lightning" are going to have a lot more than a returning Tobias Whale (Marvin "Krondon" Jones III) to contend with (a threat worthy of its own season, as we've seen): now that Green Light's out in the community, the battle for Freeland's future has gotten a lot deadlier.
But if you thought for a second that our heroes were done for, you might want to check out the series' new extended trailer – because it looks like they're just getting started:
https://youtu.be/Pe2L_fbAZZk
Jefferson Pierce is a man wrestling with a secret. Nine years ago, Pierce was gifted with the superhuman power to harness and control electricity, which he used to keep his hometown streets safe as the masked vigilante Black Lightning. However, after too many nights with his life and his family on the line, he left his Super Hero days behind. Almost a decade later, Pierce's crime-fighting days are long behind him…or so he thought. But with crime and corruption spreading like wildfire, Black Lightning returns — to save not only his family, but also the soul of his community.

Black Lightning s0201 – 'The Book of Consequences: Chapter One – The Rise of The Green Light Babies': Jefferson Pierce (Cress Williams) and his family may have survived Tobias's (Marvin Jones III) attack, but they're not out of the woods yet.

Concerned for the safety of Garfield's students, the board considers a motion to shut down the school, forcing Jefferson to go to Napier Frank (guest star Robert Townsend) to sway the vote. Jennifer (China Anne McClain) struggles with her powers and her actions have unforeseen repercussions. Meanwhile, Anissa (Nafessa Williams) finds a new way to give back to Freeland. Lastly, Lynn (Christine Adams) continues her quest much to the dismay of Agent Odell (guest star Bill Duke). Damon Gupton and James Remar also star. Directed and written by Salim Akil. Robert Townsend, Bill Duke, and Angela Rye guest star.

Black Lightning s0202 – 'The Book of Consequences: Chapter Two – Black Jesus Blues': Jefferson (Cress Williams) must break the news to his students and faculty that he is stepping down. Struggling with his new life as Painkiller, Kahlil (Jordan Calloway) pays a visit to Jennifer (China Anne McClain) in hopes of mending things. Meanwhile, Tobias (Marvin Jones III) continues to enact his plan. Nafessa Williams, Christine Adams, Damon Gupton, and James Remar also star. Oz Scott directed the episode written by Charles D. Holland

Black Lightning s0203 – 'The Book of Consequences: Chapter Three'

Black Lightning s0204 – 'The Book of Consequences: Chapter Four'

Black Lightning s0205 – The Book of Blood: Chapter I

Black Lightning s0206 – The Book of Blood: Chapter II
Cress Williams, Nafessa Williams, China Anne McClain, James Remar, Damon Gupton, Christine Adams, Marvin "Krondon" Jones III, Charlbi Dean, and Jordan Calloway star in the second season of Black Lightning, with Sofia Vassilieva (Supergirl) joining this season as DC Comics hero Looker.