Castle of Horror: 'Hellraiser' Had Ideas Horror NEVER Touched Before
This week, we have the first of a two-part Hellraiser series, starting with the 1987 original Hellraiser directed by Clive Barker himself. Andrew Robinson, who had played the mad killer Scorpio in Dirty Harry, here plays two characters with great skill, but the real star is the concept of the Cenobites.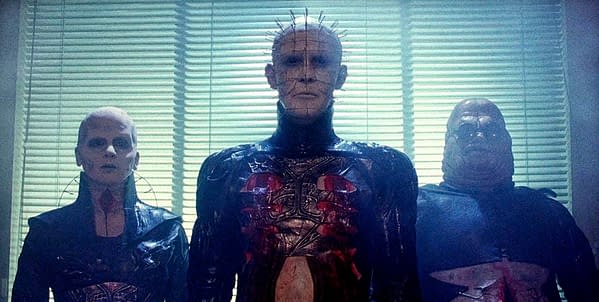 These "super-butchers" are a completely original concept, demonic sense freaks who show up to torment people who have exhausted the limits of pleasure and pain. We'll be doing the first and second Hellraiser movies in this retrospective. Tune in for Hellbound: Hellraiser II next week!
Listen here:
Listen on YouTube:
https://www.youtube.com/watch?v=TPandK2ODR4
Check out the Trailer:
Castle of Horror Podcast:
Join us over on Facebook to chime in.
The show is hosted here. Get our RSS Feed. Subscribe at iTunes. Listen on Stitcher. Or on YouTube. Twitter: castleofhorrorp.
The Team: Hosted by Jason Henderson, author of the upcoming Young Captain Nemo, creator of the HarperTeen novel series Alex Van Helsing; Featuring Drew Edwards, creator of Halloween Man; Tony Salvaggio, lead singer of the band Deserts of Mars, lead guitarist of the band Rise from Fire, and co-creator of Clockwerx from Humanoids; attorney Julia Guzman of Guzman Immigration of Denver; and Jamie Bahr, lead singer and upright bassist of the rock and roll band Danger*Cakes.