[REVIEW] Solo NY's Parker Hybrid Tote can hold Everything You Need
The Parker Hybrid Tote is a combination tote-bag and backpack designed by Solo NY. It's one of Solo's more elegant backpack designs, and you can hide the backpack straps away and use it as a tote instead. Which gives the bag some versatility and makes it a great commuting tool.
The tote has a fully padded 15.6" laptop compartment which should fit most laptops. However, a 15" gaming laptop might be a bit too tall to fit completely into the pocket. The interior organizer section comprises of two pen pockets, a larger central pocket, and two wide but shallow pockets designed for credit cards or ID. The tote also has a front pouch that's large enough for an envelope style wallet and/or an oversized phone. The main compartment does zip closed, so you can keep everything secure inside the bag.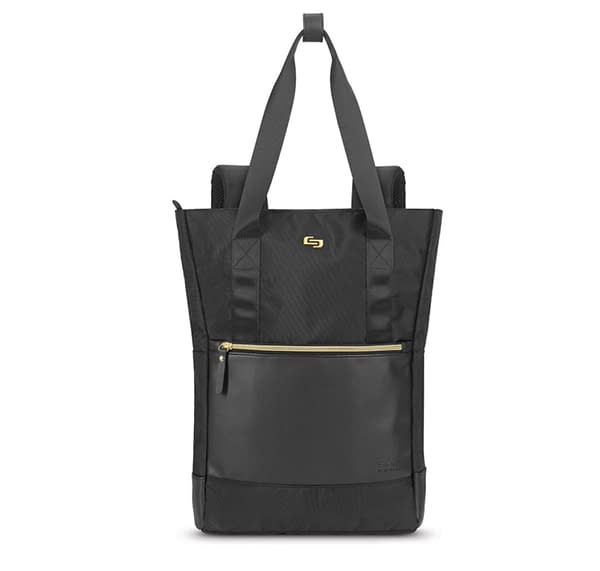 The bag also has a panel in the back to hide the backpack straps when they aren't in use, leather padded feet to protect the bottom of the bag, and a back panel that can slide over your luggage handle if you're taking the Parker Hybrid Tote on a plane. There's also a small zippered pouch on the back for anything you want to keep in easy reach.
As I mentioned above, while the Parker Tote does fit my gaming laptop, the 15" computer sticks up out of the tote a bit, which leaves it with less protection and makes it so that I cannot zip the tote closed at the top. However, it does hold a frankly ridiculous amount of stuff. I was able to fit my laptop, tablet, Nintendo Switch, and all associated chargers into the bag along with my wallet, keys, and phone.
So it can hold just about anything you'd need to keep with you while heading to work or going on a trip. The bag just isn't designed for my monster of an MSI laptop, which is fair, because few bags are (and most of the ones that can deal with my laptop are not designed for women).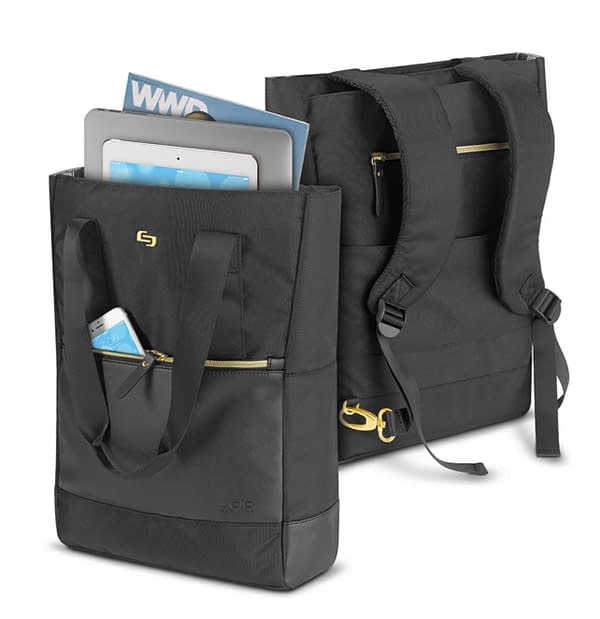 Because I can't zip the tote closed while carrying my laptop, I've tended not to use the bag for air travel, but for more local trips. That said, the average laptop fits in the bag fine. My ancient 15" macbook pro fits in the tote just fine. It just makes the tote significantly heavier.
However, the light materials and leather detailing make the Parker Hybrid Tote a light, elegant travel solution. And I absolutely adore that about the bag.