Kid Logic has put up pre-orders for an amazing collectible from the iconic science fiction classic Back to the Future II. The statue shows off the stylish DeLorean time machine is all of its futuristic glory. Doc Brown has returned from the past to warn his protege of his dangerous future. This new DeLorean features some new modifications and Kid Logic brings it to life with a beautiful piece. The Back to the Future statue features 10 LED light up functions and is equipped with powerful magnets on the inside. These magnets go with the display base that will allow the statue to levitate. On top of that, the statue will include some added extra pieces like interchangeable wheels and flame effects.
This Back to the Future statue lets you bring the future home. The levitating magnetic statue idea is nothing new but this design really uses the full effect of it. The added pieces are a nice touch and do allow a nice feel of customization to the piece. The Back to the Future II DeLorean Levitating Statue is priced at $349.99 and set to release in June 2020. Pre-orders are already live and you can find them located here.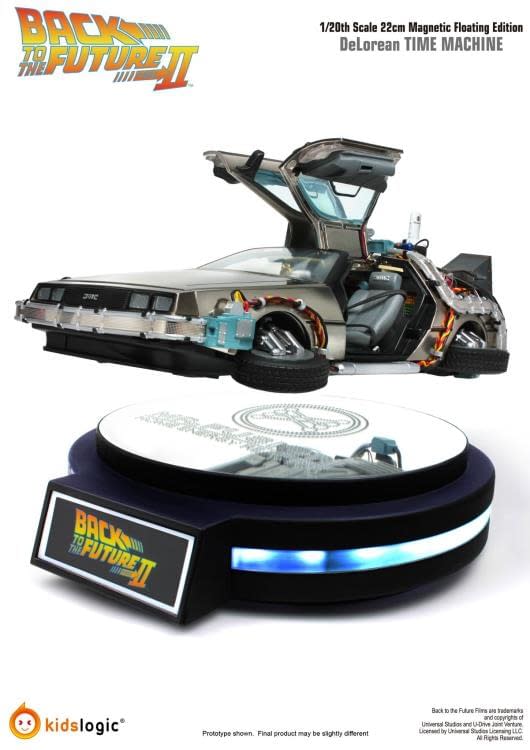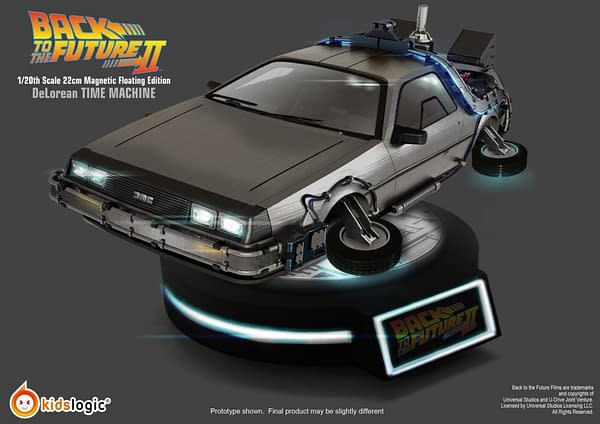 "Kids Logic proudly presents the legendary time machine based on Back To The Future Part II. Meticulously crafted with more than 10 LED light-up features across the body, this magnetic levitating DeLorean is a dream for die-hard fans of the Back to the Future series. Also included in this DeLorean toy set are flame effect parts and two sets of interchangeable wheels."
8.65 Inches (22cm)
From Back to the Future Part II
Levitating Time Machine with Magnetic Floating Base
Openable doors and movable wheels
More than 10 LED light-up features
Magnetic Floating Base comes with light up function
Input: 100-240V, 0.6A Max Output: 15V, 1A
Box Contents
DeLorean Time Machine
Magnetic floating base
Display Base
Flame effect parts
2 Sets of changeable wheels

Normal scene wheel set
Flying scene set

Power adaptor
Hover board
Sports almanac
Enjoyed this article? Share it!