Batman Gets a New Dark Knight Trilogy Figure from Soap Studio
Batman travels back to 2008 as we get a new figure based on Christopher Nolan's The Dark Knight. He comes in at 6.5" and this is the figure that you have been waiting for! Batman comes with a massive amount of interchangeable pieces like two capes with one to show him flying up high. He comes with two head portraits one being closed mouth and the other being open and we also get a separate cowl as an accessory. If that wasn't enough he comes with twelve interchangeable hands as uniquely set up for his arsenal of accesories with his: grappling gun, sticky bomb rifle, batarangs, and miniature mines. This figure is highly detailed and perfect for any Batcave or collectors shelf.
The 1:12 Action Figure Series Batman The Dark Knight (Deluxe Edition) from Soap Studio is set to release in May 2020. The figure will be priced at roughly $100 after conversion and you can pre-order yours today and here.
You either die a hero, or you live long enough to see yourself become the villain.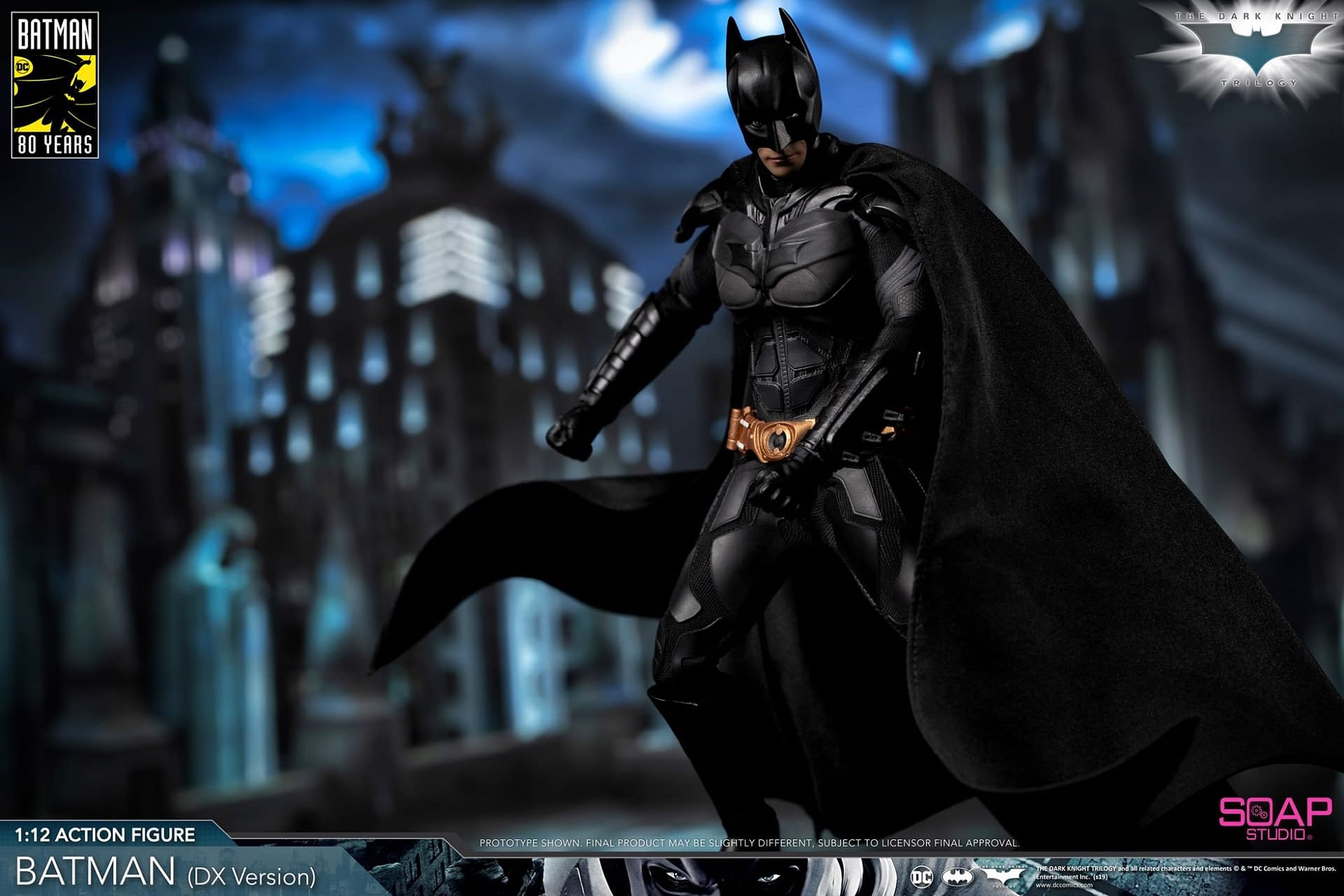 1:12 Action Figure Series – Batman (Deluxe Edition)
To celebrate the 80th Anniversary of Batman as the World's Greatest Detective, Soap Studio is lighting up the night skies by introducing Batman, our timeless hero to join the 1:12 Action Figure series
Over the past ten years, superheroes have gone from garnering a narrow audience to achieving worldwide acclaim with a level of popularity never seen before. The sought-after Dark Knight Trilogy is a set of three Batman movies directed by Christopher Nolan that are highly rated. While THE DARK KNIGHT in 2008 is even being considered as one of the best superhero movies of all time. It dominated the box office of Batman movies and has grossed over $1billion at the worldwide box office since its release. At the same time, it garnered 8 Oscar nominations and won 2.
This collectible figure stands approximately 16.5cm, designed after THE DARK KNIGHT (2008) characters on-screen appearance with 37 movable joint and highly detailed costumes and accessories. The Batsuit in trilogy is designed by Lindy Hemming, who is a famous UK costume designer and also Oscar winner. The Batsuit in TDK has been completely redesigned for better feeling of movement and lightness, all the bulk is gone. The Batsuit had cowl separated with the neckpiece that inspired by the motorcycle helmet to increase the flexibility. To better reform Batman's outfit inside the movie series, the Batsuit is made of different materials which highlight Batman's muscular body shape and allow our figure has greater mobility. The figure comes with changeable facial expression, glider pack, grappling gun, sticky bomb rifle, batarangs, miniature mines, Batman cowl, cape, fist hands, fighting hands, guns holding hands, weapon holding hands, batarang holding hands, relaxed hands and several head sculpts. This figure comes with a spanner for player changing Batman facial expression. To allow players flexibly build their own "movie stage", a backdrop is also attached to the set. Facial sculpture with high simulation, meticulous painting and clothing made of real fabrics perfectly present the character played by Christian Bale!
To celebrate the Dark Knight's amazing legacy, our 1:12 Batman is bundled with an 80th-anniversary golden pin!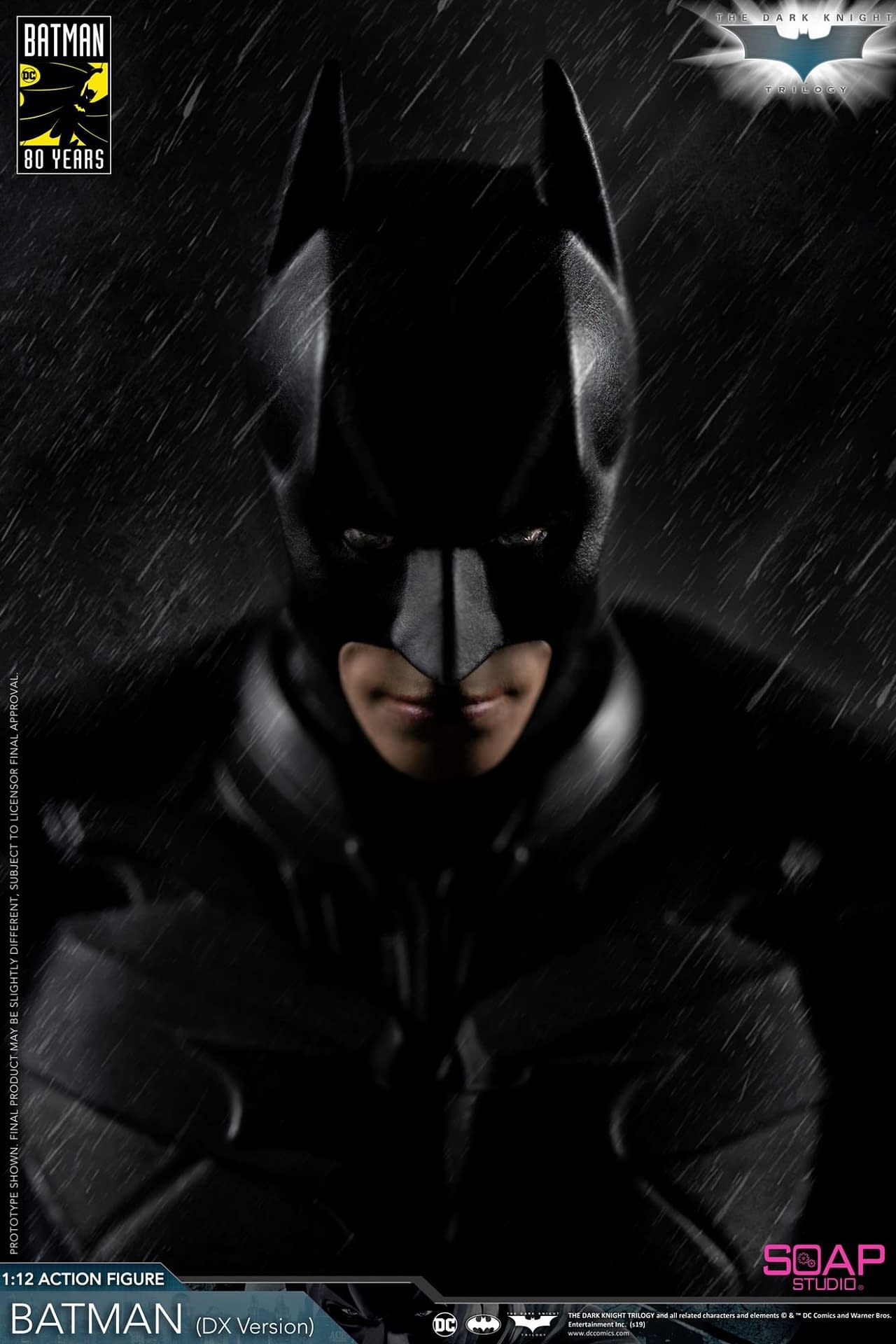 Accessories included:
1. Batman Head Sculpt x 1
2. Normal expression x 1
3. Fierce expression x 1
4. Batman Sonic Vision Head Sculpt x 1
5. Glider Pack x 1
6. Grappling Gun x 1
7. Sticky Bomb Rifle x 1
8. Batarangs x 3
9. Miniature Mines x 3
10. Batman Cowl x 1
11. Spanner (For changing facial expression) x 1
12. Cape x 1
13. Wired Cape x 1
14. Hand parts x 12 (Fist hand x 1 pair, Fighting hand x 1 pair, Guns holding hand x 1 pair, Weapon holding hand x 1 pair, Batarang holding hand x 1 pair, Relaxed Hand x 1 pair)
15. Backdrop x1
16. Stand x 1
17. 80th-anniversary golden pin x 1