Thor Shows off Stormbreaker in New Figure from Beast Kingdom 
The Egg Action Attack series from Beast Kingdom is a unique set of toys. They have interesting body styles but each figure like Thor, Spider-Man, Iron Man, and other Marvel icons are packed with character. We have seen a lot of figures come out of Avengers: Endgame and Avengers: Infinity War from this line already. This is no surprise as it is one of the biggest superhero films of all time so the collectible will continue to flow out forever. This time we are getting Thor from Infinity War who is styling his new haircut and his new weapon, Stormbreaker. Thor will also feature a special secondary head that lights up and goes perfect with the lightning effects he comes with. His cape is also fabric and can be removed from the figure for a more badass approach to his figure. This is a nice simple figure that really gives the God of Thunder his power pack and can really electrify any office or collection.
The Infinity War Thor is priced at $79.99 and is set for a November 2020 release. Pre-orders are live already and you can find him and more Egg Action Attack figure from Beast Kingdom here.
Time to put the hammer down!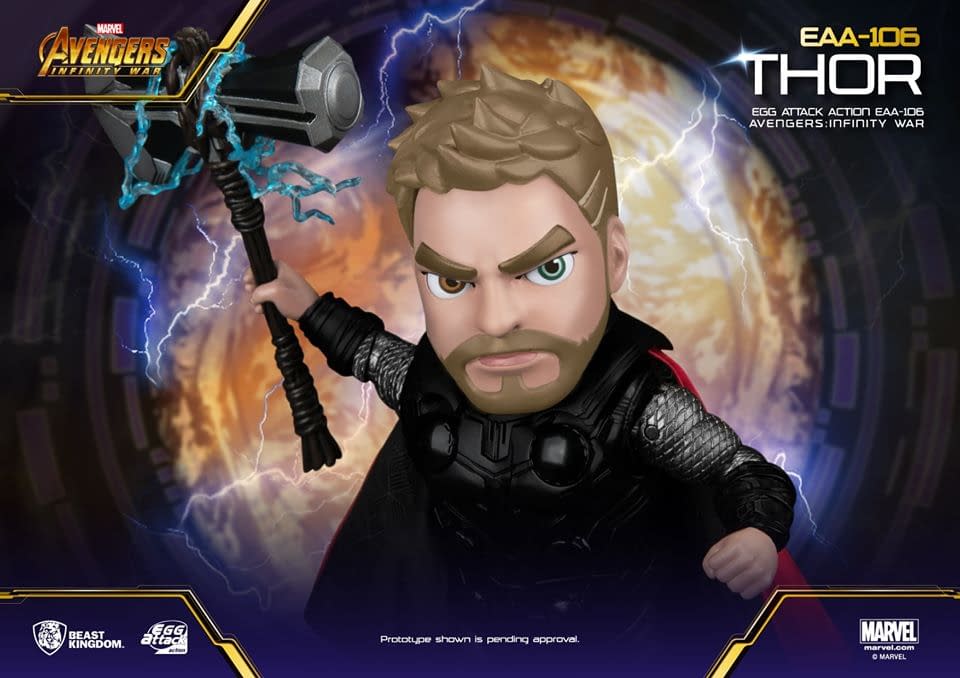 Thor Infinity War Egg Action Attack by Beast Kingdom
The Avengers Infinity War showed us a Thor with not only a new hairstyle but a new battle axe The StormBreaker. Forged from a star itself, 'The Kings'weapon is meant to be the greatest in Asgard's history! With Thor now bestowed with the powerful axe, he returns to Earth to face the mighty Thanos in the epic showdown during the battle of Wakanda.
With the whole universe at stake, Thor takes the fight directly to Thanos himself in the climactic scene, but did he manage to take the tyrant down?
Beast Kingdom, The Entertainment Experience Company is once again proud to introduce the latest in highly articulable, stylised action figures: Avengers, Infinity War Thor. Standing at 6-inches tall, with 20 movable points, and carrying the famous Stormbreaker, Thor is ready to travel the universe and fight the hordes of enemies sent by Thanos.
Including two face sculpts, one with movable eyes the other with light-up eyes, showcases the powers of Thor. Coupled with a number of lightning special effects both for the armor and for Stormbreaker, as well as replaceable arms, collectors are able to recreate some of the most exciting scenes of the movie on any desk.
So make sure to get your hands on the latest and greatest Avengers Egg Attack Action figure today!