Black Widow Takes Aim in the New Sideshow Collectible Statue
Black Widow has been one of the iconic female leads inside the Avengers franchise. The movie industry has seemingly capitalized on her being the only female lead Marvel Universe. This made her popularity rise and now there are plenty of people who can recognize her now more than ever. Sideshow Collectibles has announced their newest Black Widow statue from their avengers assemble series. The statue showcases Black Widow holding a sniper rifle perched up debris. The design of this statue seems more cartooney and animated rather than a more realistic style statue but I still love the look of it. There will be two editions of the statue released, one being the standard in the second being exclusive to Sideshow that comes with an extra head. I am not honestly fond of this secondary portrait as it just shows her with shorter hair. However, some fans of hers might really dig it so it would be worth the extra price. The statue stands about 14.5 inches and is made of polyresin. The statue also shows off her iconic comic book costume from the belts to the wrist gauntlets. I would recommend this as a must-have for any Black Widow fan or fans of the Avengers Assemble statue series line from Sideshow Collectible.
The Marvel Comics Black Widow Statue from Sideshow Collectibles it's set to release between August and October 2020. The standard edition statue will be priced at $420 and the Sideshow exclusive statue with the extra head will be priced at $430 pre-order links for both are already live are located here. Don't forget to check out the other Marvel Comic statues from Sideshow Collectibles.
"My name is… Madame Natasha… but you… can call me The Black Widow!"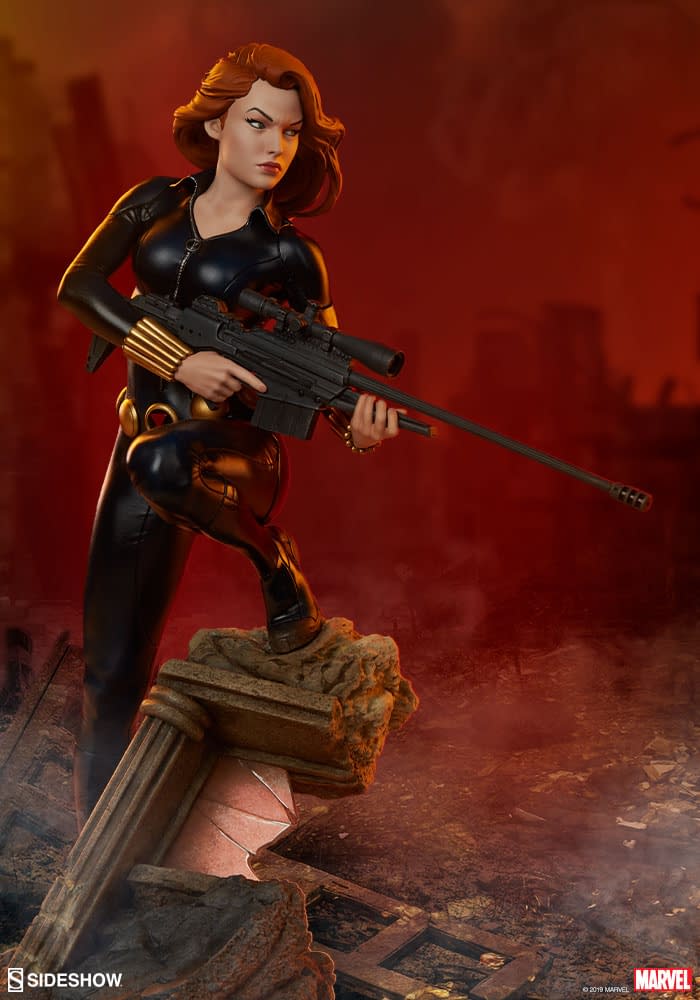 Avengers Assemble Black Widow Statue
"I'm my own woman- first, last, and always."
Sideshow presents the Black Widow Statue, in position to join the Avengers Assemble Statue Collection.
Inspired by some of Marvel's most iconic characters, the 1:5 scale Avengers Assemble collection captures the colorful and battle-ready styles of Earth's Mightiest Heroes!
The polyresin Black Widow Statue measures 14.5" tall as Natasha Romanoff stands alert atop a ruined city building base with a cracked window element. Armed with a sniper rifle, the avenging superspy is ready to help her team and take aim at the next target. Black Widow features a fully-sculpted costume in her signature stealthy black, complete with her gold Widow's Bite bracelets and belt. Her long red hair flows in the wind as she looks on with intense focus, living up to her deadly namesake.
Pair Black Widow with her allies including Black Panther, Captain America, and Iron Man to assemble your ultimate collection of Avengers statues and create an epic battle scene with their destruction-covered proximity bases.
The Exclusive Edition Statue includes an alternate portrait with short hair, giving you an additional style option for the secretive superspy.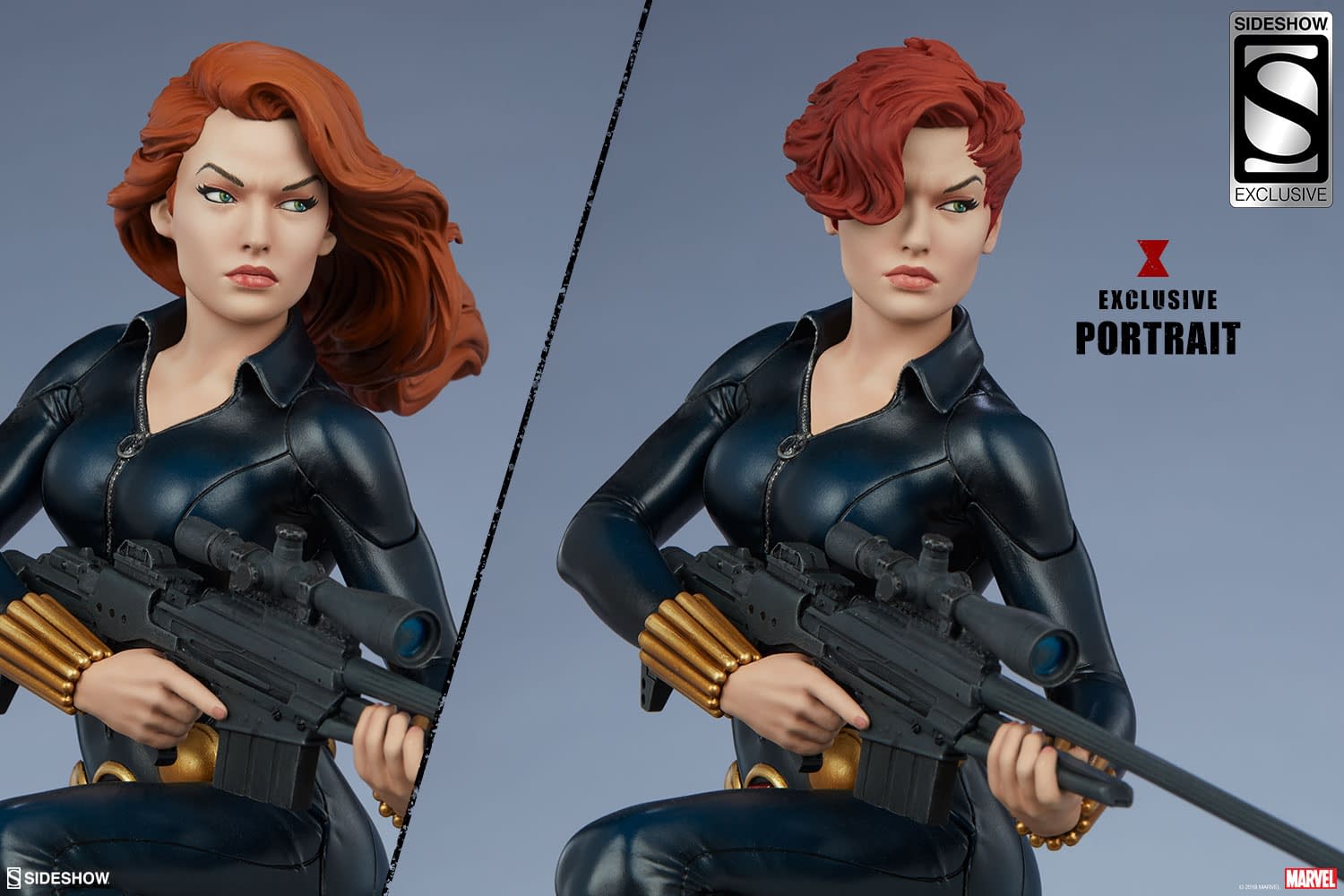 Walk into her web and bring home the Black Widow Statue for your universe of Marvel collectibles today!
Additional Details & Dimensions
– Materials – Polyresin
– Product Size – Height: 14.5″ (368.3 mm) | Width: 12″ (304.8 mm) | Depth: 17″ (431.8 mm) | Weight: 8 lbs (3.63 kg)