Captain America is Worthy with New Hot Toys Figure at D23
Captain America is worthy! Best seen in Avengers: Endgame, Cap gets the jump on Thanos by taking control of Mjolnir! Hot Toys is celebrating D23 with a special edition 1/6th scale figure. It shows the detailed sculpting of Chris Evans. He comes with 2 interchangeable heads, a broken shield, as well as a non-broken shield and some debris to show off the final showdown area. One of the coolest things that he comes with is a LED Mjolnir! This special edition version comes with the Loki Scepter, a tesseract, and added lighting effects to show off Mjolnir's power! This right here is a perfect convention Exclusive! It will be available later one but this Captain America is available today at D23.
Check out Worthy Captain America Below!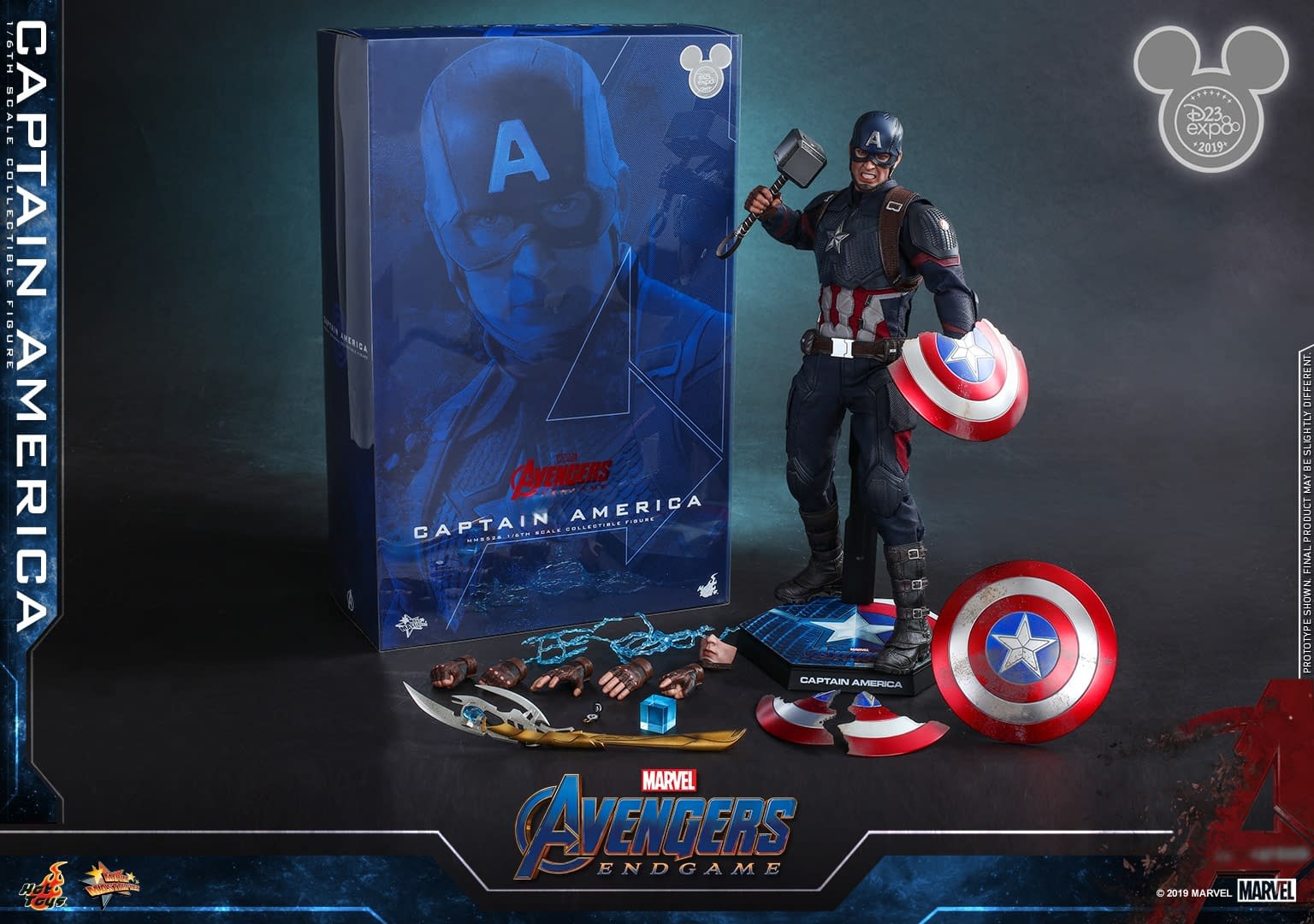 Avengers: Endgame – 1/6th scale Captain America Collectible Figure (Special Edition)
"Avengers! Assemble." – Captain America
Steve Rogers, a man out of time and out of sync with the country he has sworn to defend, finds himself called into action to complete a mission with the universe's entire existence on the line. As the leader of the Avengers, this Super-Soldier will need to bring together his surviving Avengers companions and the World's Mightiest Heroes once again to fight the war for lives.
Celebrating the kick-off of D23 Expo 2019, Hot Toys is excited to present today the 1/6th scale Captain America collectible figure from Marvel Studios' Avengers: Endgame for the ultimate fans experience.
Meticulously crafted based on the appearance of Chris Evans as Captain America/Steve Rogers in the film, the movie-accurate figure features a newly painted helmeted head sculpt with two interchangeable lower faces capturing Chris Evan's facial expressions, a muscular body which naturally portray Captain America's muscularly toned body, a finely tailored outfit with star emblem on the chest, Cap's star-spangled shield, a broken shield with pieces of remains to recreate the epic face-off, a LED light-up Mjolnir, a highly-detailed compass, as well as a figure stand with specially designed graphic card.
The Special Edition available in selected markets will include a Loki's scepter, a Tesseract, and lightning effect accessories as bonus items exclusively for collectors.
Avengers: Endgame 1/6th scale Captain America Collectible Figure (Special Edition) will be firstly available at D23 Expo 2019! This absolutely stunning Captain America collectible figure is a must-have for any Marvel collector to place alongside with your Avengers collection!