Darth Maul Kotobukiya Brings the Dark Side to Your Shelves
Darth Maul reveals himself to the Jedi once again with a new Kotobukiya statue. I honestly think Darth Maul is one of the biggest fan-favorite villains from the prequel series. No one should complain about seeing his dual bladed red lightsaber for the first time. His introduction definitely changed the mythos of the series and brought us an amazing kick-ass enemy. Now you can bring the enemy home with a new statue from Kotobukiya. The statue does come with two interchangeable head portraits and three interchangeable hand positioning. These interchangeable hand positioning can let Darth Maul hold his lightsaber in the front or the back. At this point, it's mainly just what a collector would want to use as their preference. The detail for this figure is quite amazing you can ever really complain about Maul's red and black complexion. It would be perfect for any Star Wars fans are fans of the Phantom Menace.
The Star Wars: The Phantom Menace Darth Maul ArtFX+ Statue from Kotobukiya will be priced at $90. He is set to bring revenge with a release date of June 2020 and pre-orders for him are live and you can find them located here. Don't forget to check out some of the other amazing Star Wars ArtFX+ statues is coming soon from Kotobukiya like the Mandalorian.
At last we will reveal ourselfs to the Jedi, at least we will have revenge.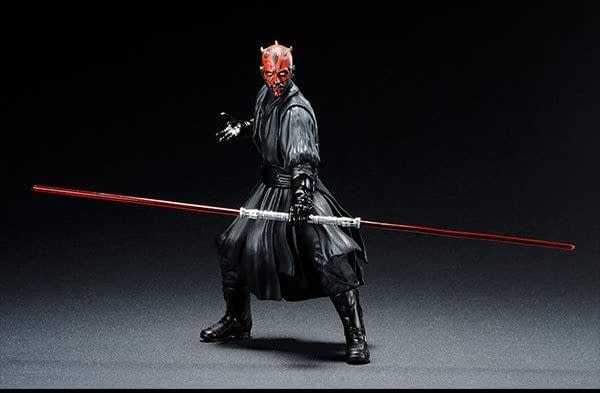 STAR WARS:THE PHANTOM MENACE DARTH MAUL ARTFX+
Kotobukiya proudly presents the next release in the popular STAR WARS ARTFX+ line: Darth Maul!
Includes interchangeable arms and heads, allowing for the creation of a variety of poses. (3
sets of arms (3 left and 3 right hands) and 2 heads)
Darth Maul's action pose makes for a great display with other STAR WARS ARTFX+
statues.
Amazingly detailed sculpt includes all the details of Darth Maul's intricate facial tattoos.
At last you can reveal your shelves to the Dark Side!
(This item is reproduction.)