Flash Gordon Getting a 1/6 Scale Figure from BIG Chief Studios
Flash Gordon is back! BIG Chief studios I have announced that they will be getting an exclusive Flash Gordon King of the Impossible figure only through them. We have seen a recent Flash Gordon and Ming the Merciless figures but this one is just the man himself. The figure is very articulated in detailed in the shows great likeness is to the actor Sam J. Jones. Speaking of Sam Jones this figure does come with a special signature edition that is limited to only 100 pieces! The signature edition includes a signed plaque by the actor himself. This is a pretty amazing collectible extra if you're a fan of Flash Gordon. The regular edition is still pretty limited too with only 400 available so this is a collectible for those massive hardcore fans out there. It's time to make that Hail Mary pass and save the Earth once again with this Flash Gordon figure from BIG Chief Studios.
The Flash Gordon King of the Impossible 1/6 Scale Figure from BIG Chief Studios set to release in October 2020. The limited-edition version will be priced at $219 and the signature edition will be priced at $258. For roughly a $40 increase to get the signature version is definitely worth it. Pre-order links are already live in you can find them located here.
He'll save everyone of us!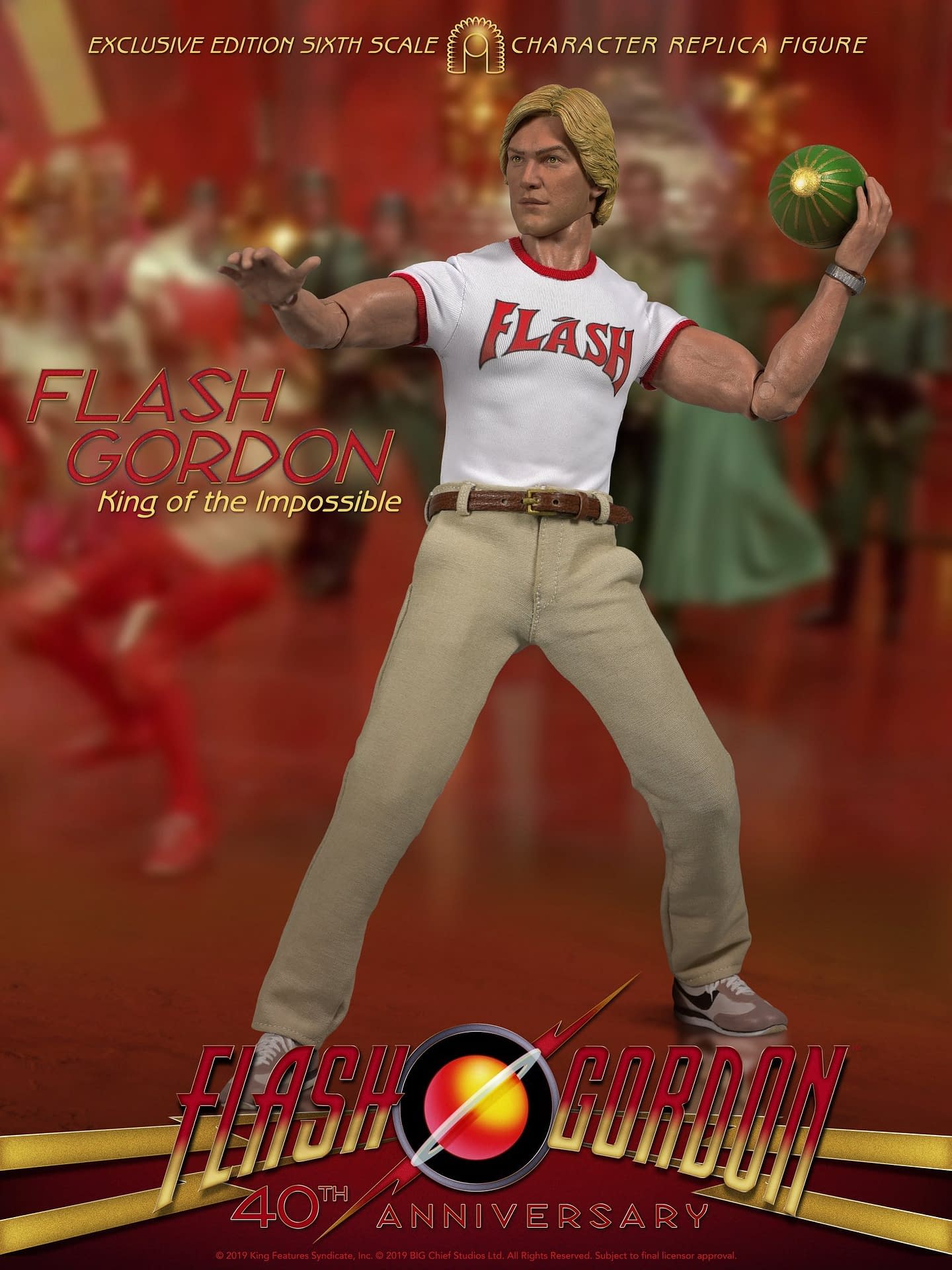 Flash Gordon – King of the Impossible 1/6 Scale Figure
New York Jets star quarterback Flash Gordon stands ready to save the Earth from the evil Emperor Ming and the forces of Mongo.
Now available to pre-order Flash Gordon, King of the Impossible is exclusively available from BIG Chief Studios and is not available via other retail outlets.
Available as a Signature Edition each figure includes a special plaque autographed by the savior of the universe himself, Sam J. Jones.
Also available as a standard Limited Edition and produced under license, this official release features a fully realized likeness of Sam J. Jones in the iconic role, complete with authentically styled costume.
What's in the Box
1 x Flash Gordon Portrait Head Featuring Authentic Likeness of Sam J. Jones
1 x Anatomix Muscle Body with Specially Developed Torso
1 x Ringer T-shirt with FLASH Emblem
1 x Pair of Jeans
1 x Belt with Gold Buckle
1 x Pair of Training Shoes (Sneakers)
4 x Interchangeable Hands
1 x Egg
1 x Printed Display Backdrop
1 x Display Base with Illuminating Character Name Plaque