Funko Enters the Battleworld with New Marvel Collectible Game
Funko is combining collectibles with gaming with their newest series. Coming out from the far reaches a space, Thanos has created a new world, The Battleworld. This planet assembles some of Marvel's greatest heroes in the ultimate face-off that will please fans new and old. Funko's new game features 30 collectible mini pieces that fans can collect. Each figure will have a retrospective card that will be used to play the game. So far there are already two packs you can get for Marvel Battleworld, the first one is the mysterious Battle Ball that will hold two heroes one of them is hidden inside the Thanostone. We have recently unboxed one of these Battle Balls which you can check out here. The second one is the starter pack that will come with six heroes in total with two hidden inside Thanostones. One from the starter pack is a guaranteed Negative Suit Spider-Man. Each of these figures is nicely designed in some of them even featured designs that we have yet to see as Funko Pops. On top of all this, there will be Funko animated shorts to show off these heroes' journeys on the new Battleworld.
Funko has made a nice variety of collectible figures for the Marvel Battleworld World game which is great. The game does seem quite complex I am sure there are plenty of fans out there who will want to dive right in. Even if you don't want to play the game the figures are worth the pickup. Of the sets available the Funko Marvel Battleworld is priced at $8.99 each and you can find some located here. The Mega Pack that includes the Negative Suit Spider-Man is priced at $24.99 which can be found here here. This seems to only be Series 1 of Funko's Marvel Battleworld so I'm curious to see what else Funko has planned and what character they will be releasing. Check out the animated Funko Battleworld trailer below as well as the official release. Enter the Battleworld and take on Thanos with this action-packed collectible.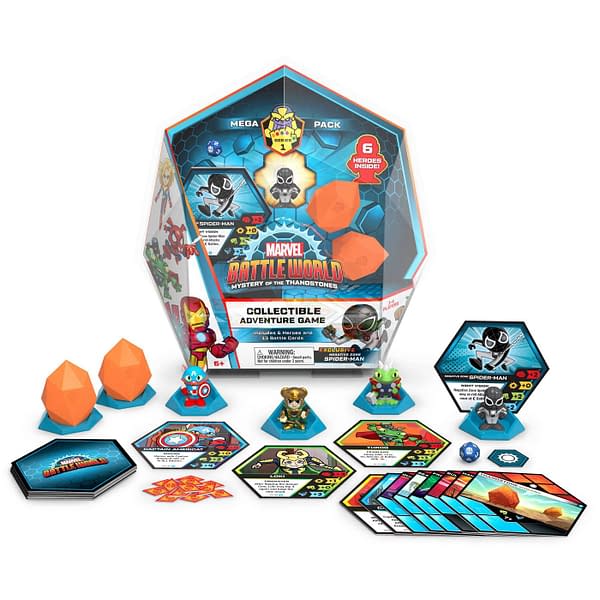 Marvel Battleworld: Mystery of the Thanostones
"The new adventure game, based on the Marvel Universe, combines micro collectible characters, cards and gaming, allowing kids to battle against Thanos in gameplay unleashed through a Battle Ball. Each Battle Ball contains a surprise of two Marvel collectable characters, Hero Cards, Battle Cards and pair of dice, all for a highly accessible price point. Players can collect Marvel micro heroes ranging from icons like Iron Man, Captain Marvel and Groot, as well as characters like Valkyrie Gamora and Throg."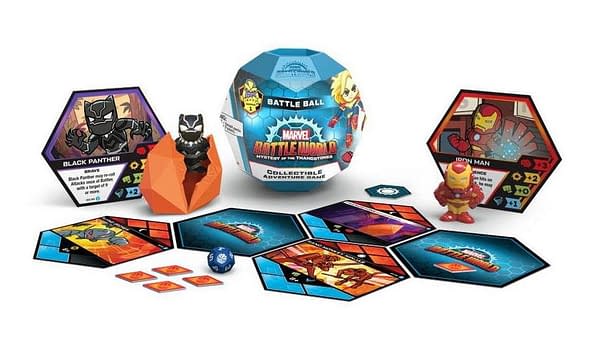 "We are thrilled that Marvel has chosen to expand the Funko collaboration to engage their younger fans with a new category of products and animation collaboration," said Brian Mariotti, Chief Executive Officer of Funko. "Funko enters the toy aisle for the first time with a product offering of tremendous value. In addition to two micro-collectible characters inside the Battle Ball, the child can battle independently or team up with friends to defeat Thanos through game play. This kind of product assortment is both what kids want and what retailers are keen to offer parents."
"New Marvel Battleworld short-form animated content will be available across multiple platforms, including Disney XD, Marvel HQ, YouTube and more. Created by Funko Animation Studios, in collaboration with Marvel, this series will introduce children to a new plan by villain Thanos to trap Marvel heroes in Battleworld."
"Battleworld offers kids a completely new way to play and interact with the Marvel brand and universe of characters they know and love." said Paul Gitter, SVP, Marvel Licensing. "The innovative tabletop gaming plus action-packed storytelling gives kids an immersive experience that's fresh for the Marvel Brand."