Gecco Brings Dinomation Back to Life with New Tyrannosaurus Rex Statue 
Gecco is digging up the past with their new series of upcoming statues. These statues are all based on old school dinosaurs but not the dinosaurs we know today but the classic cinema ones from the motion capture ere. Movies like The Valley of Gwangi, King Kong and The Lost World all showcased this style of dinosaur animation. Gecco's first addition to the series is the ferocious Tyrannosaurus Rex! This design of the T-rex is based on the older styles of dinosaurs and they are slightly different then what we know today. The T-Rex has a bulky styled design and a rougher body skin type. The skin is very detailed with cracks, wrinkles, and scales all over and it sinks in deep with the brown skin with a hint of green. The face is very claymation styled and his teeth are protruding from the mouth giving the T-Rex an overbite. The eyes are creepy with a small red and yellow color design on the creature. The base of Gecco's statue shows a prehistoric world and even have a skeleton embedding in the dirt. This statue is a cool reminder of cinemas' past or just a cool reference of a T-rex.
Gecco gave this statue a Feb 2020 – March 2020 release date and is priced at $169.99. You can get this stop-motion styled T-rex here.
"In all my travels, I never seen anything like that two-ton lizard. If we can just get him back alive."
Since their discovery Dinosaurs have been portrayed in many different ways.
With every new discovery and artist imagination, the look of the dinosaurs changed. Extensive research and new evidence have locked down the anatomy of certain dinosaur species.
In this statue series, we capture the Dinosaurs in a retro-style rather than an academic approach. Something that might appear in classic stop motion animation films.
The series title, Dinomation, comes from combining the words "Dinosaur" and "Stop Motion Animation." RYO the sculptor, painter, and creator of this series captures a moment of dynamic movement with the Dinosaur frozen in time, cut from a film frame of an imaginary yet familiar fantasy film.
He captures the wildness and vitality of the creature through his traditional clay sculpt.
The world's most famous dinosaur "Tyrannosaurus Rex" marks the start of the series.
The base is inspired by the deserted landscape in North America, where they are said to have lived in the Cretaceous period.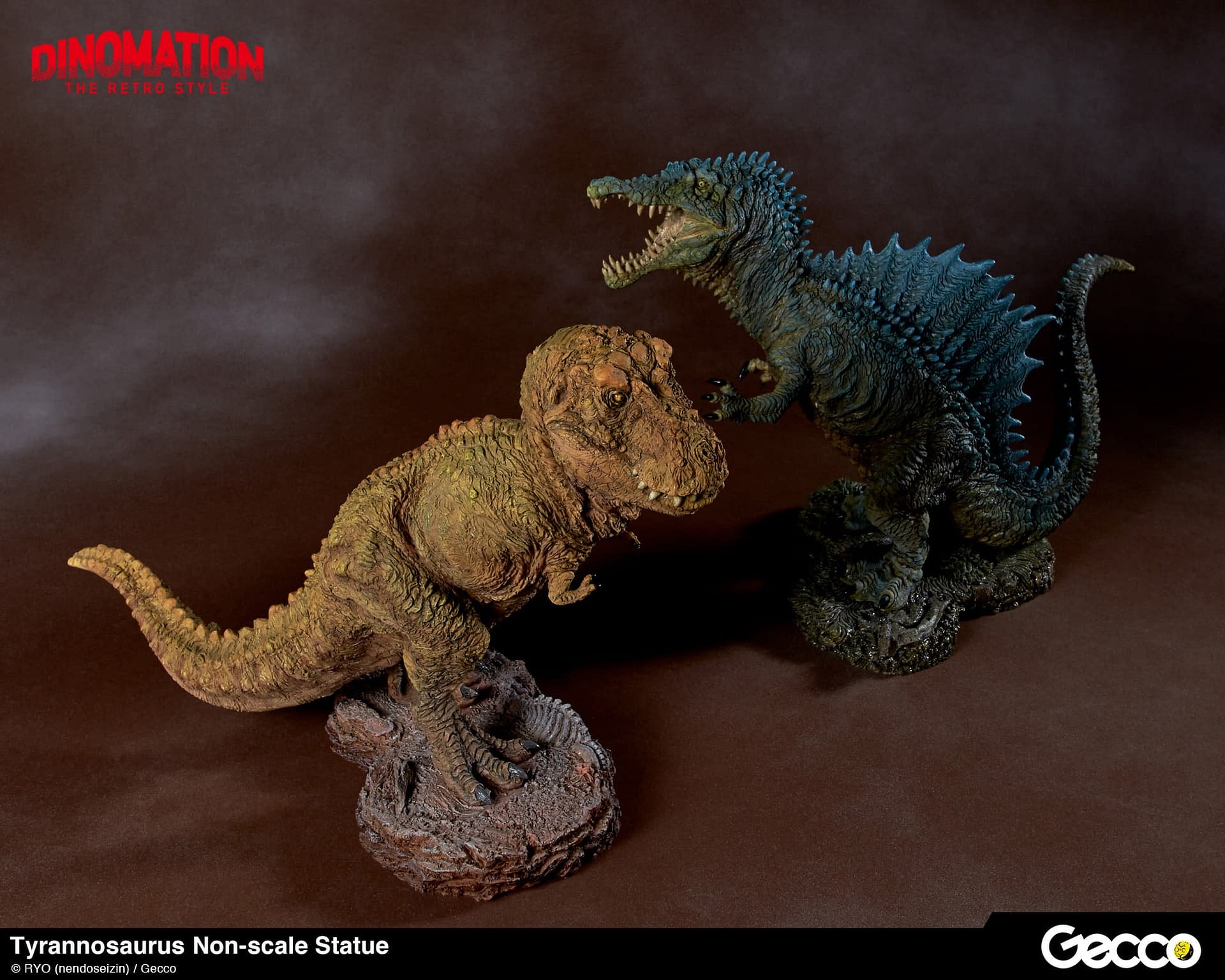 Spinosaurus is lined up as the second release of the series.
Specification
●Price: US$169.99 ●Prepainted statue ●Material: Polystone ●Size: Approximately 170mm (Non scale)
●Release: February 2020 ~ March 2020 ●Sculpt & Paint: RYO (nendoseizin)
Distributor
●Ultra Tokyo Connection (North America)
●Diamond Comics Distributor (North America)
●Sideshow (North America)
●D4TOYS (Other countries)