General Grievous Toys That Will Make a Fine Addition to Your Collection
One of the coolest Star Wars villains out there in the Galaxy besides Darth Maul, in my opinion, is none other than General Grievous. This warrior decided to enhance his body by removing the flesh and making himself in an immortal robot. He was however not so immortal after getting a face to face encounter with Obi-Wan Kenobi. However, General Grevious is still pretty legendary and has quite a nice set of collectibles. So let's dive deeper into his temple and look at some of General Grievous's best collectibles out there.
Our first collectible is a toy I had as a kid and I actually still own it. It is an Electronic General Grievous mask from Star Wars: The Clone Wars. The mask has straps in the back, red eyes and even has a button on the top that will play some iconic Grevious voice lines. While the nose piece slightly does hurt when you put it on it is still badass to wear and hear those iconic lines. In my opinion, it is a must-own for General Grevious fan and you can find some here.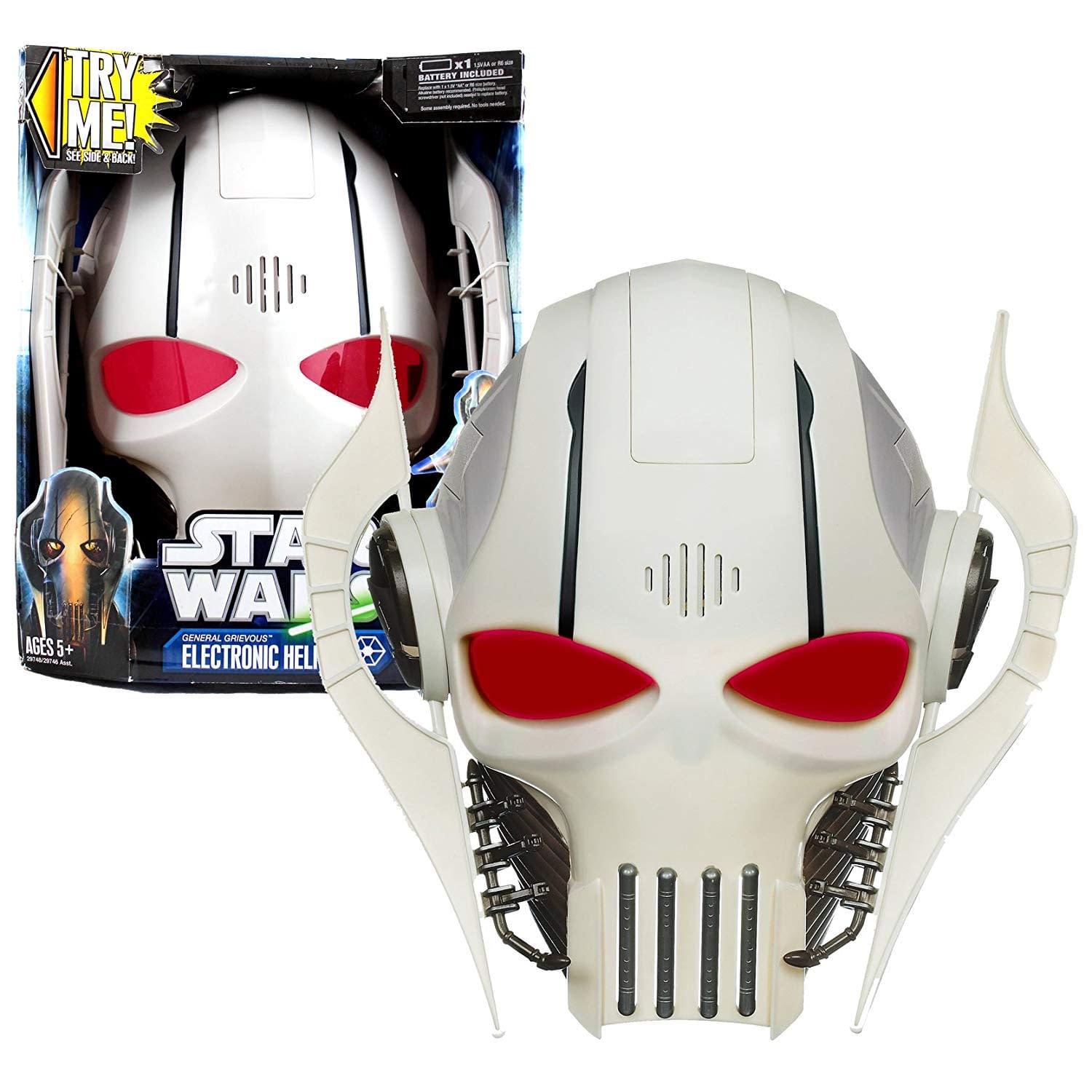 Following the mask from Star Wars: The Clone Wars is General Grevious lightsaber that came out to coincide with the mask. This awesome little lightsaber almost can almost be compared to. The way we see the Inquisitor's lightsabers. The lightsaber is double-bladed and features both green and blue lightsaber colors that can connect to a center console unit that has the ability to spin. The spinning aspect gives you the ability to become a General Grevious in a quite interesting way. Another cool part is the lightsabers can actually detach from the center unit and become two Yoda sized lightsabers. The styling of the lightsaber does give a tone of the metal General Grevious body is made of too. This is a collectible General Grevious fans should own and you can find them here.
Next up and we are going with none other than Star Wars: The Black Series. Like I say you just can't have Star Wars collectible lists without featuring at least one Star Wars: The Black Series figure. This most recent figure comes in a bigger Black Series box and gives us a quite detailed version of General Grevious. He does have a cape that is made out of fabric and can be attached and removed and he also comes with his four lightsabers. He might be hard to find now but some places do you still have them online and you can find him located here.
Second, to last is none other than the Sideshow Collectibles figure of General Grievous. This is probably the most artistic figure you will find on the market and you would expect no less from Sideshow. The detail on General Grievous is remarkably close to what we see in the film but you can actually hold it in your hand. He even comes with a set of accessories from capes to lightsabers and his own little armory for him to hunt down any Jedi he pleases. This figure is sold out however something might pop up in other places such as eBay and Amazon so always be on the lookout to add this deadly robot your Star Wars collection.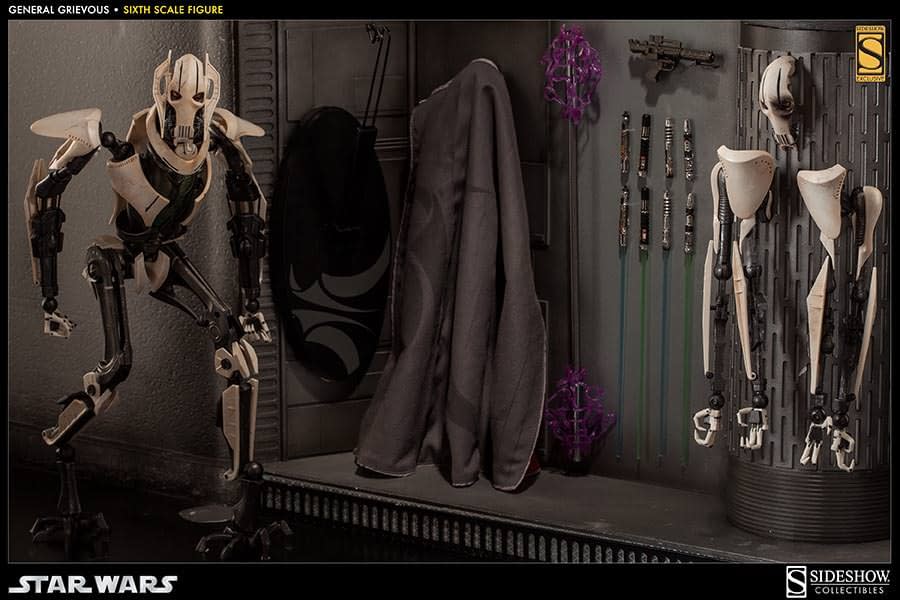 This last one is quite unique and pretty recent and is still available now. This is one I've been interested in myself and I hope other fans are too, with this General Grievous model kit. The figure looks quite remarkably close and even better than the Black Series figures. He comes with four lightsabers a removable cape too and is quite articulated. This is one model kit I would love to pick up this myself and actually be able to build this famous Jedi hunting General. If you want to get your own model kit he is currently available and discounted online and located here.
General Grievous has left his mark for Star Wars fans. He is a character I would love to see more about whether it be through more figures or statues or even his own comic book series. I would love to see more backstory on how he became the robot he is from the man he was. Until then we have these collectibles that we can hold on to and cherish. Some of these collectibles are hard to find now but the hunt will continue and waiting for you to add them to your collection.
"You fool! I have been trained in the Jedi arts by Count Dooku."