Halloween fans and collectors are legion, and today Prime 1 Studio is taking preorders for the Michael Myers statue of our dreams. The legendary slasher stands 42 inches tall, and features an extremely detailed sculpt. Michael is posed on a porch base, and is based on his look from the original 1978 horror classic Halloween. It will features real cloth clothing, synthetic hair, and he will be holding a bloody knife. Order before February 12th, and you can receive a LED light-up jack-o-lantern as well to add to the display. The cost? Why, only $1,999. You can do 13 easy payments of $138.39 though! Its somewhat affordable then.
You can place a preorder right here, and check out details and pics below: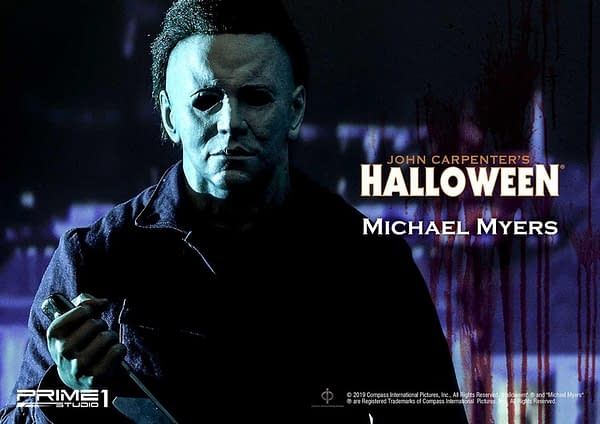 "I met this six-year -old child with this blank, pale, emotionless face, and the blackest eyes; the devil's eyes…I realized what was living behind that boy's eyes was purely and simply…evil." -Dr. Sam Loomis' description of a young Michael
Prime 1 Studio is proud to present the 1/2 scale HDMMHW-01: Michael Myers Statue from the iconic John Carpenter's Halloween Film.
Halloween is a 1978 American slasher film directed by John Carpenter. The plot tells about a mental patient who was committed to a sanitarium for murdering his teenage sister on Halloween night. Fifteen years later, he escapes and returns to his hometown, where he stalks a female babysitter and her friends, while under pursuit by his psychiatrist.
Sculpted in approximately 42 inches tall, crafted with a high attention to details, with a realistic hair for and an iconic mechanic jumpsuit made of real fabric.
The early pre-order bonus part is including a Halloween Jack-o'-Lantern with LED Light up function which can be displayed anywhere.
Don't miss out to add this stunning piece to your horror collection!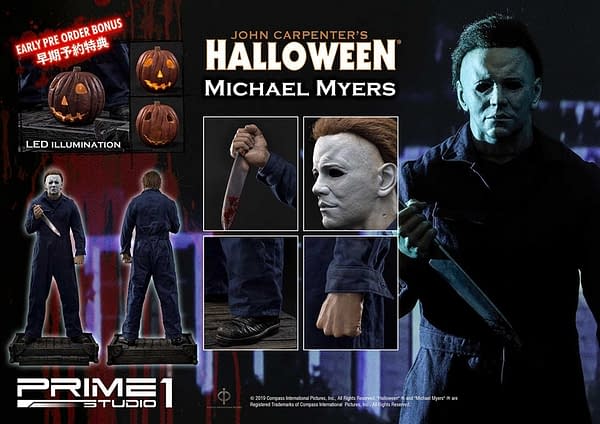 Specifications:
– Statue Size approximately 42 inches tall [H:105.4cm W:48.4cm D:44.8cm]
– One (1) designed theme base
– One (1) LED light-up feature on Jack-o'-Lantern (Early Pre-Order Bonus Part)
Enjoyed this article? Share it!