The Jokers Gets a Life Size Bust from Sideshow Collectibles
The Joker is always up to now good and you can just see it in his eyes. You can see his eyes now as Sideshow Collectibles opens up pre-orders for their new life-size bust of The Joker. The Joker Life-Size Bust stands 27.5" tall and rests on a silver base with rust styled paint on it. The statue gives us Joker's crazy smile with an expression that can light up any room. His iconic green bowtie and flower are seen wit this statue and I appreciate it. His purple base and the green from the bow and hair definitely compliment each other and would really look well in any DC Comics fan collection.
The Joker Life-Size Bust from Sideshow Collection is set for high end collectors as it is priced at $1,200. Sideshow does offer payment plans so take advantage of that if need be. The bust is set to release between November 2020 and January 2021 and pre-orders are already live for him and can be located here.
Time to open a can of crazy.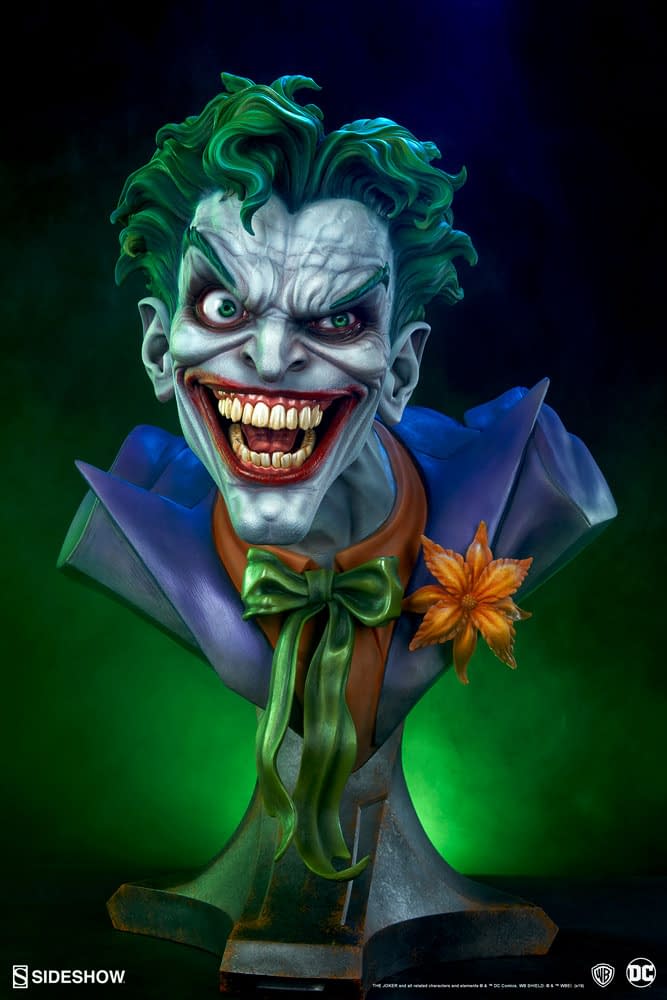 The Joker™ Life-Size Bust by Sideshow Collectibles
ABOUT THIS LIFE-SIZE BUST
"There's still so much to do before a crisis of craziness crashes the party!"
Sideshow presents The Joker Life-Size Bust, an epic 1:1 scale vision of villainy for your DC Comics collection.
The Joker Life-Size Bust measures 27.5" tall, shoulders hunched with madness atop a sleek silver base with rust-like paint application. Inspired by his iconic appearance throughout DC Comics, this fiberglass and resin bust dares you to lean in closer as The Joker laughs in the face of justice.
The Joker Life-Size Bust is fully sculpted from the bottom of his bow to the top of his tousled green hair and is painted with vibrant colors befitting the Clown Prince of Crime. The Joker is costumed in a purple suit with an orange dress shirt, a green bow, and an orange lapel flower. His pale, painted skin features highly detailed textures including intense wrinkles and protruding veins, emphasizing the sheer craziness in his signature red smile. Even the gleam of his eyes and his jagged teeth are designed with frightening realism, bringing Batman's most famous foe to life.
Capture the criminal insanity of The Joker Life-Size Bust in your rogues gallery of DC Comics collectibles today!
Artists
Ryan Peterson (Sculpt) (Design) (Development)
Simon Garcia (Mold and Cast)
Chadwick Andersen (Mold and Cast)
Bernardo Esquivel (Paint)
Casey Love (Paint)
Anthony Mestas (Paint)
Richard Luong (Design) (Development)
Alex Pascenko (Design) (Development)