King Kong Figure Coming In September From NECA
King Kong is barreling into stores in eight inch glory. In a surprise announcement, NECA have revealed their take on the iconic movie monster in their ever popular Ultimates line. Finally, we will have a Kong to go with our army's of Godzillas. The figure will stand at 8 inches tall, and features over 30 points of articulation. He will also come with two sets of interchangeable hands and two headsculpts: a screaming sculpt and a more normal looking mouth open sculpt. Right off the bat I wish one of those was closed mouth, but that is ok. The body will also feature some battle damage. He looks incredible.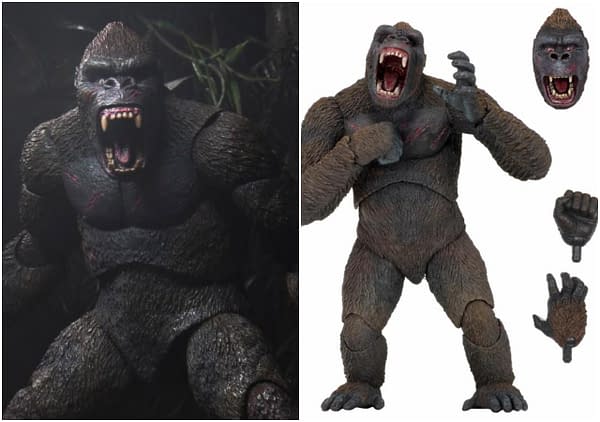 As with all NECA Ultimates, King Kong will come in their deluxe style box with window and key art on the front. The figure is up for order right now, and has a shipping date in September. One has to think this was to be a big revel at SDCC this year before the show was canceled. Thankfully, we don't have to wait long at all for it. Check out the figure below, and preorder yourself one right here, as it will be a tough find in stores.
King Kong NECA Ultimates Figure Details
"NECA is excited to add another kaiju to its collection. At long last King Kong will be joining NECA's action figure line! King Kong is an original take on the classic gorilla, with super detailed hair and battle wounds across the body and head sculpts. This massive figure stands at 8" tall with over 30 points of articulation. Included with the figure are 2 heads with varied expressions, a pair of open hands, and closed fist hands. Window box packaging with opening 5th panel front cover."
Box Contents
King Kong figure
2 Heads with varied expressions
Pair of open hands
Closed fist hands