The Legend of Zelda returns to its widely popular game Twilight Princess with Good Smile Company's newest collectible. Link is back and ready for action with this re-released figma. Originally debuting in 2017, Link returns after 3 years to hit collectors shelves once again. This highlight detailed figma is highly posable and comes with a wide variety of accessories. For customization, collectors will be able to pick from three different face plates from with confident, clenched teeth, and the power attacking "Hi-Ya" facial expressions. You can not have Link without hos trusty Master Sword and Hylian Shield which as also included. The shield can be attached to his back and the sword can also be sheathed there too. Both normal and deluxe versions will be offered and the deluxe comes with more iconic weapons from The Legends of Zelda. Deluxe Link will get the Clawshot that will come with open and closed modes, Hero's Bow and Arrow, Ball and Chain, and the Ordon Sword. This is one highly detailed and articulated figure that any fan will happy to finally add to their Legend of Zelda collection.
It is a bittersweet feeling with collectible re-releases. One side of it includes collectors who are finally able to get something for retail. But this doesn't make older collectors pull the short stick as their highly sought after piece is now not as rare as it once was. If you missed the previous release in 2017 then you'll want to lock down yours this time around. The Legend of Zelda Twilight Princess Link figma from Good Smile Company will be priced at roughly $69. He is set to release in January 2021 and pre-orders are already live and can be found here. What Good Smile Company figure do you think needs to get a re-release next?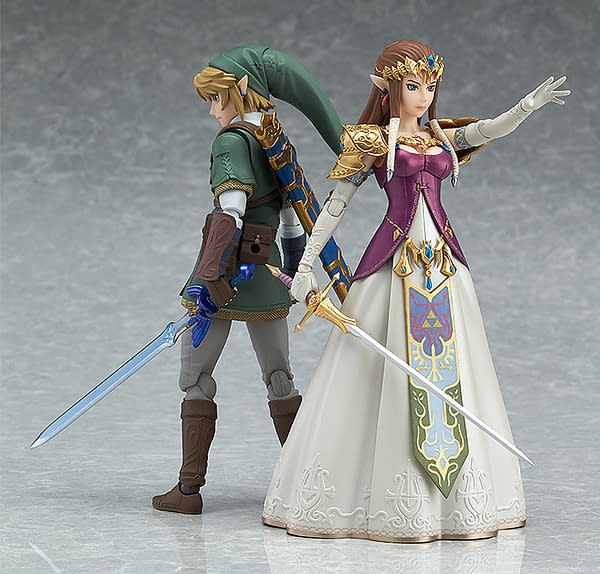 "The hero guided by the Triforce joins the figma series! A special edition of 'figma Link: Twilight Princess ver.' featuring various additional items is back for a rerelease!"
Using the smooth yet posable joints of figma, you can act out a variety of different scenes.
He comes with three face plates including a strong-willed and confident expression, a powerful shouting expression as well as an expression with clenched teeth.
The Master Sword and Hylian Shield are both included.
The shield can also be displayed carried on his back, just like in the game.
The DX Edition includes the Ordon Sword, Hero's Bow and Arrow, Ball and Chain, Hawkeye and the Clawshot.
The Clawshot comes with both an open and closed claw which can be interchanged to recreate different poses.
An articulated figma stand is included, which allows various poses to be taken.
Enjoyed this article? Share it!