Marvel's Spider-Man has been making a lot of rounds in the collectible circuit lately. Not only has the PS4 exclusive game but a massive hit but the long extensive line of Spider-Man costumes throughout the game has inspired a lot of figures. Hot Toys is releasing another Spider-Man 1/6th scale collectible figure. This time it is based on the negative suit and it is a Hot Toys exclusive. This suit switches the iconic red and blue to black and white and it catches your eye. The figure stands roughly 12 inches tall and has over 30 points of articulation. Marvel's Spider-Man includes multiple swappable out eyepieces, interchangeable hands, a spider-sense of fact, and web effects. That's not ours we will also be getting spider drone accessories, trip mines, web bombs, a vulture jammer and much more as seen in the game. The black and white color scheme goes great with this figure and would look perfect next to the other Marvel's Spider-Man Hot Toys figures.
The Marvel's Spider-Man 1/6th Scale Spider-Man Negative Suit Collectible Figure does not have a price or release date just yet. I would expect the Spider-Man Negatory Suit figure to release somewhere in the first to second quarters of 2020. Nothing is official but I would imagine they would cost roughly the same as the rest around $250. Hot Toys, as well as Bleeding Cool, will keep you up-to-date on when pre-orders go live. Don't forget to check out the other Spider-Man Hot Toys figures coming soon and already avaliable.
Going Ghost!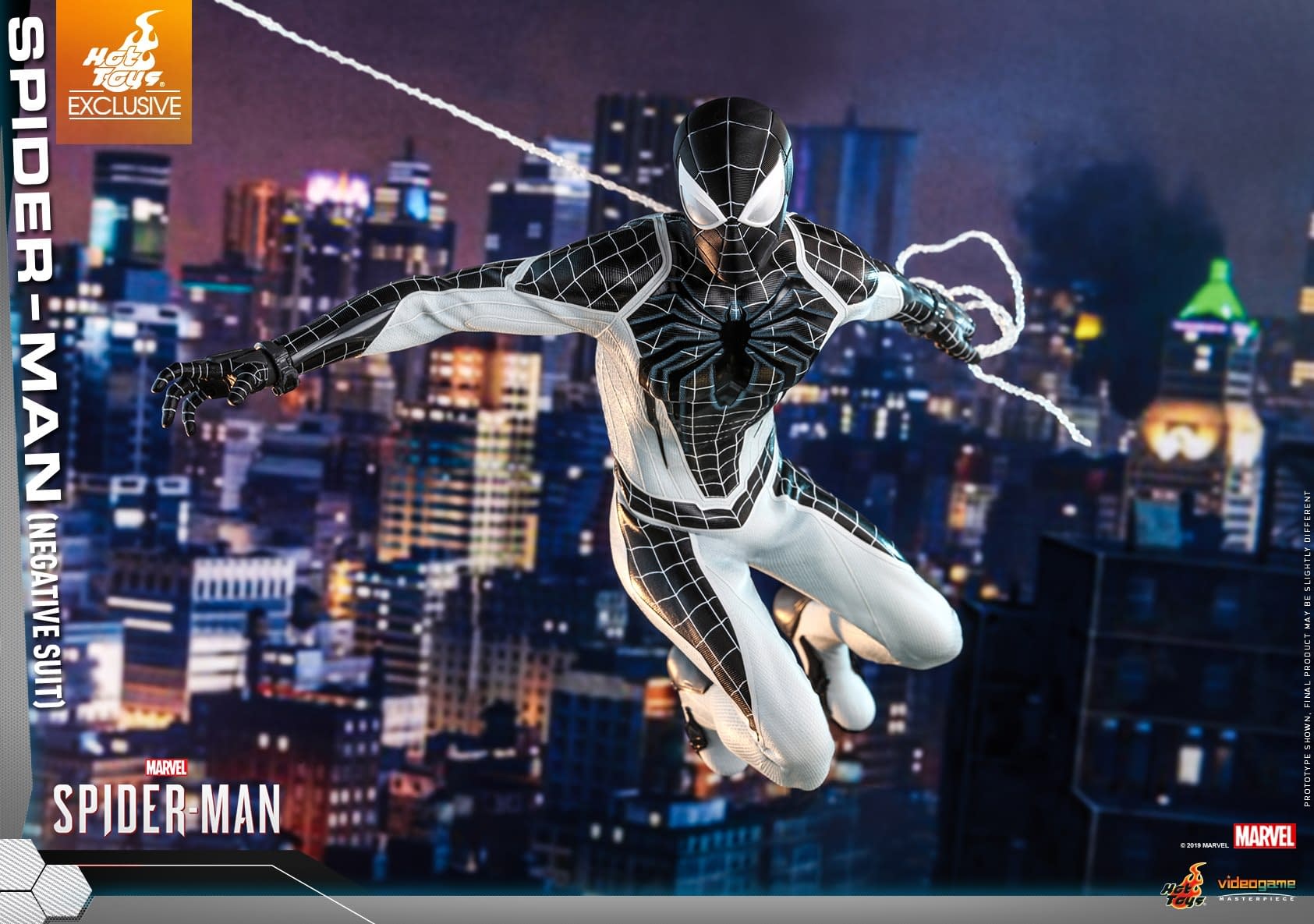 Marvel's Spider-Man – 1/6th scale Spider-Man (Negative Suit) Collectible Figure
After eight years behind the mask, an experienced Peter Parker who's more masterful at crime fighting takes to the streets of Marvel's New York to face Mister Negative, the ruthless gang leader considered as one of the most dangerous threats to ever sweep through the city.
Inspired by the action-packed video game Marvel's Spider-Man, Hot Toys is thrilled today to introduce the Marvel's Spider-Man 1/6th scale Spider-Man (Negative Suit) collectible figure as an Exclusive item only available in selected markets! Within the game's massive collection of suits, Spider-Man's Negative Suit brings in more movement within the shade, implying the Negative Energy through the suit itself, giving the eye-catching suit another level of detail.
The figure is carefully crafted based on the Negative Suit in the Marvel's Spider-Man video game, featuring a newly developed masked head sculpt with three pairs of interchangeable eye pieces; a specialized body with terrific range of movement; a monochromatic Spidey suit with a negative version of the games iconic white spider emblem, now black, on chest; matching interchangeable hands for different signature postures; Web-Shooters; a Spider-Drone; trip mines; web bombs; Vulture Jammer; a variety of web accessories; and a stylishly designed dynamic figure stand.
Add the special Marvel's Spider-Man figure to your wall-crawler collection today! He is ready to unleash a devastating wave of negative energy!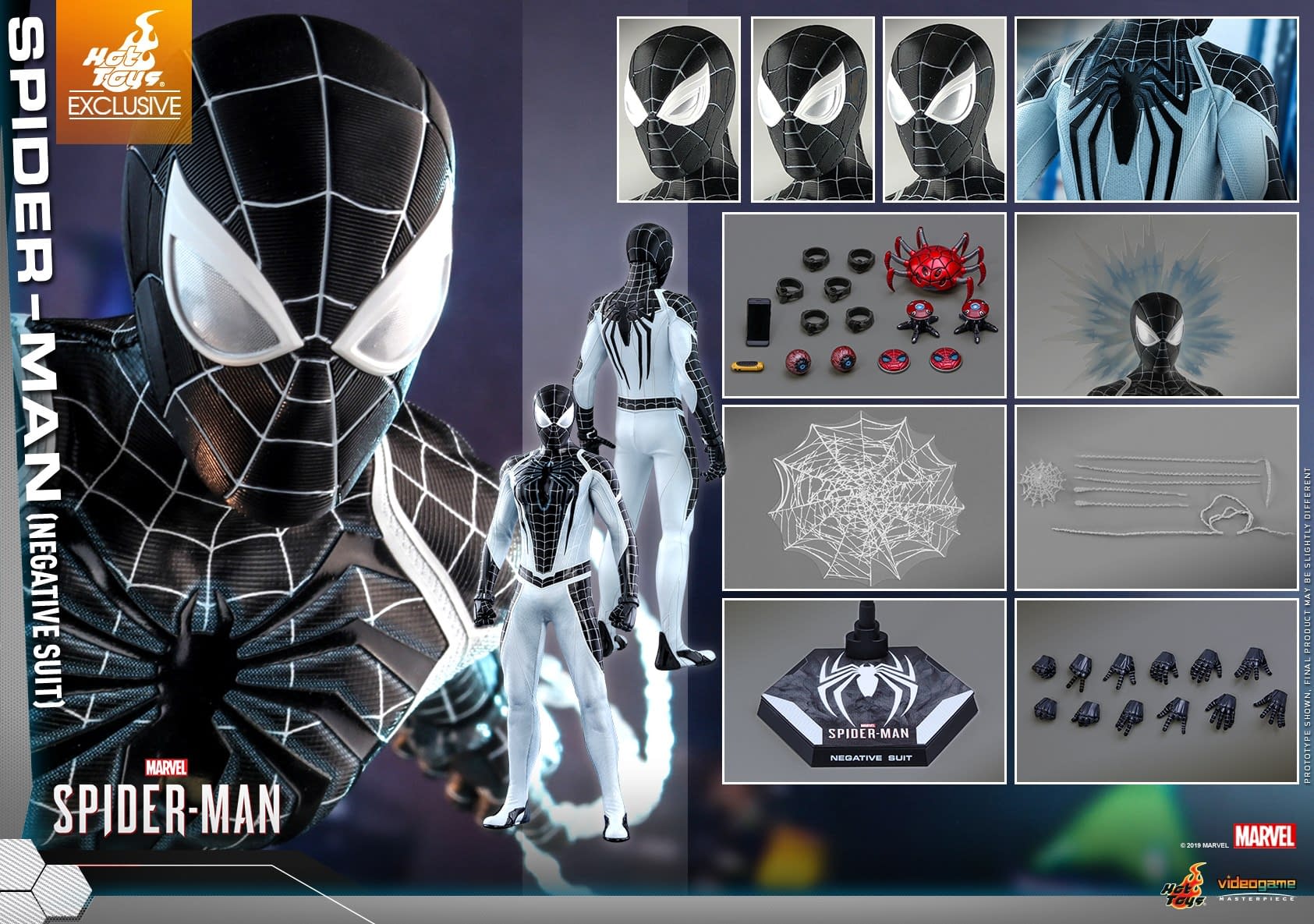 Enjoyed this article? Share it!