Let's Take a Look at McFarlane Toys Stranger Things Ghostbusters Figure Set
Stranger Things fans have had a lot of collectibles to choose from since the show debuted in 2016. Also: how crazy is it that the show has only been around for two years? Anyway, one of the first things many fans including myself thought about 10 minutes into the first episode was that we wanted action figures. It took awhile, but McFarlane Toys answered the call and while what they have given us so far has been a mixed bag, they have improved as the line has continued this past year. We have had one glimmer of hope to cling to, and that is their Gamestop exclusive box set of the boys in their Ghostbusters gear from Halloween in season 2. We got our hands on one, so let's take a look.
Right off the bat, MOC collectors are set. The front of the box features awesome key art from the show, and a giant window box showing off the boys and all of their Ghostbusters gear. It all looks so neat and perfect, I would not fault anyone for never opening this thing. The back features looks at each kid with their accessories and on the other side the latest individual figures.
Opening the box, they really secure everything well inside. Take your time so nothing snaps off. Each of the main characters from Stranger Things come dressed in their homemade Ghostbusters suits, and they nailed them. The best sculpt of the four is Dustin, he has his little smirk and looks the happiest of the four. Lucas looks a little intense, and Mike and Will pretty close to their real-life counterparts. These move around a lot better than the early figures, except for my Will figure. His right knee joint is really loose and he is hard to stand, even with the Stranger Things logo base included. Other than that, these have no issues holding their various accessories or posing.
The accessories make this box set so special. Each comes with a base and a proton pack, and Dustin comes with a trap. Will comes with a video camera. The details on all of them are perfect, I love the vacuum attachments, and the packs themselves have a cool holster that snugly holds them in place. Each pack has a uniqueness to them, from the colors of the warning stickers to the buttons included. The ghost logo looks perfect, and both Mike and Lucas have Venkman on their uniform, perfectly paying tribute to their argument in the episode. The coolest accessory? The mini Dart that fits perfectly inside the trap. What a genius inclusion.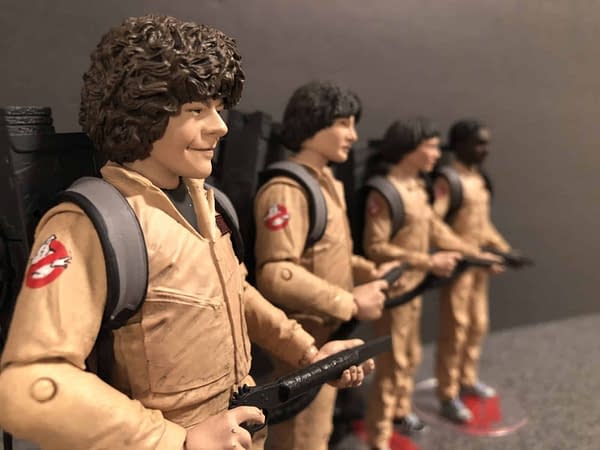 This is exactly what Stranger Things collectors have wanted. This is such a cool, unique set and makes for a perfect gift for a fan this holiday season. All of the figures are pretty great, hopefully my Will's bum leg was an anomaly. For the price ($69.99), with all four figures and all of the accessories, you can't really go wrong. I would say if you are a fan, you need this.
You can find this in Gamestop stores now, or order it online here.