Gambit Draws a Lucky Hand in New MAFEX Figure From Medicom
The one and only Ragin' Cajun Gambit is ready to create a little mayhem with Medicom and their newest MAFEX figure. This popular X-Men is a sweet talker and this new figure is a real treat. Based on his appearance from Marvel Comics this figure features high detail and is loaded with some amazing accessories. For starters, the suit features some nice metallic paint and his coat is cloth giving him a more realistic feel. He will come with two head sculpts one with a standard expression and the second is more aggressive. He will come with multiple hand pieces showing off his mutant powers. There are two simple left and right hands with some kinetic cards in them as well as a massive throwing attack for his right hand. Gambit will also come with another attachable kinetic effect which has some more power behind it. Lastly his beloved staff is included with attachable kinetic pieces for each end.
This is a figure that any X-Men or Gambit fan will want to get their hands on. The fabric coat is a great touch and all of the added accessories will satisfy any fan. The Marvel Comics Gambit MAFEX Figure from Medicom will be priced at $104. He is scheduled to release in March 2021 and pre-orders are already live and you can find them located here. Don't forget to build up your MAFEX X-Men collection with new releases like the upcoming Age of Apocalypse Magneto.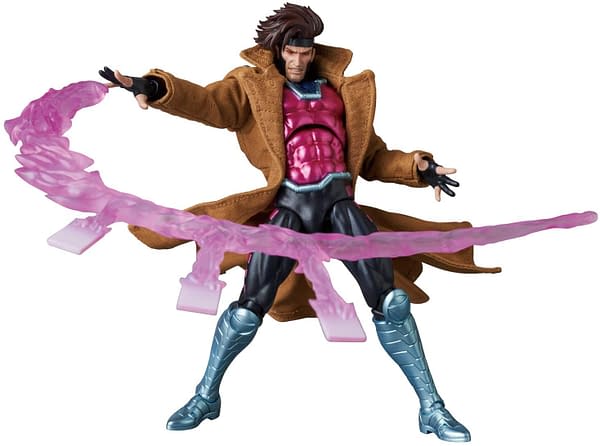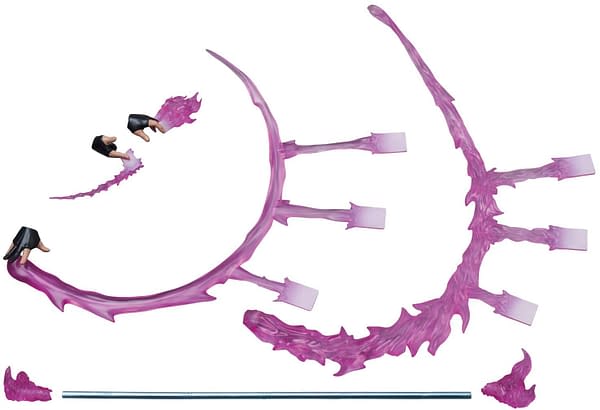 "Enter the Mutant called Gambit. Both the best form and outstanding movable area are compatible! The strongest action figure ever! Scheduled to be released in March 2021. Maffex No. 131 MAFEX GAMBIT (COMIC Ver.). Reference retail price ¥ 8,800 (tax excluded). Prototype production from PERFECT-STUDIO."
Approximately 6.5" in height
GAMBIT from "X-MEN" appears in MAFEX!
Characteristic facial expressions and parts
Completely reproduce the image of COMIC!
A special cloth coat is attached!
By exclusive effect parts
Various actions can be reproduced!
Movable figure stand included!
(C) 2020 MARVEL