Mondo Celebrates the Holidays With Castlevania Puzzle and Krampus Tiki Mug
Mondo has two new collectibles for different types of collectors available now. First, a 1000 piece Castlevania puzzle featuring the artwork of Becky Cloonan. when completed, the puzzle's measurements are 19"x27". One would imagine that this thing would look absolutely incredible in a frame. Fingers crossed that this sells well because more Mondo puzzles in my life could only be a good thing. This is availble to purchase right now here.
Also available from Mondo is a new tiki mug featuring everyones favorite Christmas Devil Krampus! Designed by artists Florian Bertmer, this new mug has a white glazeway with red accents. As with all of their tiki mugs, these are all handmade and limited, and will only be available to purchase through Christmas Eve, December 24th, shipping in 2019. You can order one of those here.
Check out both down below.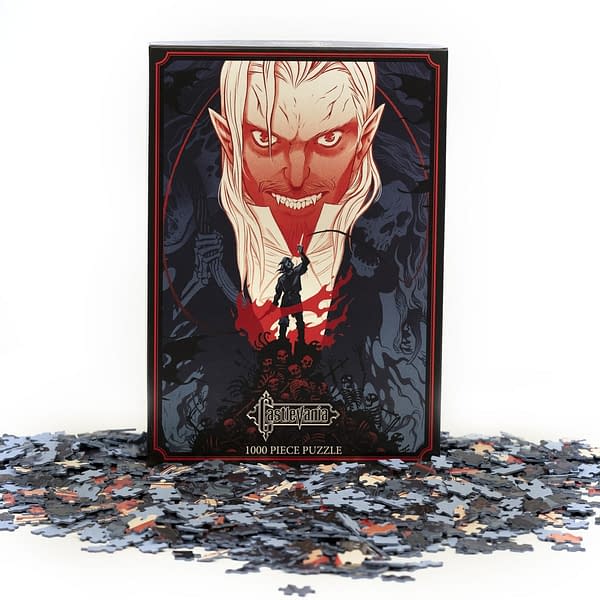 Need something to do over the holidays?

1000-piece premium puzzle celebrating the 1986 Famicom / Nintendo Entertainment System classic!

Dimensions: 19"x27"

Features stunning artwork by Becky Cloonan.
Have you been naughty or nice? Well, if you're holding this mug, you already know the answer! This mug continues our Designer Series with artist Florian Bertmer's highly detailed take on the Christmas Devil, Krampus! Holds approximately 16oz.

This timed edition features a white glaze with a wiped dark red finish.

NOTE: These mugs are handmade, making each one unique, so slight variations from images shown may occur.

Timed edition Tiki Mug will be available through December 24th, 2018.

Expected to ship in Q2 2019.


ARTISTS:

Florian Bertmer, Matthew Black, Tiki Farm

SIZE:

Approx. 7" in height