NECA's Second Gargoyles Figure Is Familiar, Yet Cool
Gargoyles was the last line most figured would go to NECA, but in 2021 not only was the line announced, but the first figure, Goliath, came to stores. Ambitious plans are afoot for this line, as at least four more figures have been shown off the top of my head. The second figure, Thailog, is hitting stores now, and NECA sent us over one to show you. The baddie has quite a bit in common with that first release, of course, but let's dive in and talk about it more.
I'm Just Not Sure On These Gargoyles
Just like Goliath, this Gargoyles release comes in a super-sized Ultimate box, with awesome key art on the front flap, fig photography on the back, and a nice window box showing off Thailog on the inside. Little touches like the brick border are awesome, and I will never complain about an Ultimate package, though they are amazing for MOC collectors and make me sad to open.
However, we do open them, and once I did, I felt in familiar territory. First things first, though: when I opened the box, the blast effect on the side that attaches to his gun was broken into four pieces. When buying in the store, open that flap to be sure and take a good look. So, that won't be in these photos. Other than that, this Thailog Gargoyles release comes with a gun, interchangeable hands, and a briefcase full of money that is one of the coolest accessories ever. The figure itself is a straight repaint of Goliath, though the face and head received some tweaking. That tweaking works really well, as that devilish grin and red eyes combo is menacing and inviting all at the same time, especially when you start pairing him with the accessories. He stands really well and is easy to pose, with one exception. Here is what I said about the wings on Goliath, which are the same here and have the same issues:
The wings, speaking of them, are a mixed bag. I love how far they go out. The detail on them is fantastic. But at the end of the day, they are chunky pieces of plastic. The way they go into his back and the hinge used guarantee that they end up drooping after a few minutes. I do really wish they had more articulation to them so they could fold up a bit.
The chiseled body and features make for a great overall presentation, but I don't know; I really do not like these wings. I get WHY they are this way, but after a little while playing around with this one and the Goliath on my display, I don't like em. Hopefully, the folded wings that are coming with Bronx will look way better.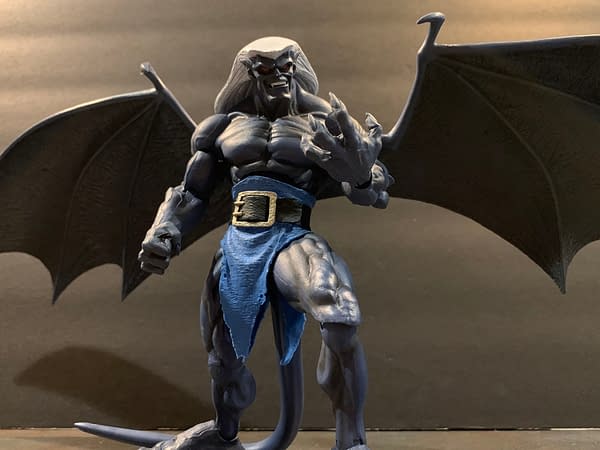 The Gargoyles line is two figures in, and people should be excited about its future. While the wings are not ideal, Thailog and Goliath both are stunning figures to hold in your hands, and if they can correct the wings somehow, they would be perfect figures in my eyes. Thailog is in stores right now and can be ordered right here as well.