New York Toy Fair did show us a couple of new Star Wars collectibles are headed our way. I did notice that some collectibles did get overlooked as not only are we getting one but two Lightsabers that are headed our way. This time Hasbro is really pulling into the vast for these ones and we are getting ancient relics from Star Wars lore. The first one has been both seen in The Clone Wars, Rebels and The Mandalorian as the accent Mandalorian weapon the Darksaber has resurfaced once again. This relic is back once again and is ready for your collection with a black lightsaber. It features electronic lights and sounds and will make noise on your swing motion. This lightsaber is set to be released in Spring 2020 and has a$29.99 price tag. Pre-orders are already live and can be found located here. Up next is one a lot of fans have been looking forward to as the Jedi/Sith warrior Revan is getting his own Force FX Lightsaber. The saber will feature his iconic hilt and will have some features as well like a color changing blade! That's right, relive both Knights of the Old Republic storylines as Revan's blade will switch between both purple and red colors. You will also be able to completely remove the blade and just display the hilt if you wish. The price on this batboy is $249.99 and is set to release in August 2020. Pre-Order for this are already up and you can find them located here.
Embrace the power of the Darkside.
STAR WARS THE MANDALORIAN DARKSABER ELECTRONIC LIGHTSABER
 (HASBRO/Ages 5 years & up/Approx. Retail Price: $29.99/Available: Spring 2020)
In the STAR WARS saga, this one-of-a-kind black-bladed Lightsaber has been a symbol of MANDALORIAN power for generations. Imagine wielding a black-bladed Lightsaber with exciting electronic light and sound effects! The STAR WARS THE MANDALORIAN DARKSABER ELECTRONIC LIGHTSABER features electronic light effects, classic Lightsaber effects, awesome battle sounds when kids swing the Lightsaber, and crackling lightning sound and light effects when they hold down the button on the hilt! Imagine ruling over MANDALORE with the MANDALORIAN DARKSABER! Includes lightsaber and instructions. Requires 3 1.5V AAA batteries, included. Available at most major retailers.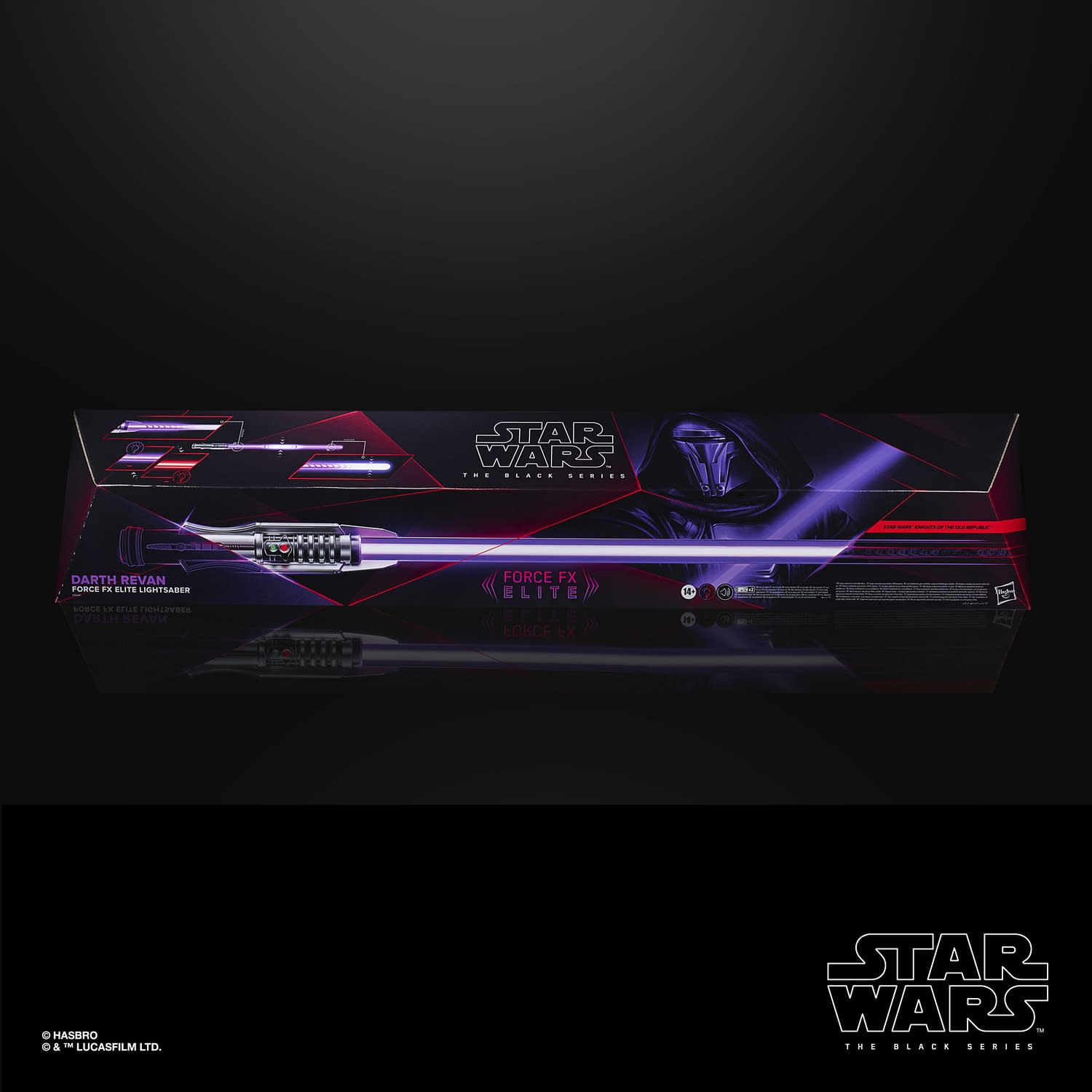 Star Wars The Black Series Elite Darth Revan Force FX Lightsaber
Channel the fiery passion of the Knights of the Old Republic!

Authentic, highly detailed lightsaber prop replica.

From Star Wars: Knights of the Old Republic.

Features LED lights, sounds, a colorful blade, a hilt, and more!

The most realistic Force FX Lightsaber yet!
Whether you're a Jedi or a Sith, the Star Wars The Black Series Elite Darth Revan Force FX Lightsaber Prop Replica is just the thing for you! Imagine the biggest battles and missions of the Star Wars saga with this amazing faux weapon from The Black Series. With exquisite features and decoration, it embodies the quality and realism Star Wars devotees love. It also features more advanced LED technology than previous Force FX lightsabers, so fans can experience the action and adventure like never before. Don't miss this one! Ages 18 and up.
Enjoyed this article? Share it!