Noir Spider-Man Teams Up With Spider-Ham In Iron Studios Statue 
Noir Spider-man and Spider-Ham have traveled across the Spider-Verse. Stuck in a dimension that is not their home they team up with fellow spiders to help stop the end of the multi-verse as we know it. From Spider-Man: Into the Spider-Verse animated movie from Sony, Iron Studios have announced the second statue in their newest spider series. This one is a team-up statue featuring Noir Spider-man and the ever beloved Spider-Ham. The statue pulls from the animated movie and you can feel it in the design. The base features spray-painted rubble with Noir Spider-man/ Spider-Ham clutching it. Noir Spider-man's jacket is blowing in the wind and Spider-Ham is holding his trusty mallet. The Iron Studios recently announced Spider-Man: Into the Spider-Verse diorama statues are very unique. While making a tribute to the movie that inspired it also has its special feel. I would expect that we will see the Spider-Gwen and Peter B. Parker Spider-Man statues revealed later this week. I wonder if we will get so see the robot spider version later on, I would love to see the size and design of that character.
The Noir Spider-Man and Spider-Ham 1/10 scale statue is priced at $119.99, it is set for a release in the second quarter of 2020. Don't forget to check out all the other Spider-Verse statues coming soon too. Pre-orders for the statue and other Spider-Verse statues, including the recently announced Miles Morales are located here.
"Sometimes I l let matches burn down my fingertips just to feel something, anything"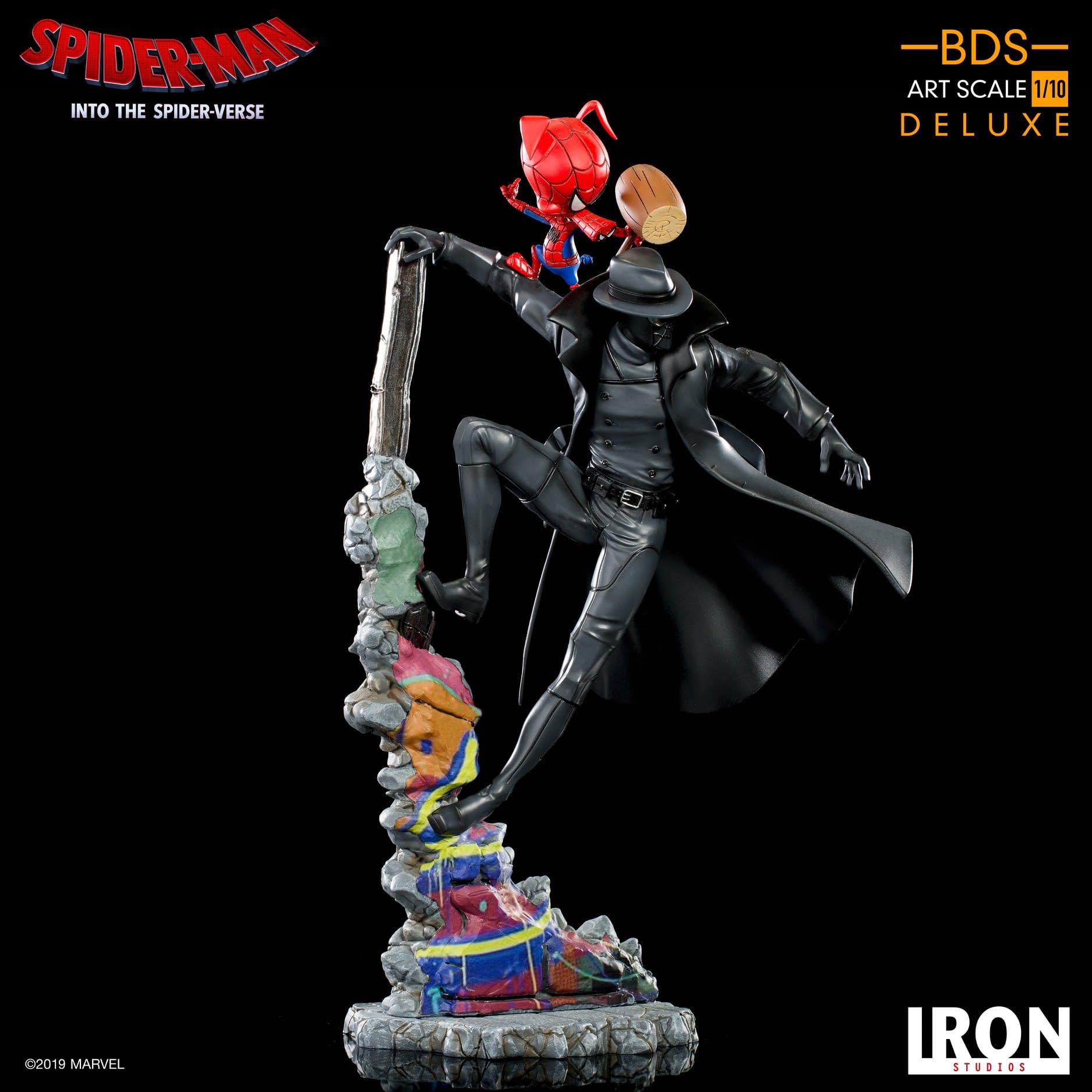 Noir Spider-Man and Spider-Ham 1/10 Scale Battle Diorama Series Statue
– Scale: Art Scale 1/10 Features:
– Limited edition
– Based on original movie references
– Made in polystone
– Hand painted
– This statue is part of a battle diorama based on the Spider-Man: Into the Spider-Verse
– Product dimensions: 10.6 in (H) x 5.9 in (W) x 5.5 in (L)
– Product Weight: 0.7 lbs