Fans of the hit anime video game series Persona can get excited as new statues are heading our way. One of these statues is a reproduction but at last Persona 5 Joker is back. Kotobukiya is giving Joker a 1/8 scale reproduction statue that fans who missed the original can finally get. This statue goes toe to toe with the recently announced Kasumi Yoshizawa statue. She is given her Persona 5 Phantom Thief costume. She is given a more dynamic base than joker with a rose themed bases and swing ribbons around her. For special pre-orders, fans can also add a bonus masked face part for their Kasumi statue. These statues let collectors and fans relive their amazing adventures from Persona 5 and will be a great addition to any gaming display.
The Persona series has a huge fan backing so these will be hot items. I hope we can see more members of the Phantom Thieves of Hearts in the future to complete the team. The Persona 5 Royal ArtFX J Hero (Reproduction) Statue from Kotobukiya Wilber priced at $119.99. He is expected to come out in January 2021 and you can find pre-orders located here. The Persona 5 Kasumi Yoshiawa Phantom Thief Version Statue is priced a little higher at $189.99. She is expected to release in December 2020 and you can find pre-orders are already live and can be found here.
"Kotobukiya continues its lineup of ARTFX J statues, bringing popular anime and game characters to life with the main protagonist from Persona 5. The leader of the Phantom Thieves of Hearts runs forward, his black coat trailing behind him as he pulls off his mask and holds a gun ready in his left hand.'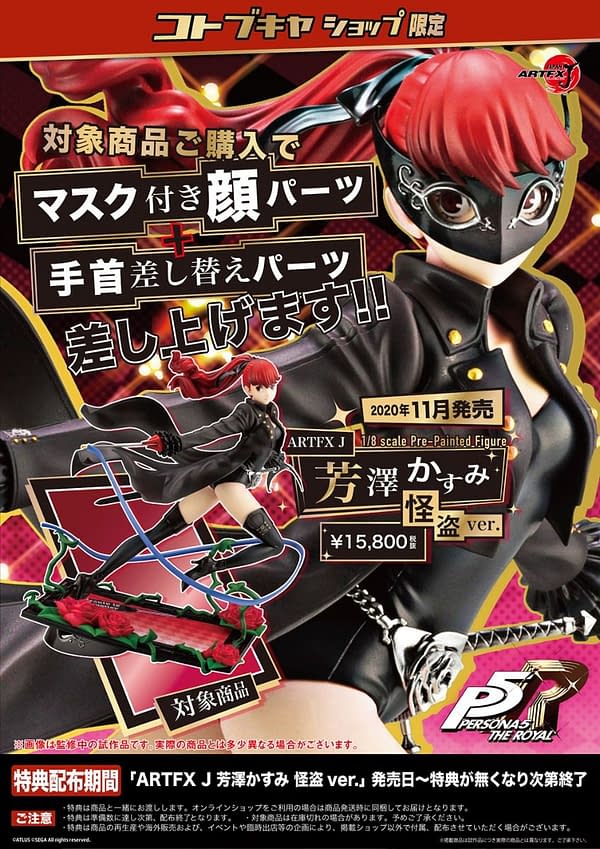 "From Persona 5 Royal, the new character Kasumi Yoshizawa makes her way to Kotobukiya's ARTFX J series in her Phantom Thief costume! Her body proportions as can be seen under her phantom thief costume is perfectly replicated as she is displayed in a dynamic pose."
"This sculpt showcases a lovely finish that can be enjoyed from any angle. The brilliant roses of the base, Kasumi's ribbon floating around her, her dignified yet adorable expression, and her long sword and mask are recreated with exact precision making this figure a must-have for Persona 5 fans worldwide. [BONUS PART INCLUDED] A masked face bonus part will be included with every pre-order."
Enjoyed this article? Share it!