Predator is at it again with a new bloody and badass statue from Prime 1 Studio. This time though, we are getting a different Predator from a different era; Ancient Japan. This Sengoku version of the iconic alien hunter is beautifully crafted and packed with detail. It also opens up a new idea of Predators' films. Imagine how awesome it would be to witness these hunters in new eras going against that time period's greatest warriors?! I think it would be quite a show to watch and we would not only see more exotic lands in movies but a new line up of Predators. Like usual, this statue does have a normal and exclusive version that varies between $100. Both versions will come with the 35inch Sengoku Armored beast and two head sculpts. You will be able to show off a masked and unmasked version of the alien but will have the helmet stuck on. However, if you get the Prime 1 Exclusive you can get a third head portrait that features him with not a helmet and just his ugly mug. This statue is badass and a unique piece that would be perfect for any Predator fans collection.
The Sengoku Armored Predator statue from Prime 1 Studio is priced at $1,299 for the normal and $1,389 for the exclusive. Pre-orders are live already and you can find them located here.
Get to the Palace!!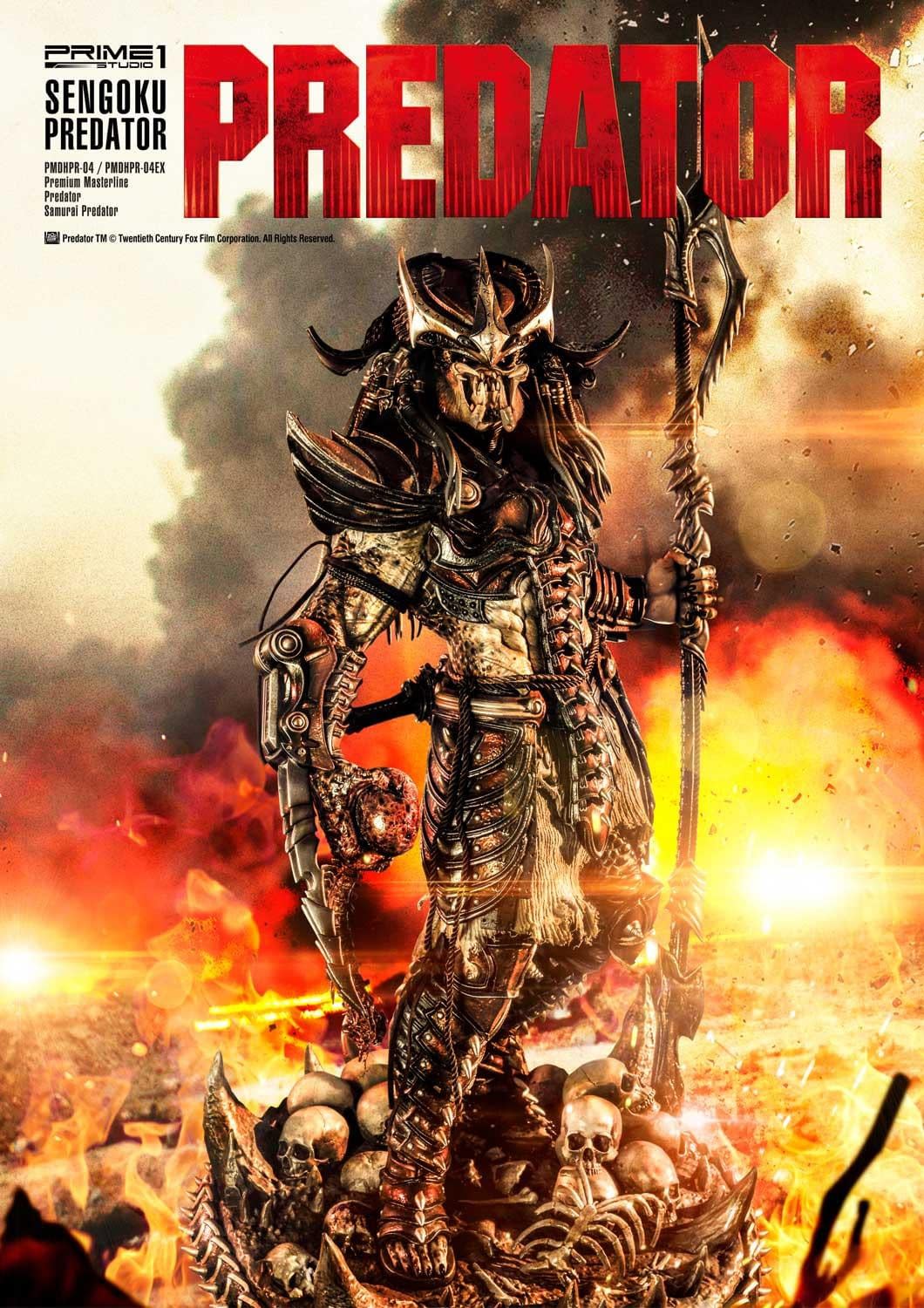 Sengoku Predator EX Version
Descriptions
An extraterrestrial species characterized by their hunting of Xenomorphs/Aliens for faith and honor using a combination of highly advanced technology are the Yautja, also widely known as Predators. Prime 1 Studio is excited to present a new piece from the Dark Horse Comics series: PMDHPR-04: Sengoku Predator!
The armor design is from the Sengoku era, the main colors are red and gold which gives a nice vibe of Japanese culture. Predator's familiar face has more brutal expression compared to other pieces. He is holding the spinal cord in his right hand, and a huge spear in the left. There are human skulls and skeletons scattered at his feet. The statue measures approximately 35 inches tall and is made with a great attention to details.
The Exclusive Version includes the Portrait without a helmet.
Don't miss adding this great piece to your collection!
Specifications:
Statue Size approximately 35 inches tall [H:88.8cm W:46.5cm D:41.4cm]
One (1) specially designed base
Two (2) alternate Portraits
One (1) additional Interchangeable Portrait (Exclusive Version only)