Rambo III might have slipped your mind as a Rambo film altogether. The film shows our protagonist John Rambo portrayed by Sylvester Stallone throwing away a peaceful life for war yet again to save his friend. Threezero brings that classic Rambo III action with its newest 1/6 scale figure. The figure is 12 inches tall, and is fully articulated and shares realistic like this is to Sylvester Stallone's portrayal of the character. Not only is the figure highly realistic it is packed with accessories. He comes with several interchangeable hands a tank top a shoulder bag dog tags and a jacket. Now onto the good stuff, he comes with a compound bow with quivers, and AK-47 with a grenade launcher attachment, a rocket launcher, I see for explosive, a boot dagger and a survival knife with a sheath. Rambo isn't Rambo without his accessories. This Rambo III figure is perfect you are going to figure if you're a fan of the series.
The Rambo III John Rambo 1/6 scale figure by Threezero is priced at $200. Pre-orders don't go live until November 22 at 9 AM Hong Kong time. He is set to ship out in the second quarter of 2020 so you don't have to wait too long to get him. Don't forget to check out all the other amazing figures coming soon from Threezero.
Rambo III – John Rambo 1/6 Scale Figure
Fully-articulated collectible figure featuring realistic likeness to the character's appearance in the 1988 film Rambo III as portrayed by actor Sylvester Stallone. Figure costs: 199USD / 1560HKD / 1420RMB with worldwide shipping included in the price. Pre-order roll out Nov 22nd (Fri), at 9:00am HKT.
1/6th scale John Rambo collectible details:
12 inches (~30cm) custom designed action figure body
The head sculpt features a realistic likeness of actor Sylvester Stallone
Black bandana
Jade pendant
Military jacket
Tank top
Military watch
Military pants
Belt
Boots
Military bag
Exchangeable hands

1 pair of fists
1 right holding gun
1 left holding gun
1 right holding knife
1 left holding arrow
1 right holding bow
Weapons:

Compound bow with quiver & 5 arrows
C4 explosive x 1
Boot dagger x 1
Survival knife with sheath x 1
AK with M203 grenade launcher
RPG-7 launcher
The estimated shipping date: 2nd Quarter 2020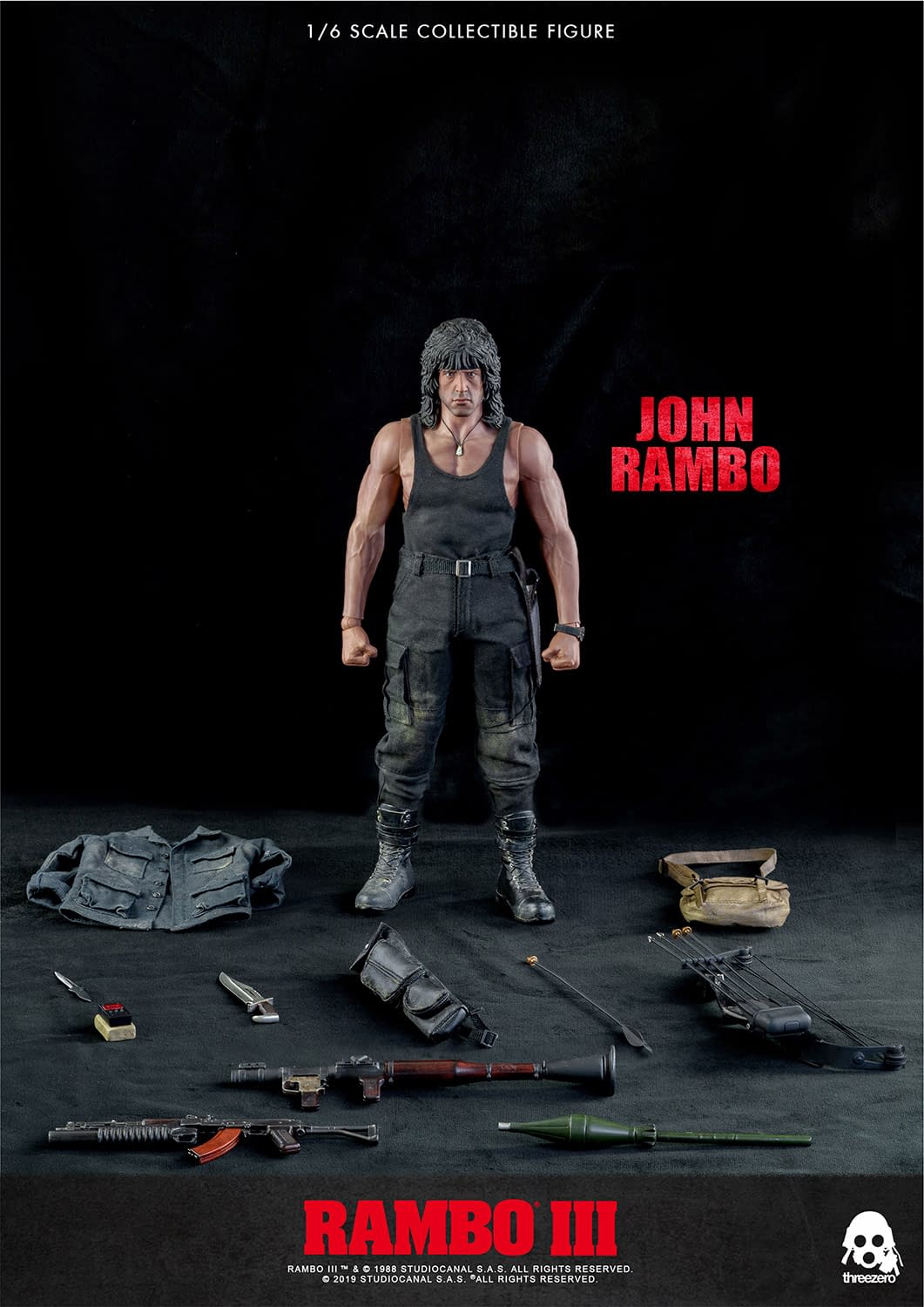 Enjoyed this article? Share it!