Silk Enters the Spider-Verse with New Kotobukiya Statue
Silk is one of my favorite characters to break out of The Amazing Spider-Man comic series. I love the Original Sin storyline and the series that followed her release. Kotobukiya is giving us a great Silk statue that is perfect for any Spidey loving fan. The statue is coming out of their Women of Marvel line and I love them already. The amount of skill and talent in this statue is quite remarkable too. Not only is Silk defined greatly from her skin, to her costume but to the background. The window is painted with a magic mirror to show us a reflection in it. That is talent right there and this seems like it was a statue made by big fans of here. This is a great Kotobukiya statue and is worth every penny for your Spider-Verse collection.
The Silk ArtFX Premier Marvel Comics Statue from Kotobukiya is priced at roughly $142 and is set to release in May 2020. Pre-orders are not live just yet but when they do you can find her located here. Don't forget to check out the other Women of Marvel Kotobukiya Black Widow statue already announced. I can't wait to see what other special ladies will make the statue cut. Stay tuned at Bleeding Cool to find out who gets revealed next!
Call me Silk.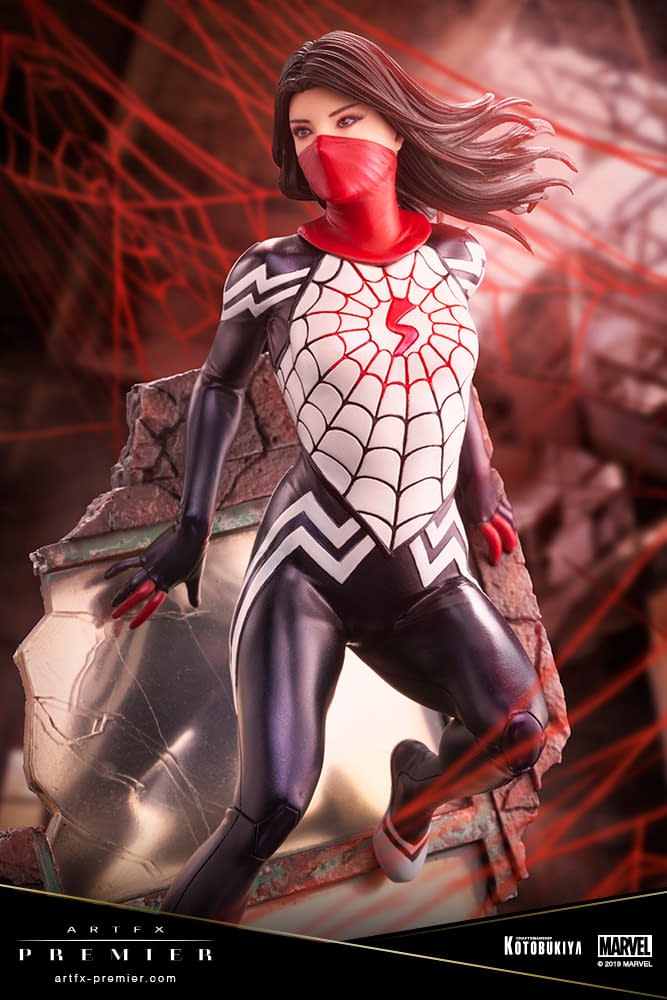 Silk is the second character to join Kotobukiya's special "WOMAN of MARVEL" line in the ARTFX PREMIER series!
"WOMAN of MARVEL" shines a spotlight on popular female characters within Marvel. From the detailed sculpt of the figure, to the realistic costume and facial expressions, each statue showcases the characters' "beauty" and charm while staying true to the series and personality.
Despite the mask covering the already small face which is 3.5cm in size, the paint decorating the statue perfectly emulates the character's personality seamlessly. The costume that was made by the web that comes straight out of Silk's body captures the silky texture of the material by the countless layers of paint that has been used on this statue. Revel in the shine and almost realistic silky texture of the costume by the way the statue looks from any angle.
The window that is connected to the base uses materials similar to a magic mirror in order to replicate the shine and reflection of a person that can be seen from a real window.
The "beauty" resonating from each statue in this new line in the ARTFX PREMIER series is a work of art that will please collectors worldwide.
Each ARTFX PREMIER statue comes in a luxurious packaging that differs from other Kotobukiya products. Every ARTFX PREMIER statue includes a serial number on the base, making each statue a one of a kind product.
This all new and refined statue will be sure to stand out in any collection.