Spider-Man: Far From Home home has been hitting home theaters recently. So it is not surprising we are starting to see a whole new set of collectibles. The most recent is Iron Studios is releasing a set of battle diorama Spider-Man: Far From Home statues. So far we have seen releases for Night Monkey, Mysterio, and Molten Man. Those three seem to be a set of their own from the Ferris Wheel battle. It does look this Spider-Man is linked to those but that doesn't fit at all. The lave sequence can be seen in the base of the statue. The statue does show the final battle Spiderman costume though. So I believe this is part of a new battle diorama set that would include the upcoming Nick Fury and Maria Hill statues too. That would mean we could be seeing the wind elemental we see at the end. I love the detail of the statue as it showcases the black and red Spider-Man costume, one cost and we didn't get to see a lot of. The statue would be great for any far from home fans or just fans of Spider-Man.
The Spider-Man: Far From Home Art Scale Battle Diorama Statue from Iron Studios is priced at $125. He is such a release between April 2020 he is set to release between April and June 2020. Pre-orders for him are live in located here don't forget to check out the rest of the battle diorama Far From Home statues.
Peter Parker – "How could you do all of this?"
Quentin Beck – "You'll see, Peter. People, they need to believe. And nowadays, they'll believe anything."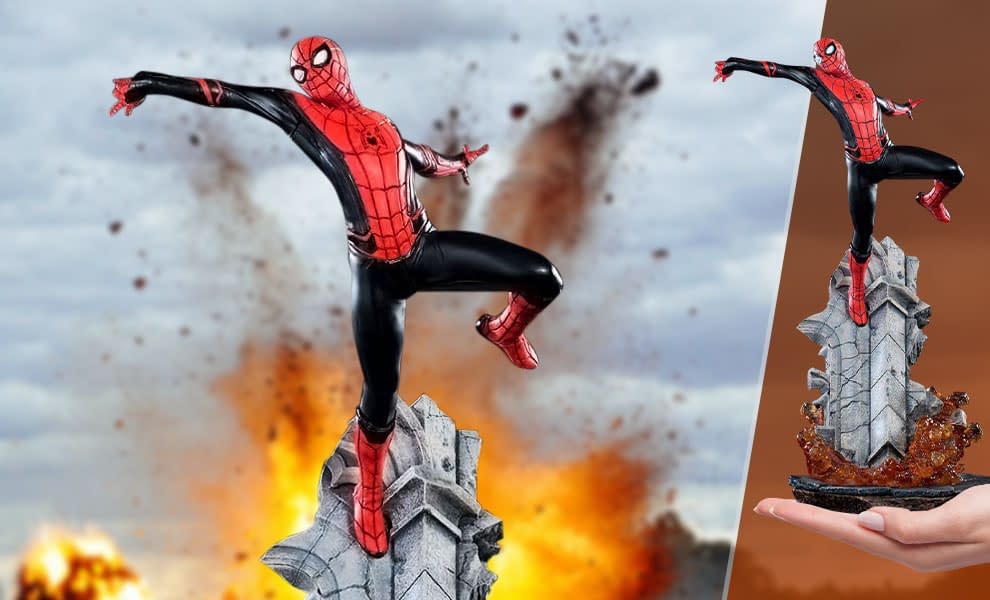 Spider-Man: Far From Home Art Scale Battle Diorama Statue
ABOUT THIS STATUE
Sideshow and Iron Studios present the Spider-Man Art Scale 1:10 Battle Diorama Series Statue!
The Spider-Man Statue is part of a battle diorama based on the hit film Spider-Man: Far From Home. This statue is approximately 11.81" tall. The Battle Diorama Series will feature additional characters from the hit film.
A must-have for fans of Spider-Man: Far From Home!
Brand – Marvel
Manufacturer – Iron Studios
Type – Statue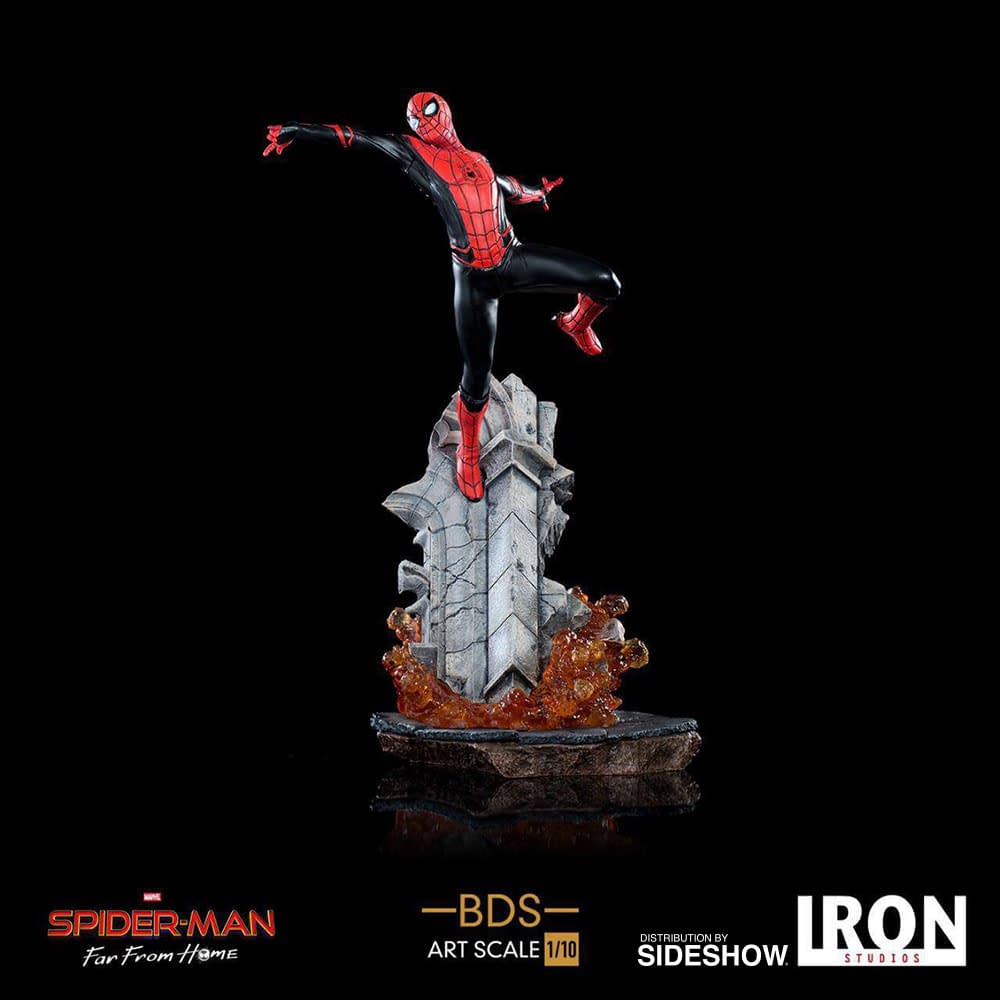 ADDITIONAL DETAILS & DIMENSIONS
Materials – Polystone
Product Size – Height: 11.81" (299.97 mm)
Box Size – Height: 9.00" (228.6 mm) | Width: 12.00" (304.8 mm) | Depth: 13.00" (330.2 mm)
Dimensional Weight – 7.00 lbs (3.18 kg) [Intl. 11.00 lbs (4.99 kg)]
Enjoyed this article? Share it!