Star Wars day is finally upon us as May the 4th has arrived. From new collectibles to special Star Wars discounts, the world celebrated the memories of an iconic franchise. Hot Toys has already announced a retro packed Darth Vader figure for their new throwback collectibles series. They are not stopping there as it looks like he is not the only release as the bounty hunter Boba Fett makes a return. This figure will also feature throwback Kenner style packaging design for the 1/6th scale figure. On top of that, Boba Fett will be featured in his classic Kenner vintage paint scheme. The figure is highly detailed and sculpted to perfection from early test screens and research on his vintage design. The iconic bounty hunter will include multiple interchangeable hands, jet pack, pistol, and rifle for all your hunting needs.
This Boba Fett figure is a perfect reveal for May the 4th. Not only is it something new, but it pays tribute to the history of Star Wars toys. This isn't the first time we have seen a design like this as Hasbro dropped a special vintage style 6" figure at SDCC last year. This time though we are getting a 12" figure that will be able to bring more vivid details to life and show off that new vintage coloring. The Star Wars: The Empire Strikes Back Boba Fett Vintage Colored figure does not have a price or release date just yet. Pre-orders are not live either but they will be going up at some point today and you will be able to find him here. This will be a very sought after figure so make sure you lock down yours before it is too late. Star Wars day is finally here so stay tuned for more Star Wars updates and May the 4th be with you.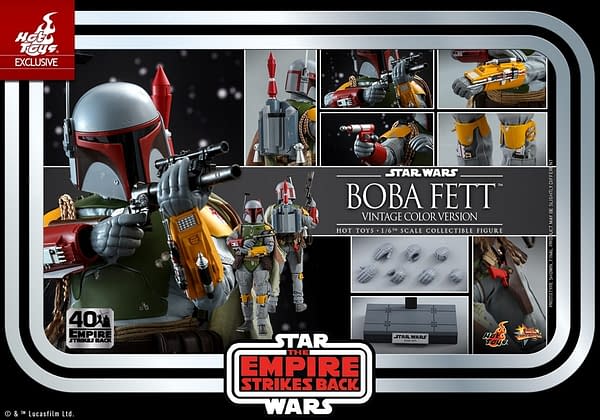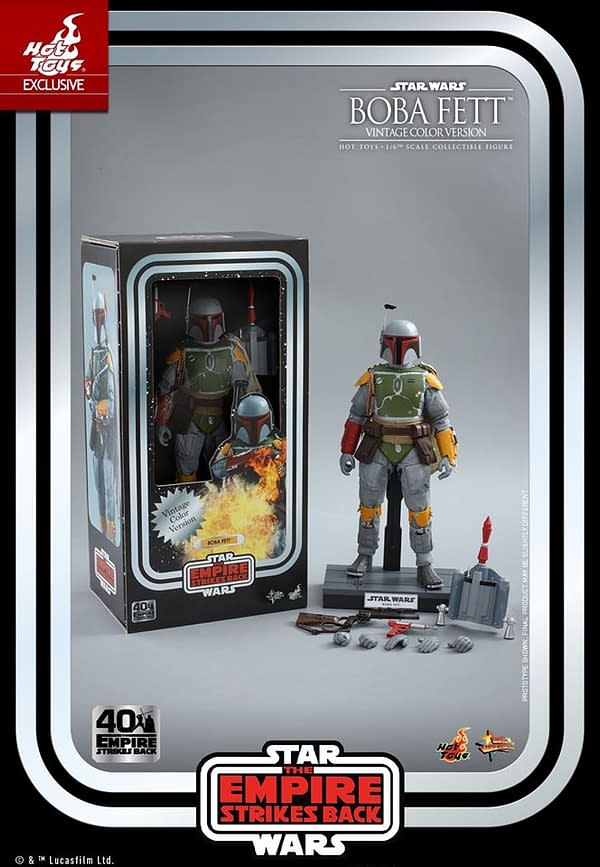 "This year marks the 40th anniversary of Star Wars: The Empire Strikes Back™, an iconic film that has captivated audiences worldwide for decades with its story and characters. In 1979, before the landmark film had even hit theaters, references to the mysterious character Boba Fett™ based on early costume tests and coloration were revealed. So began the legendary status among the fandom surrounding the legendary bounty hunter who instantly became a favorite of many after witnessing him in the groundbreaking film!"
"Hot Toys is celebrating Star Wars: The Empire Strikes Back 40th anniversary with a throwback visual approach for this exciting collection. To kick off this collection, we're pleased to introduce the 1/6th scale Boba Fett (Vintage Color Version) Collectible Figure featuring vibrant colors inspired by classic interpretations and retro style packaging as a special extra only available in select markets!"
"The highly accurate 1/6th scale figure is specially crafted based on Boba Fett's early costume tests and vintage design. It features meticulous paint applications on the detailed Mandalorian helmet and armor, finely tailored under-suit, blaster rifle and pistol, Boba Fett's iconic jetpack, and a figure base."
Enjoyed this article? Share it!