Star Wars collectibles are one thing that will honestly never come to a end and that is not a bad thing! It is always nice to see an updated version of a classic character. This time Kotobukiya is bringing the Scout Trooper to life as seen in Star Wars: Return of the Jedi. This ArtFX statue stands roughly 7 inches tall and features two pairs of interchangeable arms. One set shows off the Scout Trooper pointing and holding a small pistol. The other pair puts both arms down by his side as if he is just itching for a fight. The details on this figure re nothing but spectacular and it would be nice to add one to any Star Wars fans collection.
The Star Wars: Return of the Jedi Scout Trooper ArtFX+ Statue from Kotobukiya is priced at around $100. He is set to release in June 2020 and pre-orders are not live but you will be able to find him here when he is.
"Look, over there, stop him!"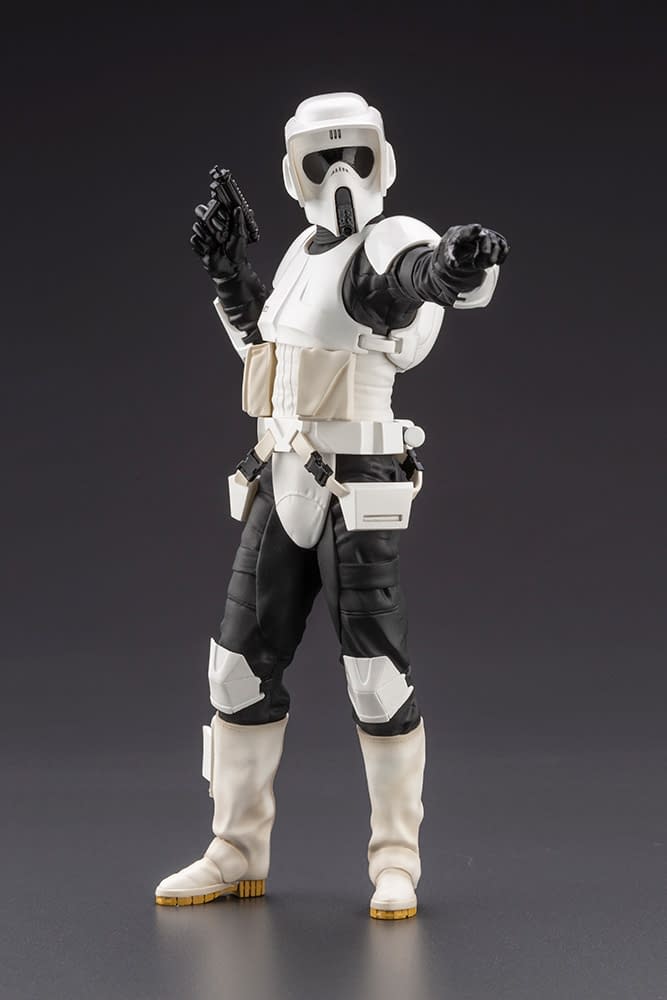 Star Wars: Return of the Jedi Scout Trooper ARTFX+ Statue from Kotobukiya
Elite troopers within the Imperial Army's Stormtrooper Corps that made an appearance in Star Wars™: Return of the Jedi, Scout Troopers™ join Kotobukiya's ARTFX+ line! Scout troopers made their notable appearance in Star Wars: Return of the Jedi as they chased after Luke Skywalker™ and Princess Leia™ on their speeder bikes on Death Star's shield generator on Endor.
This ARTFX+ Scout Trooper™ can be displayed conducting reconnaissance and infiltration with the included EC-17 hold-out blaster. ARTFX+ Statues are fun-to-assemble pre-painted snap-fit kits that can be easily put together in seconds without glue or modeling skill. The Scout Trooper™ stands just over 7 inches tall (1/10th scale) and looks great in any collection!
Enjoyed this article? Share it!