Masters of the Universe Vintage Collection Figures Get a Retro-Style Commercial From Super7
Masters of the Universe collectors are living in spoiled times right now. Super7 has taken up the reigns from Mattel and given us some of the coolest figures, shirts, and collectibles ever in the line. Super7 prides themselves as being the company that makes the toys we all wanted when we grew up. It is right there in their company manifesto:
We grew up with giant monsters, comic books, punk, science fiction, skateboarding, robots & rebellion. No one made what we wanted.

So we made it ourselves.

Since they started making MOTU products they have really impressed collectors, especially with their attention to detail and the sense of nostalgia the figures bring out in us. Just look at what they created today! They have released a very cool retro-style commercial for their new Masters of the Universe Vintage Collection figures. These were announced a couple weeks back, and are old-school style figures in the style of the Funimation versions of each character. Check out the commercial below:
I mean come on. I have watched that like 20 times today. It gives me goosebumps!
By the Power of Grayskull! Super7 is proud to present the MOTU Vintage Collection, the original Masters of the Universe action figures re-imagined to match the character designs from the animated cartoon!

He-Man 5.5-inch Vintage Figure comes with Power Sword, Half-Sword, and Shield
Skeletor 5.5-inch Vintage Figure comes with Havoc Staff, Power Sword, and Half-Sword
She-Ra 5.5-inch Vintage Figure comes with Sword of Protection, Shield and Sword
Hordak 5.5-inch Vintage Figure comes with Arm Cannon and Crossbow

The MOTU Vintage Figures all feature a spring loaded mechanism: Turn the waist and they swing back with a punch! The packaging includes a custom character history card with the figure and has new and original art on the back of each card by classic MOTU artist Errol McCarthy.

The past meets the present with Super7's MOTU Vintage Collection to create something new for the MOTU Universe! The pre-sale window for the MOTU 5.5-inch Vintage Figures opens on Wednesday, June 20th at 12:00pm PST. This is not a limited edition release but pre-orders will receive the figures immediately upon arrival from the factory. Figures are available individually or as a set. We expect to ship the Vintage Figures in September 2018.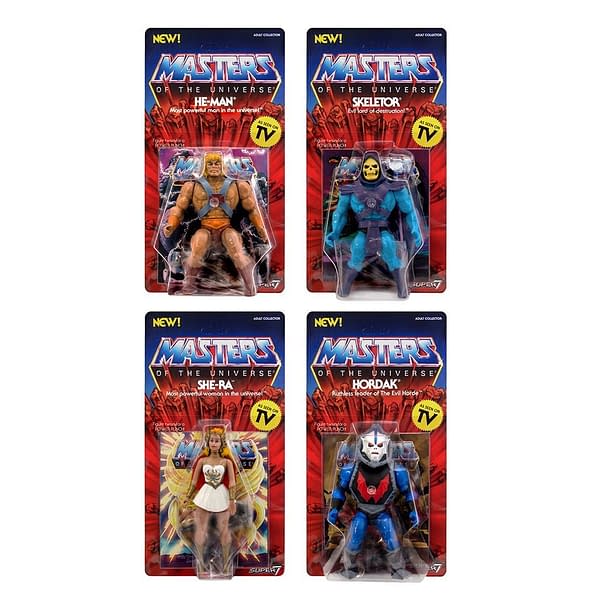 You can preorder each figure or a set of the first four right now by clicking here.