Super7 Exclusive Godzilla, Evil Dead ReAction Figures Are Such A Joy
Super7, as I have said for years now, is my favorite toy company. From Ultimates to ReAction and everything in between, they do a phenomenal job on their figures. It has been so cool to see them grow so much over the years, gaining some dream licenses and making toys we could have only dreamed of. Every year, they have some of the most creative Comic-Con exclusives, and this year is no different. While not in person, they are still offering some figures to buy to celebrate Kinda Sorta Still At Home-Ic-Con, and they sent us a couple of them to show everyone. Let's take a look at them below!
Super7 Always Has Such Unique & Awesome Exclusives
First up are some variant ReAction Army of Darkness figures. As an Evil Dead fan, the characters scream ReAction when you see them, and these feel like figures that would have come out years and years ago. The Ash is on a Japanese movie poster cardback, with a perfect Bruce Campbell sculpt on the figure. The other two are glow versions of the Pit Witch and Deadite Scout. The glow on them is very nice; I always enjoy Super7 and their glow figures; they add it as accents to the figure to light the entire profile, which a lot of companies do not do. Awesome stuff.
The main event, and one of the coolest exclusives of the week from any company, is their Shoguun Godzilla ReAction figure. He comes housed in a Shogun-style mini-box, and holding it in your hand just brings a smile to your face. Once you unleash him, you can see the care Super7 put into this one. They are huge Shogun fans over there, and this feels like they just took a shrink ray to the original toy. You can even breathe fire by pushing the piece on the back of his head. This just feels so classic, and I cannot wait to see what else they have up their sleeves with the Godzilla license going forward.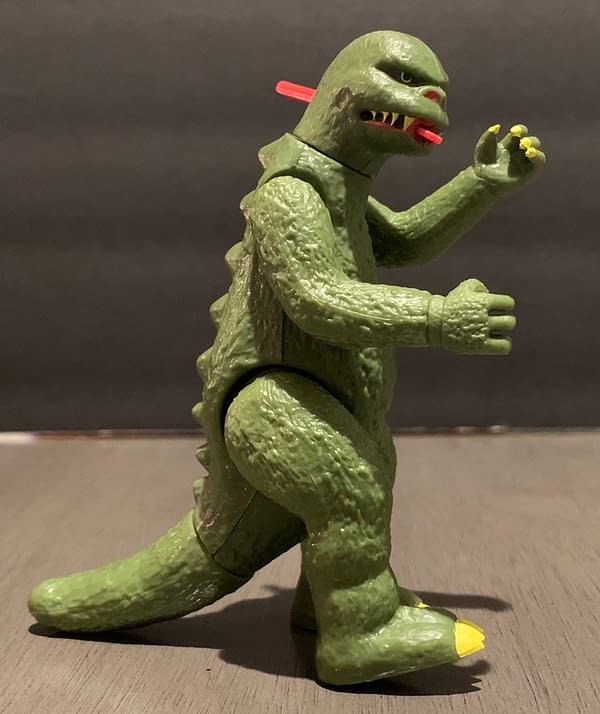 Super7 crushed it, but are you really surprised? We want to thank them again for sending these over, and they are available to purchase for yourself right now here.