With the most recent live twitter screening of Avengers: Endgame, it is almost poetic to get a new figure. Tamashii Nations has announced another Captain America S.H. Figuarts figure is on the way for what they are calling the Cap Vs Cap Edition. This figure features the time travel scene where Captain America takes on his younger 2012 Avengers counterpart. The figure will feature three suggest head sculpts, one is masked and the other two are facial expressions (normal and aggressive). The figure is nicely articulated and will come with a nice variety of interchangeable hands for the perfect pose. On top of the heads and the hands, the figure will come with some shield effects to really bring out the full capabilities of his iconic shield.
Captain America S.H. Figuarts is nicely designed and it's refreshing to get an updated 2012 figure. My favorite part of this figure is honesty the added shield effects, not a lot of Captain America figure include these so it's nice to see more dynamic price put into these designs. The sad part about this collectible is that there will only be one figure in the Cap vs Cap set. Each figure is priced at roughly $82 so you'll have to drop roughly $165 just to get both figures to enact that iconic scene. You would think companies would start offering bundles when they make collectibles from this to make it easier for collectors. Captain America is set to release in September 2020 and pre-orders are set to go live May 1st and can be found here. Don't forget to check out the other recently announced S.H. Figuarts figures like Loki to enhance your Caps experience.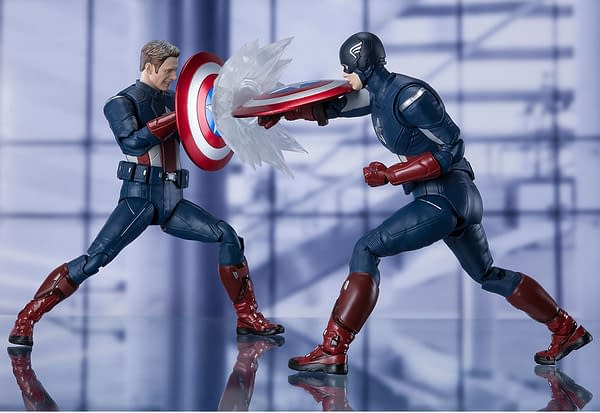 "From "Avengers: End Game", Captain America returns to S.H.Figuarts in his "Avengers" suit! In addition to the masked head, an unmasked head with two facial expressions is included. The included effect parts allow you to pose the figure as though he's just thrown his shield! With an additional figure set, the shields can be posed as though they are clanging against each other in the scene where Cap battled himself."
"This set includes figure, collar with folded mask, five optional left hands, six optional right hands, locket (with right hand), shield with strap parts, shield effect parts , unmasked Steve Rogers head (with normal expression and clenched teeth expression) Only one S.H.Figuarts Captain America ‐《CAP VS. CAP》 EDITION‐ (Avengers: Endgame)" included in this set. Staff is included with "S.H.Figuarts Loki (Avengers)".
Enjoyed this article? Share it!