Sideshow Collectibles announces that the Mad Titan Thanos is getting not one but two new statues. This statue is based on two different points of the Marvel history of the character. The first one is from his original costume design from his early days in Marvel Comics. Also seen in places like the hit comic storyline the Infinity Gantlet. The second one will feature a more modern take of the villain with different shades of the costume. Both statues have the same pose, both include interchangeable heads with one being an angry face towards his enemies and the other is looking at the power in his hand. Both Thanos statues will feature a light up Infinity Gauntlet to take his design to a new level. These statues will come in at 23" tall each and will be displayed on a broken Avengers symbol base.
These statues are heavily detailed and crafted with perfection. The difference between the two is a simple color swap but it really does change the whole aspect of the character. Each Thanos Infinity Gauntlet statue is priced at $585 and is set to release between October and December 2020. Pre-orders are currently live for both and you can find the Modern version here and the Classic version here.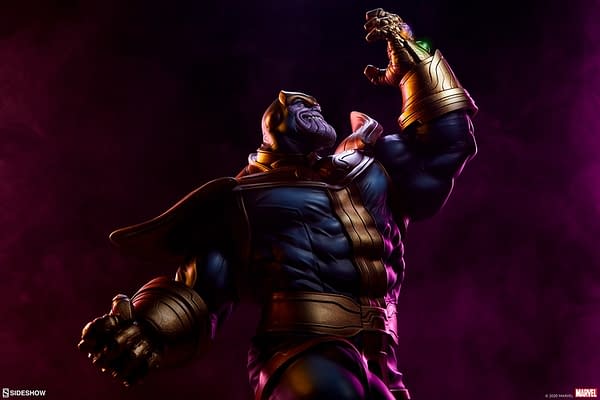 "In the end, as always, Thanos will stand triumphant. Sideshow presents the Thanos (Modern Version) Statue, eager to face the heroes of the Avengers Assemble Statue Collection. Inspired by some of Marvel's most iconic comic book characters, the 1:5 scale Avengers Assemble collection captures the colorful and battle-ready styles of Earth's Mightiest heroes- and now, their greatest foe!"
"The polyresin Thanos Statue measures 23" tall, as the Mad Titan stands triumphantly atop the wreckage of Avengers Tower. Inspired by his modern and classic comic book appearances, Thanos wears a fully sculpted dark or vibrant blue bodysuit with detailed metallic gold armor. Wielding the mighty Infinity Gauntlet, which includes a light-up feature for the Infinity Stones, this nigh-unstoppable villain will prove that Earth's Mightiest Heroes are no match for the ultimate cosmic overlord."
"The Thanos Statue also includes two purple portraits of the deviant Eternal, one featuring a wicked grin as he gazes up at his powerful gauntlet, the other with a grimace as he looks forward at his incoming foes. Pair Thanos with the heroes of the Avengers Assemble collection, including Captain America, Iron Man, Black Widow, and the Hulk to create an epic battle scene in your universe of Marvel Collectibles."
Enjoyed this article? Share it!