Batman's family have all made names for themselves, they were trained by one of the greats so this makes sense. Sideshow and Master Quantum Mechanix are teaming up for one of the coolest and unique Batman collectibles out there. This diorama showcases all of the great in the Bat-family. We get Batwoman, Dick Grayson as Nightwing, Jason Todd as the Red Hood, Tim Drake as Robin and also Damian Wayne as Robin! All of them competing for first in this race across Gotham's rooftops. This art collectible showcases each one of the characters cutely and adorably. Each playful and acting like a group of kids in a race, in an 11" tall statue that would brighten any Batcaves vibe. All Batman fans or Bat-family fans can appreciate this beautifully sculpted statue, it is also a limited edition with signed certifications of Authenticity by the creator.
This adorable Sidekick diorama is set for a July – September 2020 release so you have some time to save. The price is $200 but with Sideshow you can set up payments to make it easier on yourself and you can do that here.
Look at the Bat-Family in action below:side

ABOUT THIS DIORAMA
Batman's protégés get to have amazing adventures most children can only dream of, even if they risk their lives every time they put on the cowl. But just because these kids have to grow up to do their jobs, doesn't mean they've lost the desire to play. Don't be surprised if the next time you look up in Gotham you see some small, caped silhouettes chasing each other across the rooftops!
Our Batman Family Knight Out Q-Master diorama features the Dark Knight's collective of Robins and Batgirl as they leap from chimney to chimney, enjoying the challenge of trying to beat one another as they race across the skyline. Tim Drake (Red Robin), Damian Wayne (Robin), Dick Grayson (Nightwing) and Barbara Gordon (Batgirl) are perfectly presented as they put their heroic skills to the test on a detailed rooftop setting. And, of course, Batgirl leads the pack, raising her arms in triumph at the roof's edge.
Q-Master dioramas are a revolution in premium collectibles: Mixing both stylized and realistic elements in a massive display, these dioramas have both style and substance, displaying stories you won't see anywhere else in exquisitely-detailed sculpts and paint, in material that is both substantial and durable.
Batman Family Knight Out is cast in Everstone™, a proprietary high-temperature polymer developed by QMx. Everstone™ offers discerning collectors everything they require in a high-quality collectible: fantastic durability, solid weight, and precisely-crafted details that resist both fading and fracture. Everstone™ is everything traditional polystone statues are not – strong yet pliable with the ability to capture minute details in costumes, scenery, and action.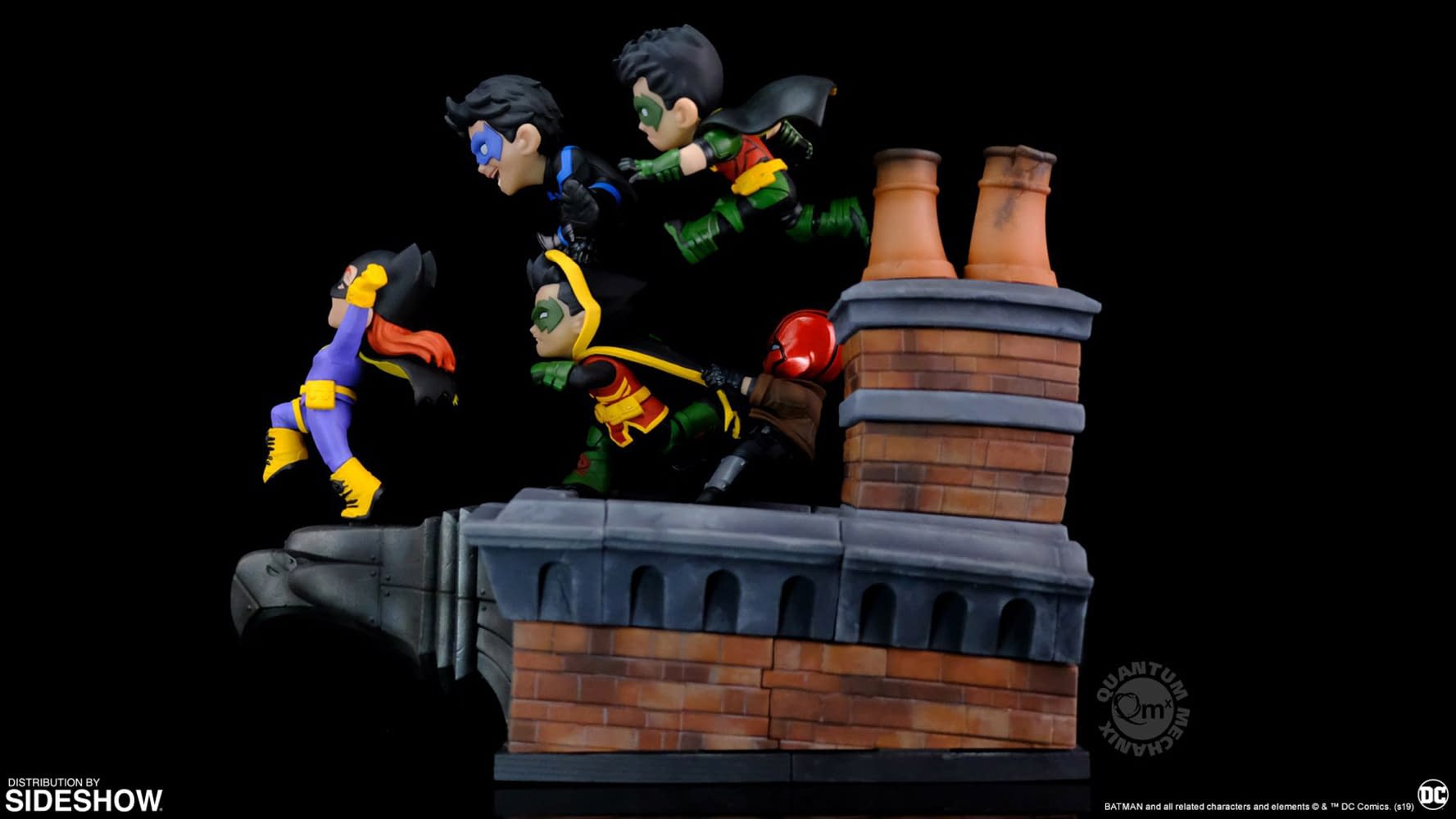 As with all Q-Master dioramas, Batman Family Knight Out is a limited edition piece and features a numbered Certificate of Authenticity signed by its creator, QMx Creative Director Mohammad Haque. It will ship in a specially designed collector's box to perfectly protect the diorama in transit.
Make sure to collect all our Batman and DC Q-Figs and display them together!
Enjoyed this article? Share it!