Transformers and Ghostbusters Team Up For New Charatcter ECTO-1 Ectotron
Transformers and Ghostbusters will mash-up in a new collaboration, debuting a new character called ECTO-1 Ectotron. This figure will be available as a Gamestop exclusive in stores this summer, and is available for preorder right now there and on the relaunched Hasbro Pulse site. IDW will debut the characters origin in a new 5 issue miniseries from Erik Burnham and Dan Schoening that will start in June. Check out the full details and pics of the new robot down below!
Autobots, Decepticons and ghosts?! Hasbro, Inc. (NASDAQ:HAS) and Sony Pictures Consumer Products today revealed the first-ever TRANSFORMERS-Ghostbusters Collaborative figure, the ECTO-1 ECTOTRON, available at GameStop summer of 2019 and for pre-order starting February 15 at HasbroPulse.com, GameStop and EB Games Canada. This year marks the 35th anniversary of both the TRANSFORMERS brand & the original Ghostbusters film.
When fans of the iconic Ecto-1 from the 1984 Ghostbusters movie look a little closer at this nostalgic interpretation of the car, they will be treated with a new "robot in disguise" named ECTOTRON, a converting Paranormal Investigator. The figure is packed in a G1-inspired box featuring classic tech specs and comes with its own proton pack and Slimer accessory, and converts between two modes in 22 steps – a seven inch Ecto-1 vehicle and a TRANSFORMERS robot.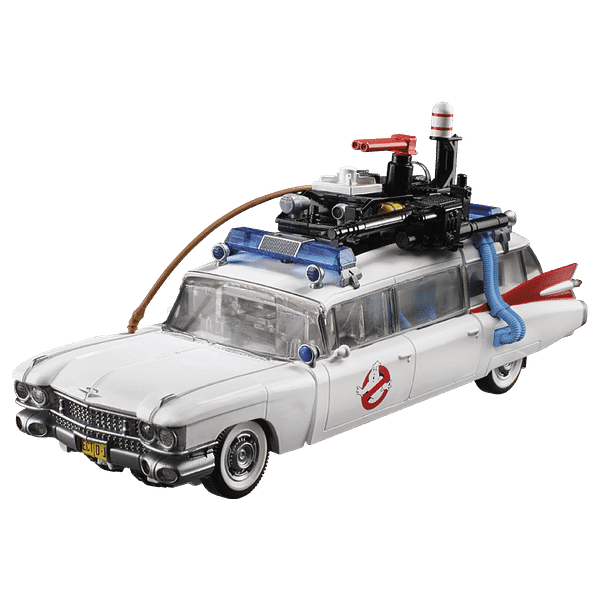 TRANSFORMERS robots have always been more than meets the eye, but now, through the TRANSFORMERS Collaborative, fans can experience these larger than life characters as they team-up, mash-up and meet up with other characters, teams and people. It is a world of constant change where things are not what they seem. A combined world of TRANSFORMERS and Ghostbusters where heroic Autobots, evil Decepticons and now ghosts can be discovered!
The Ghostbusters have a new, out of this world teammate and fans will be able to meet the all new TRANSFORMERS character ECTOTRON in his epic origin story by IDW Publishing. A brand new 5-part series from creative team Erik Burnham & Dan Schoening begins in June 2019.
The ECTO-1 ECTOTRON figure is available at GameStop starting Summer of 2019 and for pre-order starting February 15 at HasbroPulse.com,GameStop and EB Games Canada. And be on the lookout for other possible TRANSFORMERS and Ghostbusters items. When these two iconic franchises come together – anything is possible!