10 Reasons Why You Should Back The SUPER-EGO Kickstarter Project
Mike Kennedy writes for Bleeding Cool:
Everybody is Kickstarting something or other these days. It's almost a requirement for any starving artist, film-maker, or musician to give it a crack. It is to the point where getting word out about a single project requires as much (or more) effort than marketing a completed thing once it's finished. So how does a promising independent graphic novel, like SUPER-EGO by Caio Oliveira, get noticed?
With a numbered list of reasons why you should back this book today.
10) Because it is an awesome, action-packed dark comedy about super-humans plagued by every day, non-superhuman neuroses, and the psychotherapist who specializes in treating them. Dr. Ego may himself wear a mask and go by a seemingly crazy pseudonym, but only as a measure to even the scales and ease the comfort level of his clients. His appointment book may be filled with wild, ultra-powerful walking anachronisms, but he treats each one with the honesty and observations they would never hear otherwise. It is a madcap, adventure filled with familiar tropes treated in a twisty, colorful way. Writer-artist Caio Oliveira's love for the medium shines from every page, and Lucas Marangon's vivid colors give render the world like an animated epic. 9) Because you can nab some swell backer rewards, not the least of which is a copy of the luscious 104+ page hardcover volume itself. Other awesome rewards include the ubiquitous T-shirt, original pages of artwork, custom sketches, and full-color watercolor paintings. We're talking actual art on actual paper that you can frame and hang on your actual walls. That's ART.
8) Because you, or a brand new hero or villain that you create, will appear in the brand new prologue sequence being created especially for this collection. That's right – you can cameo and mingle with the heroes, or you can create a hero that may or may not save the life of another backer who themselves are making a cameo. Immortalized forever in a timeless hardcover book you'll be proud to pass down from generation to generation. Look, junior – there's Grampa, getting saved by Grammy, who is a princess-warrior from the planet Calamatus. And here's the original page of artwork that we will sell one day to pay for your college tuition. (Did we mention you will also get the original page of art?)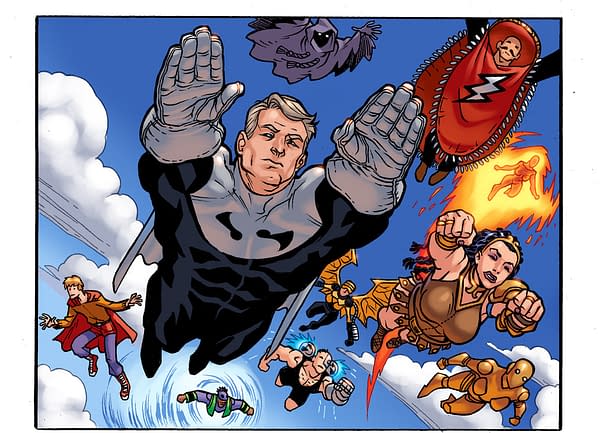 7) Because the book will feature a cover by Eisner Award-winning artist GLENN FABRY. That's right, you heard it here first : GLENN FABRY is painting the cover for the SUPER-EGO hardcover collection. Who else is better suited to capture the angst and awkwardness of a troubled cast of characters? NO ONE, that's who.
6) Because of the awesome lineup of artists on board to contribute pin-ups if the book hits certain goals. We're talking about names like Brent McKee ("Outlaw Territory", "Noble Causes"), Michael O'Hare ("Birds of Prey", "Hawken: Melee"), Bengal ("Naja", "Meka"), Gary Erskine ("City of Silence", "The Irons"), Lucas Marangon ("Star Wars: Tag & Bink", "RIPD"), Edgar Delgado ("Spider-man", "Ultraduck"), Sanford Greene ("Ame-comi Batgirl", "DHP: Rotten Apple"), Chandra Free ("The God Machine", "Conspiracy of the Planet of the Apes"), Joyce Chin ("Superman", "Tomorrow Stories"), Matthew Dow Smith ("Doctor Who", "Lobster Johnson"), Jim Mahfood ("Tank Girl", "Stupid Comics"), Tony Shasteen ("25 to Life", "Batman: Arkham Unhinged"), and Jeff Stokely ("Six-gun Gorilla", "The Reason for Dragons").
5) Because you can rest assured this book will get done very quickly if we hit our goals. With the full 88 page arc completely inked, all we need to finish is coloring and re-lettering, and then creating the 4 page prologue featuring any campaign backers. "So what do you need Kickstarter for?" To help with said coloring and re-lettering. Oh, and the cost of printing. That's the biggie. Printing ain't free.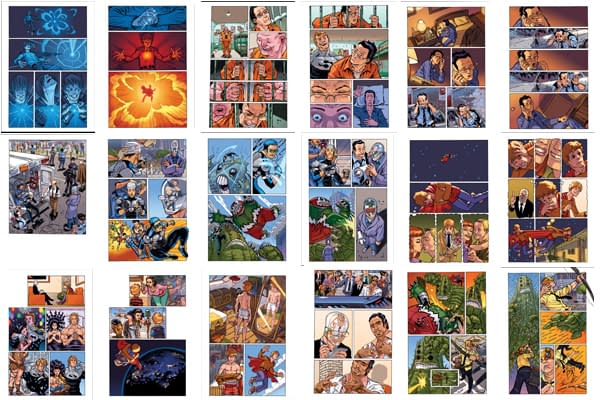 4) Because of the awesome stretch goals. In particular, the full-cast radio dramatization at the $30k level. We know quite a few professional (and some recognizable) actors and voice-over artists, and we would love to bring this book to audible life with a fully-produced read-along soundtrack. We've produced such stuff before, so the "how" isn't in question as much as the "how will we pay for it."
3) Because we have experience producing quality, award-winning hardcovers. As former Publisher of Archaia Entertainment, a publishing company with numerous awards and nominations to its name, including back to back Eisner Awards for Best Original Graphic Album, project producer Mike Kennedy has a pretty good handle on how to make this a book you'll want to hold and share and display.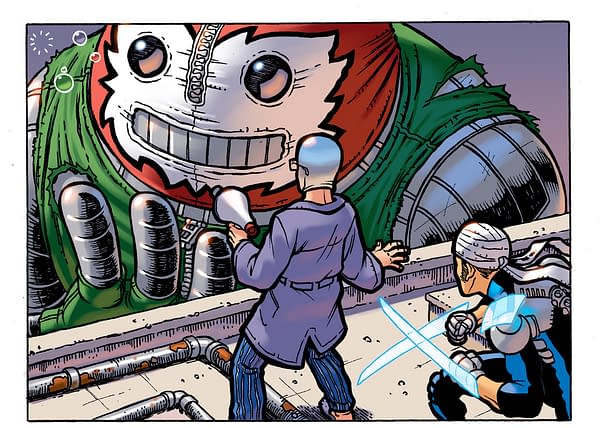 2) Because Caio is a Brazilianaire. No, that doesn't mean he has a Brazillion dollars. That's not even a real number. It means he's from the small, sleepy South American nation called "Brazil." Helping fund this debut graphic novel will help put him rightfully on the map of comic industry super-stars, a destination he so very much deserves to reach, but would probably never find because the map is not written in Brazilianese.
And the number one reason YOU should support this awesome project TODAY —
1) Because, for the next week only, if you back the project at the $25 level or above and mention "Bleeding Cool" somewhere in a message to us, you will receive an exclusive, limited edition, 5×7 card-stock tip-in print of the Glenn Fabry cover. This card-stock plate will be exclusive to Bleeding Cool backers only. Did we mention it will be exclusive? Because it will be. Exclusive, that is.
So please visit the campaign page and back us! Every little bit helps!
http://www.kickstarter.com/projects/neurobellum/super-ego-a-comic-about-superheroes-who-need-help