A Look Behind Jock's Cover For Nicnevin And The Bloody Queen
Nicnevin And The Bloody Queen is new horror graphic novel from debut graphic novelist Helen Mullane, artists Dom Reardon and Matthew Dow Smith, and colorist Lee Loughridge. It also comes with a cover from Jock. And Bleeding Cool has managed to get a look at the sketches that went into it…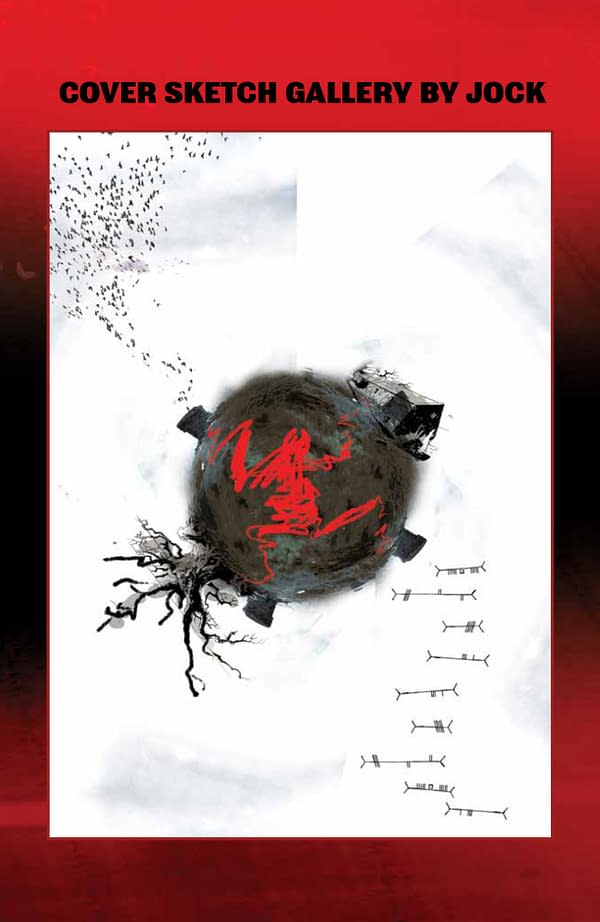 Here are a couple quotes the book has garnered in advance;
"[An] honestly chilling, surprising, human and brilliantly structured murder mystery in the unknown heart of Britain."— Warren Ellis (Castlevania)
"Darkly magical and strange, NICNEVIN AND THE BLOODY QUEEN explores British landscape and myth in the style of folk horror film and TV from the 1960s and '70s but with a contemporary edge."— Kim Newman (Anno Dracula)
I was behind Kim in the cinema last weekend seeing Onward. I wonder what he thought of that? Anyway, back to the comic.
This original graphic novel marks the literary debut of writer Helen Mullane, who collaborates with artists Dom Reardon and Matthew Dow Smith, and colorist Lee Loughridge for a different kind of horror and a different kind of heroine. In the story, London teen "Nissy" Oswald is stuck in the countryside for the entire summer with only her mother and little brother for company, but things start to look up when she meets Reggie, an attractive and mysterious older man to whom she feels inexorably drawn. As Nissy divides her time between feuding with her mother and lusting for Reggie, the small town is rocked by a grisly murder and everything changes. "I wanted to channel the feelings and attitudes that I remember so clearly from my own teenage years, the experiences of me and my friends," said Mullane. "We weren't wholesome or chaste, or bothered about saving the day–we weren't the Famous Five or the Teen Titans! We just wanted to hang around, maybe get a bit wasted, get crushes on whoever was around… I feel like that sort of teen experience is rarely explored in mainstream comics."
Nicnevin And The Bloody Queen is published next week from Humanoids.
NICNEVIN AND BLOODY QUEEN GN (MR)
(W) Helen Mullane (A) Dom Reardon, Matthew Dow Smith (CA) Jock
Something strange has been unleashed in the north of England.
A modern-day druid commits a series of ghastly murders in an attempt to unleash the incredible power of the ancient gods of Great Britain. But his plans are interrupted when his latest would-be victim, Nicnevin "NISSY" Oswald, turns out to be more than she seems.In Shops: Mar 11, 2020
SRP: $17.99